YouTubers Approach Strangers Offering Free Masks—It Did Not Go Well
Comic "activists" Chad Kroeger (real name Tom Allen) and JT Parr went out to help solve the "Mask Shortage in Huntington Beach" this week, to which the public responded by refusing their free masks and acting aggressively towards the pair.
In the viral video, with more than 2 million views and counting, the pair ask: "Hey do you guys need a mask?" to two passers by on a bright sunny California day. "No we don't, why?" said one man, "because there's this thing called coronavirus," said the pair, "yeah well, it's a bullshit lie," said the man as he gets close to Kroeger and Parr, before shouting; "go f**k yourselves."
Under Orange County regulations people should be wearing face coverings in public places to help slow the spread of coronavirus.
One man on a bike said in the video; "it's all fake dude, come on!" after the comics ask him if he wants a mask.
"They're killing you," said one woman on masks after the pair offered her one for free. "Breathing your own carbon dioxide is not healthy," continued the woman.
"F**k you! You're not making my rights and not my rights," said another man on a bike. "I don't give a f**k what you're trying to do," said the man after he dismounted from his bike. "You believe in a masks, I don't. F**king leave it alone. Or if you want some of me come and get this".
The pair concluded the video with a "valuable lesson": "Don't hand out masks when you're wearing sandals dude. If you're going to hand out masks wear shoes you can fight in, or run, better to run."
Kroeger later said in interview to CBS Los Angeles: "It is interesting how people interpreted it as a personal judgment," he said. The comic, who often hangs out on Huntington Beach, took mask wearing seriously after his friend tested positive for coronavirus.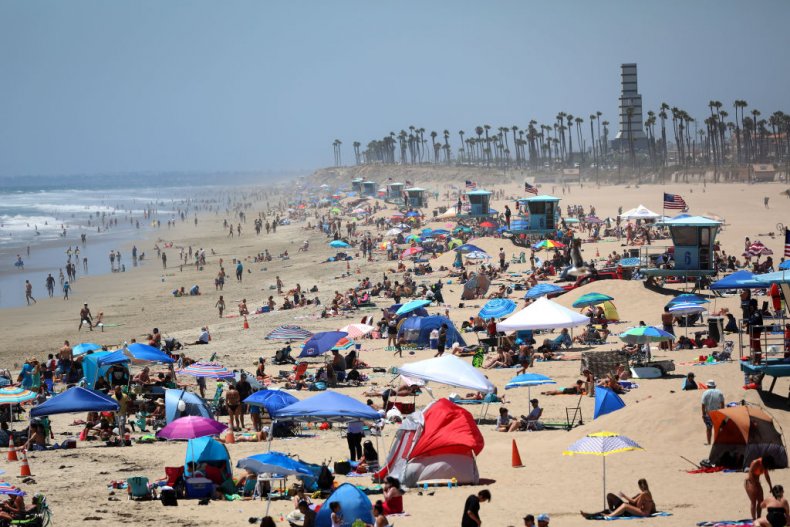 "We're seeing too many people with faces uncovered. Wearing a face covering is critical for keeping people safe and healthy, keeping businesses open and getting people back to work," said California Gov. Gavin Newsom in a recent Tweet. "Do your part. Wear your mask."
Orange County has more than 27,000 cases and 450 deaths as a result of coronavirus.
Assuming personalities similar to film characters Bill and Ted, with slow California accents and playing up the dopey surfer stereotypes, Chad Kroeger and JT Parr are known for their humorous 'activism' skits on YouTube channel Chad Goes Deep.
In other previous videos, Kroeger has petitioned San Clemente City Council to erect a statue of Paul Walker to unify the country and pleaded for Los Angeles City Council to not outlaw house parties in Hollywood Hills.