Why Did the Dodgers Lose World Series 2017? Yu Darvish Is Now Public Enemy Number One in L.A.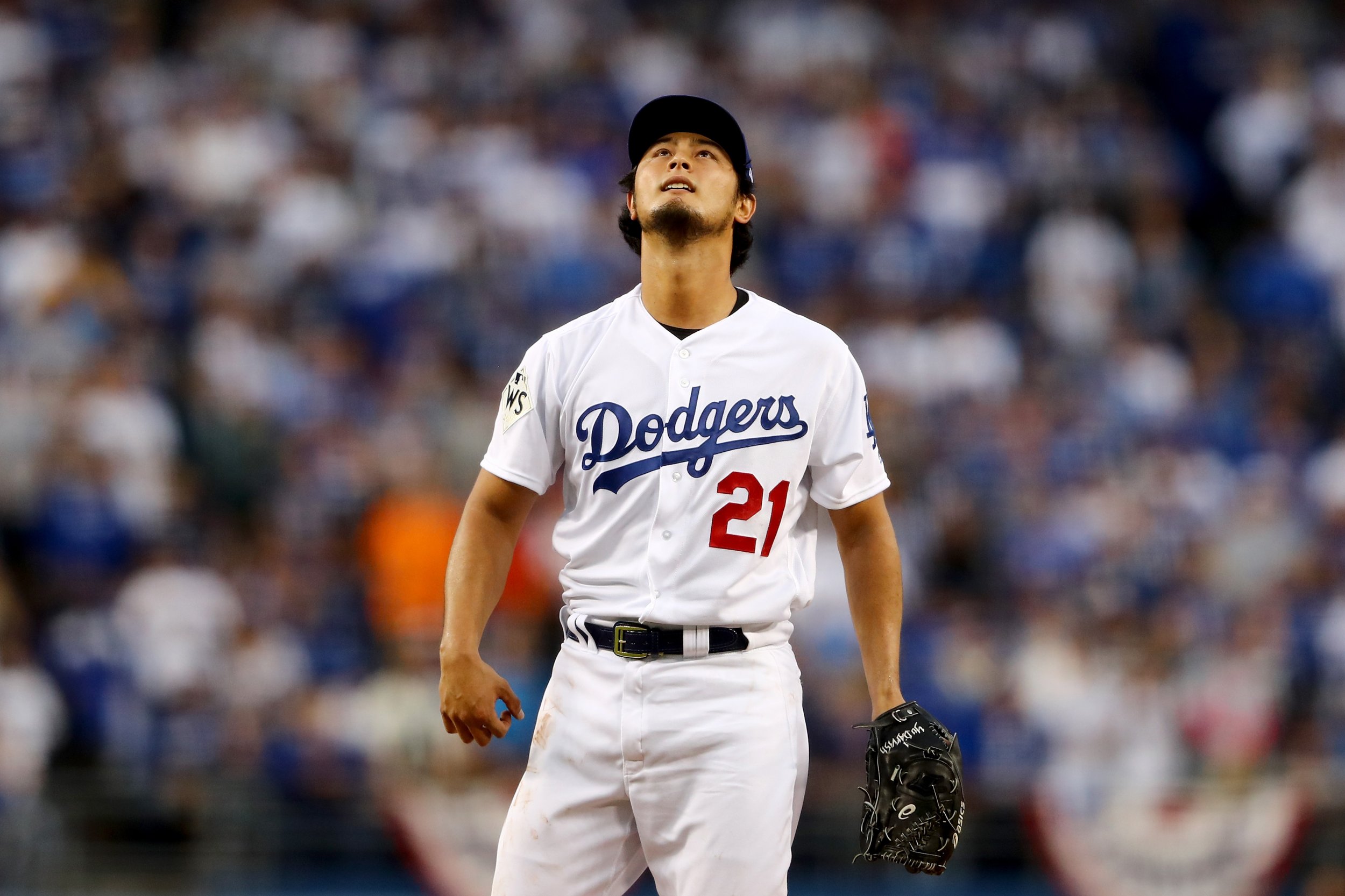 In the biggest moment of his career, on the grandest stage, under the brightest lights, Yu Darvish failed in a way that is unlikely ever to be forgotten by the Los Angeles Dodgers, Houston Astros or anyone with even a remote interest in baseball.
Darvish, a four-time All-Star, gave up five runs to the Astros on Wednesday night, bringing to a dramatic conclusion one of the finest World Series in modern collective memory. By the time Darvish was finished, having registered only five outs and failing to complete the second inning—having thrown 47 pitches and given up a home run to George Springer with his 47th and last pitch of the game, "almost certainly the last one he'll throw as a Dodger," ESPN opined while sifting through the debris—the game was pretty much up. Clayton Kershaw came in and pitched four scoreless innings, leading to predictable howls about why he hadn't started. But the Astros got lights-out pitching all the way through, and their young hitters delivered in the clutch for their first-ever title, leaving the Dodgers to contemplate a 104-win regular season and the biggest payroll in Major League Baseball alongside a loss that will burn, sting and hurt like a deep bruise for years to come.
"Darvish did the unimaginable and inexcusable, following one historically atrocious start with another," the Los Angeles Times wrote Wednesday night, when the bruises were still coming up purple all over Dodger Stadium. Darvish went 0-2 in the World Series, his Game 7 debacle following up a Game 3 start where he threw 49 pitches, lasted one-and-two-thirds innings and gave up four runs at Minute Maid Park, where he had a previously impeccable record. The Astros wouldn't fall behind again in the Series. The man the Dodgers acquired in July to hop them over the hump ended up tripping over his own obstacles.
It happens, doesn't it? Was it really "unimaginable?" Well, Kershaw pitched a horrible Game 5, as the L.A. Times noted in the same article. The idea that a human could malfunction under this kind of stress test hardly seems inconceivable. "Inexcusable?" That's the funny thing about professional sports, a postmodern magnifying glass where everything matters completely, totally, fatally, and simultaneously doesn't really matter at all. "Games like this can happen to anyone," the L.A. Times wrote. Quite. It's baseball, a game, fun and frolics on a Wednesday night. It's Game 7, the most important moment of the life of anyone involved, for those hours at least, the hours they will be remembered for forever on film. Schrödinger should have been given a free ticket in the plushest seats at Dodger Stadium on Wednesday evening.
"Everyone has really awful days," Darvish said, in quotes reported by the L.A. Times on Wednesday. "When I have an awful day, what I think about is how for every awful day I've had, I've had a great day and I've added another wonderful person to my life. When I think like that, it's easier. But what I did today affected everyone on the Dodgers, so I don't know if that's going to work."
Even those deep-purple bruises heal. It's easy to forget—the Times seemed to—how cruel this Series was on Darvish. In Game 3, he was the subject of a racist taunt from Yuli Gurriel after the Astros first baseman struck a home run off of Darvish. There's a legitimate question as to whether Gurriel should even have played the rest of the Series; some grim poetry, maybe, in Darvish having to watch on as Corey Seager hit a ground ball to Jose Altuve, who threw to Gurriel to end an epic in seven acts.
"I would like to return here with the Dodgers," Darvish said after the game. Do the Dodgers have capacity for forgiveness and its second cousin, redemption? With their wounds still open, can they see Game 7 for what it was—a game of baseball? If so, Darvish may get another chance in L.A.