Yuengling Hershey Chocolate Porter: Where You Can Buy Limited-Edition Beer
Hershey's is launching a new chocolate beer called the Chocolate Porter, in collaboration with America's oldest operating brewery, Yuengling. Here's everything we know—and where you can try it.
The first collaboration between the food and beverage giants comes just in time for the holidays. The limited edition chocolate beer is set to be released mid-October 2019, though Yuengling has yet to release an exact date. It will be available on draft in bars and restaurants until stocks last—so you'll have to be quick.
The chocolate beer will only be available in select states. The Chocolate Porter will be available to the lucky residents of Pennsylvania, Ohio, West Virginia, Virginia, New York, Connecticut, Maryland, Massachusetts, New Jersey, Rhode Island, Washington D.C., Delaware, Indiana and Kentucky.
The brands' collaboration has been nearly a year in the making, and was inspired by the Yuengling family's desire to continue creating new drinking experiences. But the Yuengling Hershey's Chocolate Porter's origin dates back much further.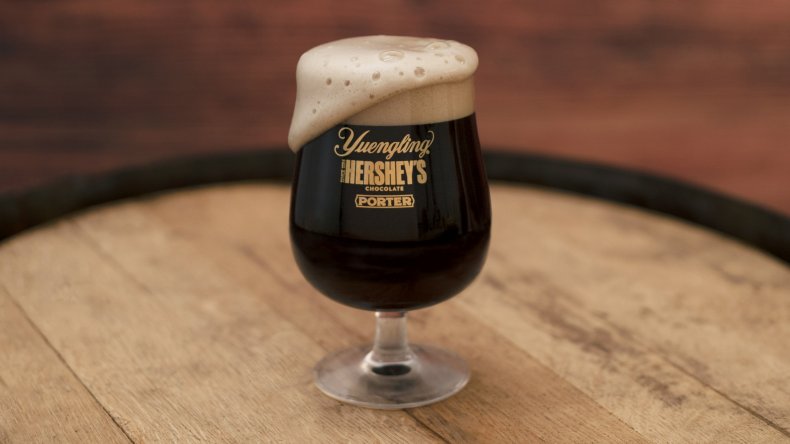 Yuengling based the Yuengling Hershey's Chocolate Porter on its Dark Brewed Porter recipe, which is almost 200-years-old. This collaboration with Hershey's is a modern twist on the original recipe and marks the 190th anniversary of the Yuengling brand.
The new beer combines caramel and dark roasted malts blended with classic Hershey's chocolate and is at an ABV of 4.7 percent. Yuengling says that the beer pairs well with chocolate, barbecue and cheese.
But what does a chocolate beer taste like? Jennifer Yuengling, Vice President of Operations, said in a statement that the Chocolate Porter has the "classic taste of Yuengling Dark Brewed Porter blended with the unmistakable taste of Hershey's chocolate."
Ernie Savo, Senior Director, Global Licensing and Business Development at The Hershey Company added: "This Yuengling Hershey's Chocolate Porter is sure to surprise and delight the chocolate fans and the avid beer-lovers among us that are looking to try something new and delicious."
This is the first collaboration between the two iconic American companies. Yuengling, based in Pottsville, Pennsylvania, is America's oldest operating brewery and is celebrating its 190th anniversary in 2019. Hershey's, also located in Pennsylvania, is 125-years-old and has more than 80 brands, including Reese's and Kit Kat.
Yuengling has hinted at further collaborations as it continues to update the brand with fresh and exciting products. But in the meantime, to find out where you can try the Chocolate Porter, check Yuengling's "Find Our Beer" section on their website from mid-October.