Yu-Gi-Oh! TCG: The Future is Bright for Stratos
Konami dropped the latest Forbidden/Limited list days ahead of the 200th Yu-Gi-Oh! Championship Series was to take place, bringing back some old favorites like Card Destruction, Morphing Jar and Elemental Hero Stratos.
Stratos' return from the Forbidden list met with a lot of positivity from the Yu-Gi-Oh! Community and the short-term effects were seen at YCS 200.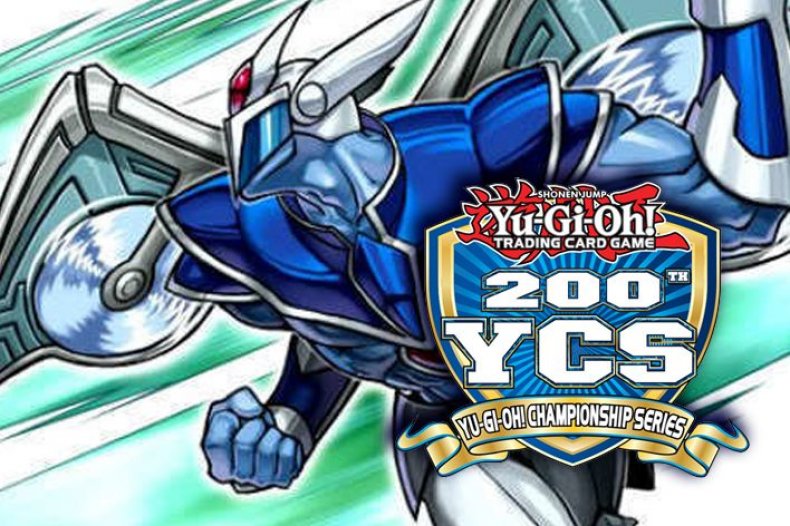 "The most excitement has been for the return of Stratos," Yumi Hoashi, Yu-Gi-Oh! TCG Senior Vice President told Newsweek. "I've been looking at some of the decklists and there a number of decks that have Stratos in there and sometimes it's hard to see the strategy that they have, but we'll see."
Walking around the Greater Columbus Convention Center during YCS last weekend, I saw Stratos pop up during several duels. Duelists seemed motivated to give Stratos some shine after being on the Forbidden list for years. The event's official vendors were also behind the Stratos hype, selling singles of the Hero card throughout the weekend.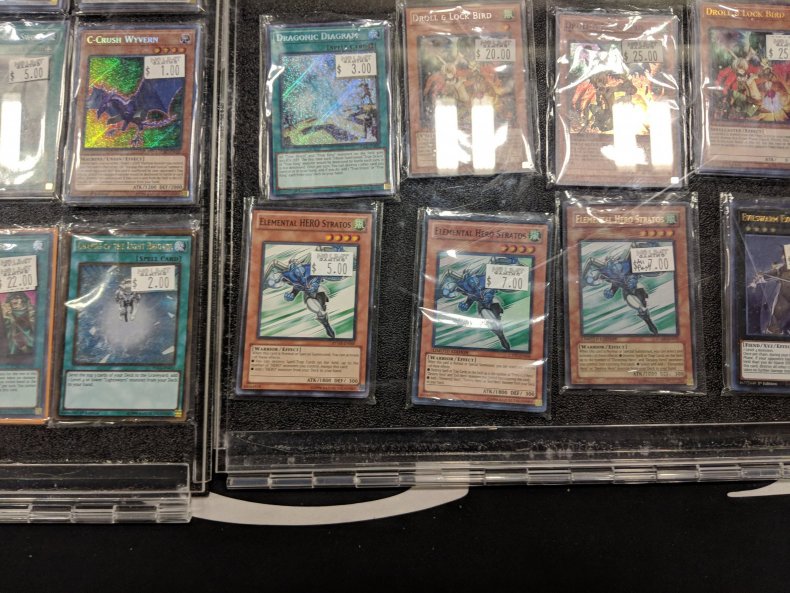 While Stratos remains extremely popular (especially among older players) it didn't see much use in the later rounds of the tournament. Some of the more popular and powerful decks, like Sky Striker or Altergeist, don't need Stratos. However, some variant Warrior decks used at YCS 200 did have it. A 60-card Dark Warrior deck variant made waves during the tournament, with one making the Top 64.
"That 60-card dark warrior deck does play a lot of Heroes and some use Stratos," said Robert Boyajian, Yu-Gi-Oh! TCG Marketing Specialist. "There's new Destiny Hero cards coming in the Legendary Duelist decks so a lot of people are excited about that, but in general Stratos is powerful. So while pure Heroes isn't in the best spot because of how powerful other decks are, there's a lot of decks that incorporate Hero cards because of how good Destiny Hero Malicious is. And Stratos giving you access to those cards is really helpful."
Three-time YCS Champion and YCS 200 commentator Billy Brake believes with more time in the current format, duelists will figure out a way to use Stratos.
"A lot of friends I know who didn't get to the top 64 used a Hero deck without Stratos. It proves that he needed to come off the Forbidden list, because people aren't really playing it," Brake told Newsweek . "But Stratos is still a really good card, we're just not seeing it. Everyone wants Stratos to be good, so I expect him to come out and be in some deck that's going to be good soon."
In the end, Stratos wasn't a factor in determining the YCS 200 champion. But seeing the card appear in duels only days after getting off the Forbidden list means Yu-Gi-Oh! players are determined to figure out new and creative ways to use it. And with more Hero support on the way, the future looks bright for the one of the most popular Heroes