Yummly Wireless Smart Meat Thermometer: The Secret to Perfectly Cooked Meat
Cooking the perfect steak can be tricky if you don't know how to tell when it's ready. Even with a meat thermometer, this can sometimes be difficult, and cooking without one is almost impossible. Enter the Yummly Smart Thermometer—a Bluetooth-connected device that tracks the internal temperature of your food and then sends you a notification on your mobile device (such as your smartphone or smartwatch) when it's ready. I recently tested it out to see if it really made that much of a difference.
To get a better understanding of why the Yummly smart thermometer is such a valuable tool, you'll want to imagine it as a heat-resistant meat thermometer combined with a built-in oven thermometer. It can evaluate the meat's internal temperature and the temperature of the surrounding area at the same time. The thermometer sends that data to its charging dock, which then forwards it to your smartphone, allowing you to track your food's temperature changes in real-time.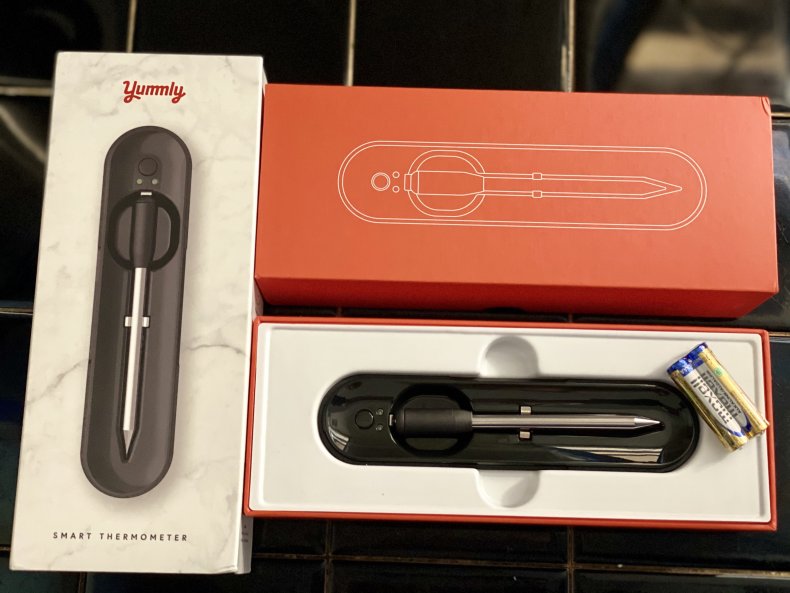 The charging dock and the thermometer are the two main components of this battery-powered device. Two AA batteries are included in the package. Make sure the batteries are inserted in the right direction, and secure the thermometer in the dock to charge for 30 minutes before you begin using it. The thermometer can work for 36 straight hours on a single charge.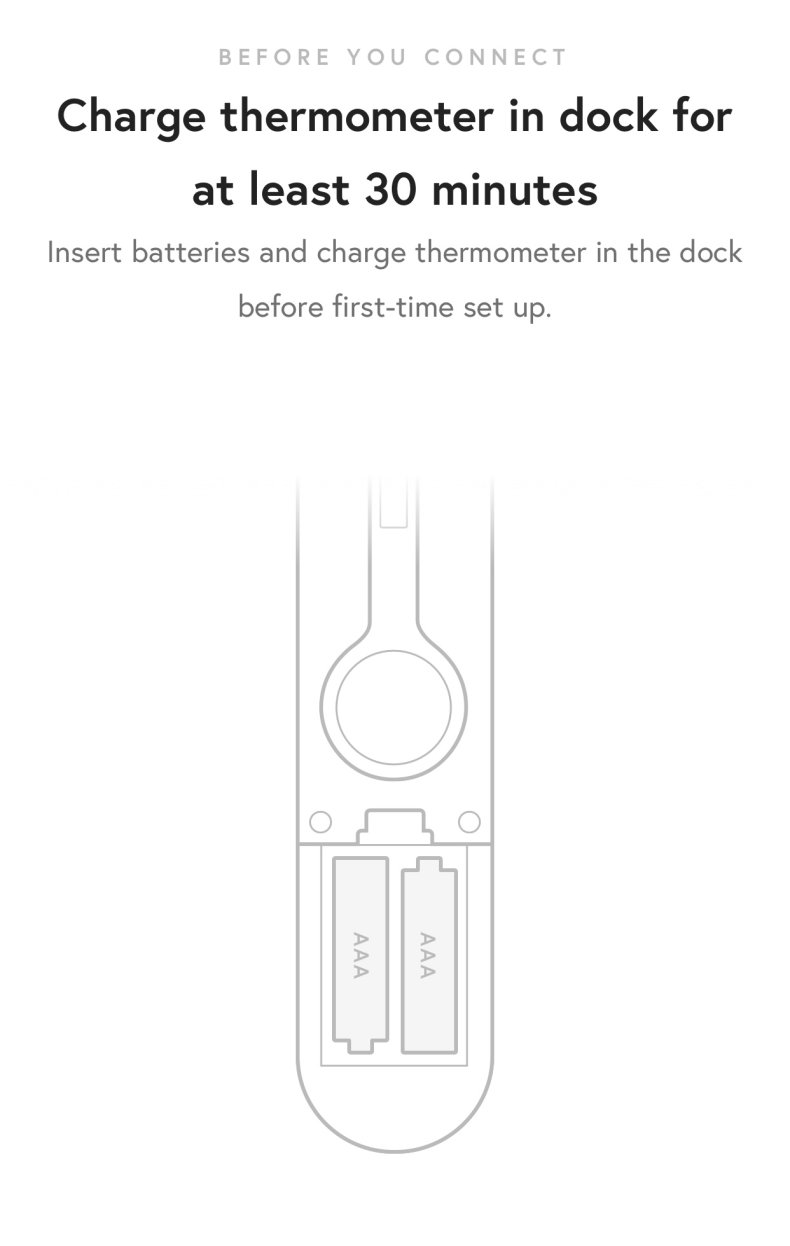 Next, you'll also need to download the Yummly app for free from the Apple App Store or Google Play Store while the thermometer is charging. If you already have the Yummly app on your phone, make sure it's the most recent update.
The Yummly app is thoughtfully designed for cooks of all levels. You don't have to be a seasoned home chef to use the app's features.
Open the Yummly app after downloading and tap the linked appliance icon in the bottom right corner. From there, you'll tap "Add Appliance," and then it's easy to follow the on-screen instructions.
To begin, place the thermometer into a piece of meat you're cooking. If you're new to cooking with a meat thermometer, the app will walk you through how to set it up. Temperature readings will appear on your smartphone right away. Then you can choose the type of meat (beef, lamb, chicken, salmon, duck, turkey, pork, or a manual setting), the doneness (rare, medium rare, medium, medium well, and well done) and the cut.
You can watch the temperature increase as you cook until it reaches the desired reading, which varies depending on the cut and type of meat. There's also a manual mode with display and cooking time estimates.
After the meat has been cooked, the app will begin a countdown for how long it should rest. A heat-resistant hook is also included to aid in retrieving the thermometer once it has finished cooking. The thermometer can be charged in the dock when not in use.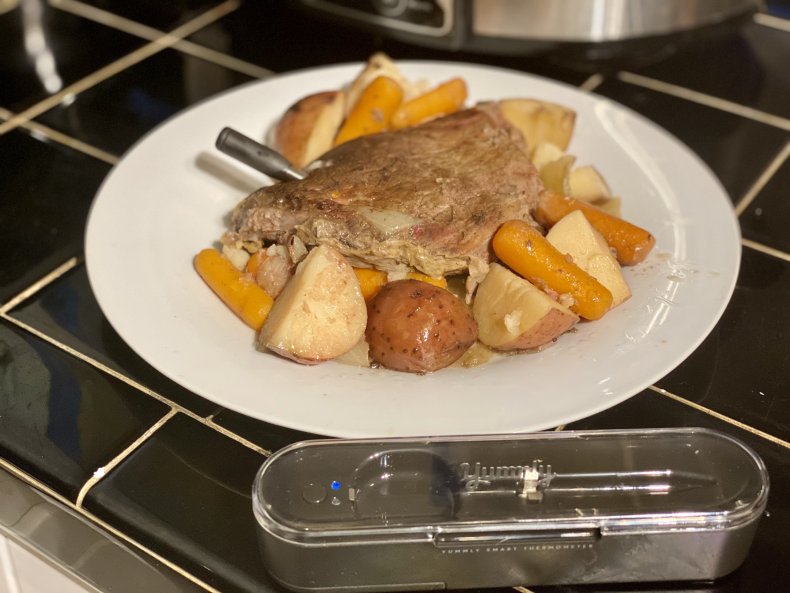 With this device continuously telling me how the cooking was progressing, I was able to relax and enjoy the cooking time. I was secure knowing the meat would be cooked to my liking. The app provided accurate temperature readings and estimated cook times, so I could step away and not have to hover in the kitchen.
What You Should Know About the Yummly Smart Thermometer
It's simple to operate. I like that no wires get in the way. The charging dock also serves as a storage case when not in use, making the thermometer easy to store and find in the drawer the next time I need it.
You'll adore this smart thermometer if you're a meat aficionado. An inexperienced cook may love this even more because it successfully removes the guesswork from cooking by providing you with real-time temperature monitoring. No more anxiety of undercooking or overcooking a meal, because this helps to deliver successful results every time.
The Yummly Smart Thermometer is also great for grilling, can withstand internal meat temperatures of up to 200 degrees Fahrenheit and grill temperatures of up to 572 degrees Fahrenheit. Place the dock next to the grill to keep an eye on the temperature as you cook.
While this device is exceptional, there are some things it can't do. You'll never want to submerge or expose the thermometer to excessive liquid, humidity or pressure while cooking. It isn't safe to use the smart thermometer in a microwave, pressure cooker, steam oven, slow cooker or Instant Pot. Deep frying and sous vide are also not safe uses with this device. Surprisingly, air frying is an approved use according to Yummly's FAQ.
To clean the thermometer, wipe it with a soft, damp, soapy rag. Immediately dry with another soft cloth. Use cleaning products that don't contain alcohol, ammonium, benzene, or abrasives, as they can all harm the device. Submerging and soaking in liquids is not recommended.
The Yummly Smart Thermometer comes in black, retailing for approximately $129, or in white, retailing for around $89.
Buy at Amazon, Walmart and Best Buy.
Newsweek may earn a commission from links on this page, but we only recommend products we back. We participate in various affiliate marketing programs, which means we may get paid commissions on editorially chosen products purchased through our links to retailer sites.