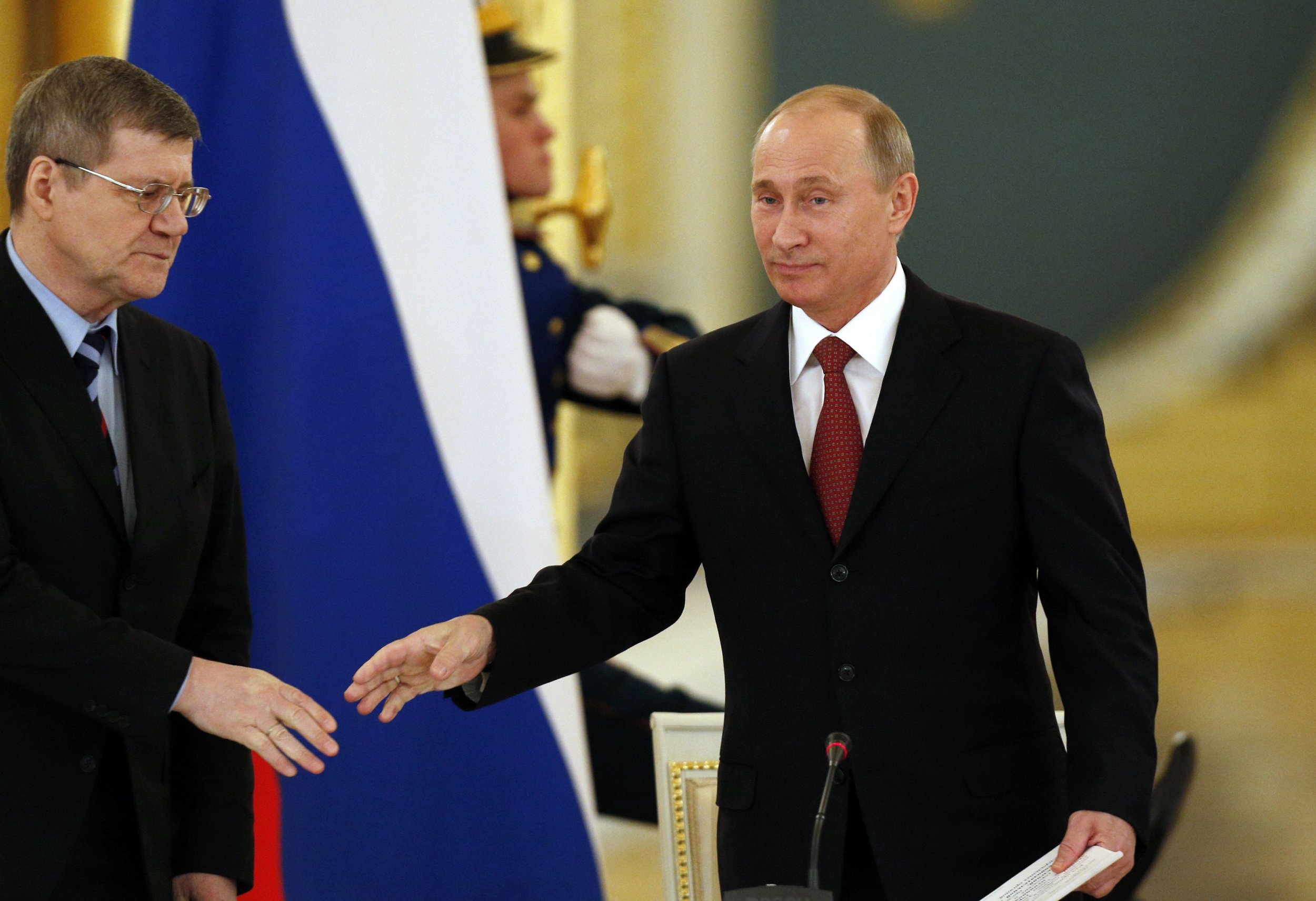 U.S. first son Donald Trump Jr. is caught in a Russia scandal after admitting he once hoped the "crown prosecutor of Russia" would feed him campaign information, via a "Russian government attorney."
The attorney in question, Natalia Veselnitskaya, has confirmed she met with Donald Trump's eldest son but denied she acted on behalf of the Russian government or that she intended to give the Trump team compromising information about Democratic opponent Hillary Clinton.
Related: As Trump insists he pressed Putin, Putin says he was surprised how well Trump listened
It is impossible to ask for the Russian crown prosecutor's side of the story. Despite music publicist Rob Goldstone delighting Trump Jr. with the news that such a person was offering him dirt on Clinton, no such role exists in Russia. The British term, though, is similar to the U.S. position of attorney general and to Russia's federal chief prosecutor—a role held by tenured Kremlin ally Yuri Chaika. According to liberal radio station Echo of Moscow, Veselnitskaya knows Chaika well and has worked with him on a handful of cases. She lobbied unsuccessfully against U.S. sanctions imposed on Russia as part of the so-called Magnitsky Act.
Although the Kremlin denies any interference in the U.S. election and claims it has no connection to Veselnitskaya, a link to Chaika would be a link to the broad centerfold of Russia's political establishment.
Born in the Khabarovsk region, a year before Russian President Vladimir Putin, Chaika's legal career has flourished since Putin came to power. Chaika served as Russia's justice minister during Putin's first term in office, before being appointed as Russia's prosecutor general halfway through Putin's second term as president in 2006. Although the role is intended to be apolitical, Chaika cuts a ubiquitous figure in Russian public life.
As justice minister, Chaika has been linked to the tribalism of Russian politics, with Radio Free Europe naming him as a member of an unofficial group led by Kremlin aide and former chief of staff Vladislav Surkov.
Chaika is more a "loyal functionary" than a "close ally" of the Kremlin, Russian politics expert Mark Galeotti told the Financial Times last week. Putin has awarded him the prestigious Alexander Nevsky medal for services to the state. His position has somewhat diminished since 2011, when Putin's onetime successor Dmitry Medvedev transferred some of the prosecutor's powers in forming the Investigative Committee—a body answering directly to the president, as opposed to the Ministry of Justice.
Putin's most illustrious critics have gone after the prosecutor regardless. Anti-corruption blogger Alexey Navalny has produced a documentary about the alleged illegal businesses of Chaika's sons, and the political band Pussy Riot has dedicated a song and video about corruption to Chaika.
Chaika denied using his position to benefit his sons' business dealings in an interview with state news agency Itar-Tass in January. The interview showed viewers Chaika's office, with photos of his family on his desk, dwarfed by a larger portrait of a smiling Putin.