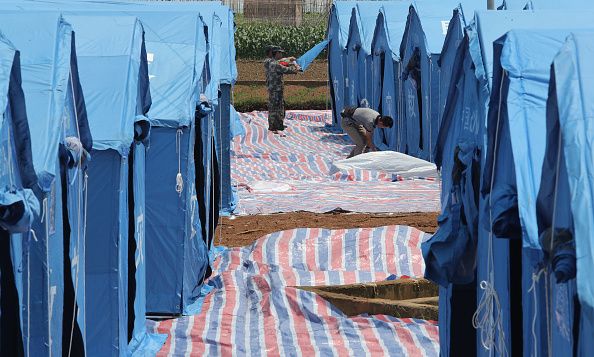 Recovery efforts have begun after a magnitude 5 earthquake hit China's Yunnan province on Monday, forcing hundreds of residents to flee their homes.
The quake struck the city of Yuxi at 1:44 a.m., injuring more than two dozen people, damaging infrastructure and sending residents in search of emergency shelter. According to the latest update, tropical storm Bebincais is churning in the South China Sea and could bring thunderstorms and rain to the region over the next several days, AccuWeather reported.
The earthquake damaged 6,000 homes and affected more than 48,000 residents in the counties of Tonghai and Huaning, and in the district of Jiangchuan, according to reports from China Daily.
About 80 percent of homes were damaged in Zhewan, one of the hardest-hit villages. About 600 of the 830 residents spent Monday night in tents, Gao Guangjin, a government official, told China Daily.
The Chinese government sent tents to those seeking emergency shelter in Sijie township and donated disaster-relief supplies, including quilts, beds and clothes.
The injured are being cared for at a nearby hospital and are reported to be in stable condition. One woman, Chang Li, a nurse with the county's orthopedic hospital in Tonghai, told China Daily that when the earthquake began she rushed home and found her mother's leg buried in debris. "Stuff in my office started shaking. I heard a bang, and then the drinking fountain fell," Chang said. She said police and medical staff helped get her to the hospital.
According to AccuWeather, this is the second quake to strike this region in less than 24 hours.
As recovery efforts continue, scattered showers and thunderstorms are expected over the next few days. Heavy rain from tropical storm Bebinca could continue south of the hardest-hit areas through the weekend.