Zach Braff Uses Hurricane Dorian to Revive 'Scrubs' Nostalgia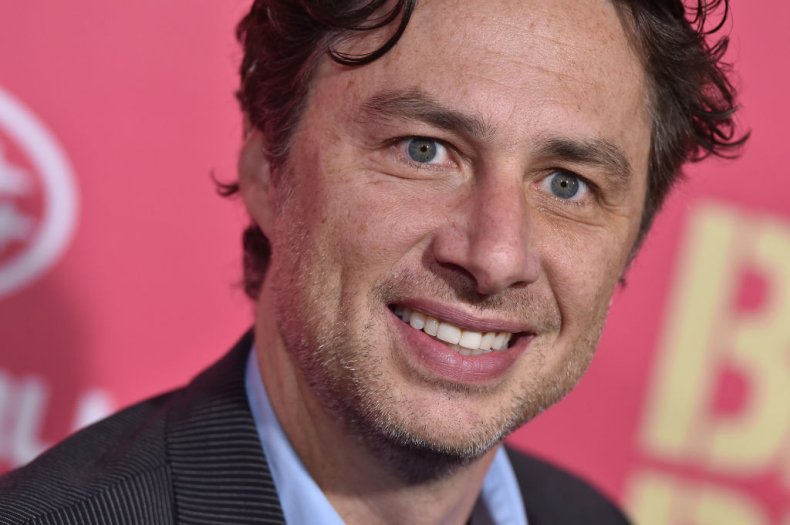 Tropical Storm Dorian was officially declared Hurricane Dorian Wednesday, hitting Puerto Rico and the Virgin Islands, with expectations of turning into a Category 3 hurricane once it reaches Florida. But the potential disaster of the storm wasn't the primary focus of actor Zach Braff on Twitter Wednesday, it was the storm's name that excited The Garden State star. Braff played Dr. John "J.D." Dorian on the NBC (and later ABC) sitcom Scrubs from 2001 until 2010, and Braff couldn't help but have a little fun at the name's expense on Twitter.
It started on Saturday, when Braff tweeted a screenshot of a headline about the potential growth of then Tropical Storm Dorian.
Then on Tuesday, Braff posted a picture of his character Dorian jumping on a weather map of the path of the storm, which shows Dorian heading in the direction of Puerto Rico—which is still recovering from the Category 5 Hurricane Maria in 2017, which killed an estimated 2,975 people in Puerto Rico.
Still finding the humor in the moment, he retweeted a fan's picture of a series of Braff faces over the path of the storm.
On Wednesday, as the storm was officially declared Hurricane Dorian, Braff tweeted a gif of himself and his Scrubs co-star Donald Faison in character dancing. The tweet read, "Dorian headed for Miami like," with the gif.
While many of his followers on Twitter are enjoying the nostalgic moment remembering Braff's character from Scrubs, others are finding the behavior a bit tasteless considering the potential danger of the storm.
As of Wednesday, Hurricane Dorian is declared a Category 1 storm over Puerto Rico and the Virgin Islands, but will likely grow stronger in force once it hits mainland United States.
"All indications are that by this Labor Day weekend, a powerful hurricane will be near the Florida or southeastern coast of the United States," the National Hurricane Center said.
Even though the storm isn't nearly as severe as Maria was for Puerto Rico, because the island state is still recovering, damages from Dorian could be high.
"There's already so much damage on the ground from (Maria) that this isn't going to take a lot to make a significant amount of damage, especially flooding," CNN meteorologist Chad Myers reported Wednesday.
CNN reported the storm's first victim to be an 80-year-old man, who died Wednesday as he prepared his roof for Dorian.
Braff is best known for Scrubs and the 2004 film Garden State, which he wrote, directed and starred in. His last major work was the ABC sitcom Alex, Inc., which ran for 10 episodes before ABC canceled the comedy due to poor ratings.