South African Opposition Leader Barred Entry to Zambia: 'Nobody Can Give Me a Reason Why'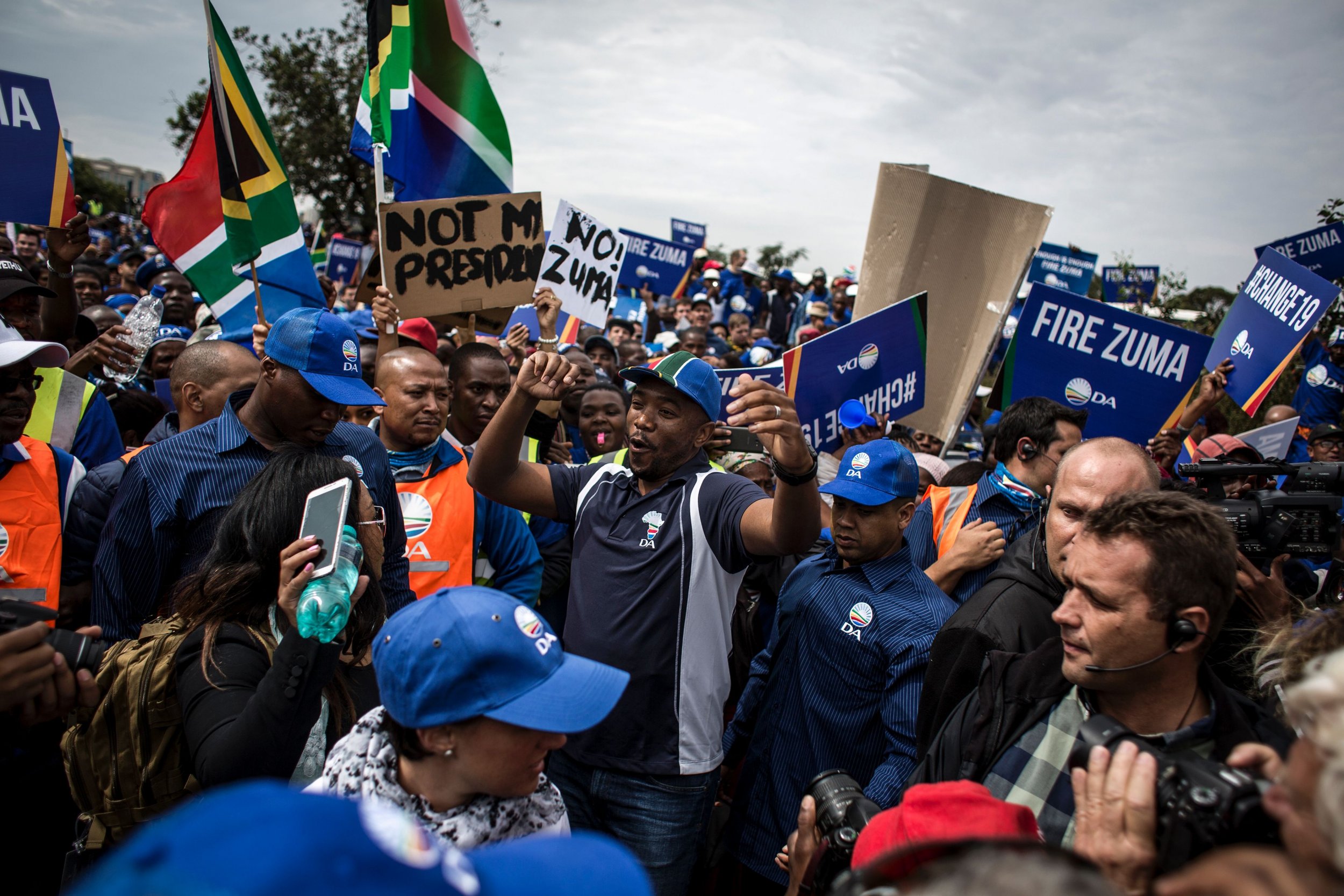 South Africa's opposition leader says he was manhandled and assaulted by Zambian security forces who expelled him from the country on Thursday night as he tried to attend the treason trial of a high-profile Zambian politician.
Mmusi Maimane, the leader of South Africa's Democratic Alliance (DA), tells Newsweek that Zambian authorities "violently" seized his phone and tablet computer and "pushed him down" to prevent him from leaving his plane.
Maimane, who has been dubbed the "Obama of Soweto" for his oratorical skills, also called on South African President Jacob Zuma to speak out against his Zambian counterpart Edgar Lungu.
The South African opposition leader traveled to Zambia to attend the trial on Friday of Hakainde Hichilema, the head of Zambia's main opposition party. Armed police arrested Hichilema in a raid on his home in April following a bizarre incident in which Hichilema's convoy failed to make way for Lungu's motorcade when they were traveling along the same road.
Prosecutors have charged Hichilema with treason, which carries a minimum sentence of 15 years imprisonment and a maximum of the death penalty. Hichilema has rejected the charges. Critics say Zambia, a country that has been mostly peaceful since its independence in 1960, is showing worrying signs of authoritarianism under Lungu, who was re-elected in a disputed vote in 2016.
Read more: Could Mmusi Maimane be South Africa's next president?
Speaking from South Africa, Maimane says took a public flight to Lusaka, the capital of Zambia, on Thursday evening to "stand in solidarity" with Hichilema.
"When I arrived there, an army of people who were immigration officials, Zambian police and people wearing unidentified clothing walked onto the plane," Maimane tells Newsweek . "They instructed me to remain seated and [said] I was denied entry into Zambia."
Maimane says he asked for a reason he had been denied entry and Zambian authorities said they were not obligated to provide one. Things turned rough when Maimane asked if he could phone for legal representation or call the South African high commissioner in Lusaka.
"They were trying to manhandle me and take my phone and insist that I couldn't leave the plane. They then started to get physical with me, they started to pull my head down and literally push me down so that I couldn't [leave the plane]," says Maimane.
The security forces ordered Maimane to enter his cellphone passcode and delete any pictures of the altercation, but he refused. Maimane says he was only able to retrieve his phone and iPad when the plane's pilot requested them on the condition that they not be returned to Maimane until he was in South Africa.
Newsweek reached out to Zambia's police service for a comment but received no response.
Maimane says he has met with the Zambian high commissioner in South Africa and demanded an explanation for his expulsion. (In a press conference Friday, the commissioner, Emmanuel Mwamba, said that Maimane's presence in court would have been "inimical to the sanctity, integrity and independence of the judiciary in Zambia.") The DA has also asked the South African government for assistance in pressuring the Zambian government to give an explanation for Maimane's treatment.
"Zuma must decide what side of history he wants to be on. He can be on the side of dictators or he can be on the side of democratic principles, but he certainly can't have it both ways," says Maimane.
The DA is the main opposition to Zuma's African National Congress (ANC), which has been in power in South Africa since the end of apartheid, in 1994. The ANC recorded its worst election result in over two decades in local polls in 2016, when it lost control of key urban areas—including financial hub Johannesburg and the capital, Pretoria—to the DA.