'I Felt Alone in the Straight, Male World of Racing'
I was in a horror movie a few years ago called Crimson Peak, where Jessica Chastain threw me over a railing and I had to land on my back on another railing, then fall to the ground. The director insisted it all had to be one shot. There was complex rigging and many rehearsals involved, but ultimately I had to control my body because if I fell at the wrong angle, I would have broken my neck. It was up to me to succeed or fail. As a stunt woman, I love those challenges.
I found out about stunt work when I was 18 and living in Vancouver, which has a very large film industry. From that age, I pursued it aggressively, taking different jobs to build my skillset.
But I felt I had a natural aptitude for driving, so I focused on developing my stunt driving skills. Any time I did any work on set, especially driving work, I reinvested the money I made back into training. That took me to race schools, rally schools, and eventually to a drift school. My first day in a car, drifting, I was like, "This is the thing for me. This is the thing that I need to do all the time." I went home and bought a drift car and started practicing, then I entered my first drifting competition in 2019.
My experience of drifting
Stunt driving is a lot of sideways driving—usually it's sliding to a stop or sliding around a corner. Drifting is that but faster (the fastest tracks are 120 or 130mph). And it's all the time, as you're keeping the car in a state of oversteer. So now I feel most comfortable in a vehicle when it's sideways. That's when I feel the most under control.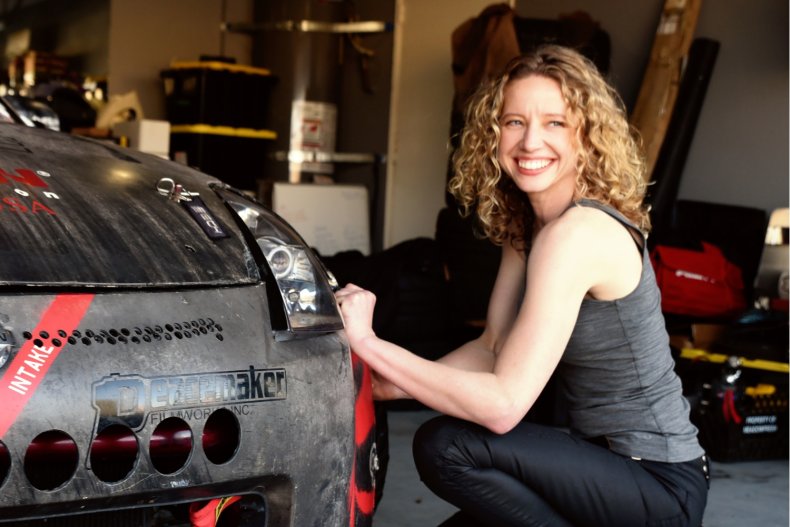 A director recently asked me, "Why do you do this?" and I said, "It's the only time it's quiet for me." My brain can focus. I feel completely present, in the moment, and focused on one linear goal. Everything gets really slow and it feels like I have all the time in the world, even though I'm moving very quickly. I can be sideways, looking at the people in the crowd, and I can tell you the color of someone's T-shirt.
Our runs are, at most, 45 seconds to a minute. They're very short, which is pretty normal for drifting because we're basically running the engines at the red line and spinning the tires for that amount of time. We usually only get two runs out of a set of tires, they're spinning so quickly!
In other motorsports, where races are half an hour or an hour, there are moments that aren't that exciting. But drifting is only the exciting parts. It's super loud, aggressive and non-stop. When you're chasing the other cars, especially at the higher levels, the car in front is making so much smoke that sometimes you're guessing where you are.
Last year I completed a 20,000-mile tour of the US across 16 racetracks. I went through four transmissions, and most of those were replaced at the track. My coach always jokes, "The whole car is pretty much a disposable item." Teams with a large budget carry spare engines. You carry all the suspension arms, everything, because there's a lot more crashing in drifting than there is in other motorsports.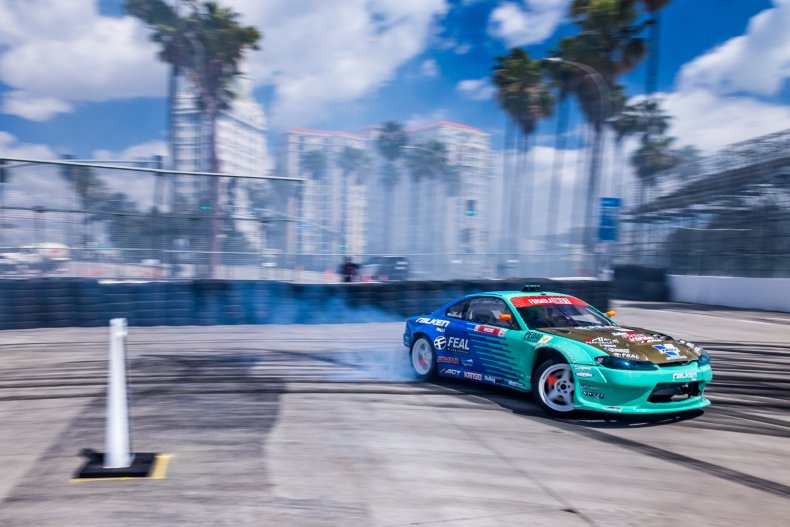 The thing with drifting, as with any competitive sport, is that if you're not pushing yourself over the edge, you're not going as hard as you need to be. When I'm driving a car on set in my day job, I err on the side of caution—I can drive at 70 percent of my capacity because if I go too aggressive, I could damage equipment or people and, if I don't get the shot, it's costing the production money. In drifting, I'm pushing the other cars, rubbing the walls, ripping my bumpers off, to find and really push the limits of the car. The desire is to go just a little too hard, so I know I'm going hard enough.
Being a woman in a male-dominated sport
Drifting a is an active, grassroots community. But it is also fairly male-dominated. I'm trying to be a part of changing that, and I'm working with the Della Penna Nextgen Foundation to introduce women at a younger age to motorsports. We recently did an event at a local high school, where 18 girls tried go-karting for the first time, and then rode along in a drift car. I think exposure, and getting to see something, to know you could be a part of it, is key.
I've been pretty lucky that I've received a lot of support. As a woman, I've felt welcomed in the drifting community. As a gay person, however, I've felt alone.
I haven't seen many openly gay, queer or LGBTQ+ people in motorsport at all. When I started competing, I Googled "gay racers," "gay women in motorsport," etc. I tried to find people like me, to know that I had a community. And I couldn't find them.
It's very hard. No matter how nice and welcoming the other drivers are, straight, white men—speaking in a community where they are surrounded by straight, white men—don't know what it feels like to show up and be the only person in a place that's like you.
So, when I started out, I felt welcomed as a woman, but as a queer person I felt worried that if I revealed that part of myself, I wouldn't be welcomed anymore. Motorsports is not, generally speaking, the most liberal community. I don't think it's as bad as I expected but there's a fear where if you love something so much, you don't want anything to stop you from being around it.
Challenges I have faced as a gay woman in motorsports
After doing that research and trying to find the community, I realized there were probably young people who were looking into motorsports and going, "There's no way I can do this because there's nobody like me doing it." So I decided to come out because I wanted to see people like me involved, because I wanted to have more community—and the best way to find that community is to start it.
Since I've come out, most people haven't addressed it at all. Some people in the community, however, have said the classic, "I mean, I don't get why it needs to be a big deal. I don't care if you're gay or not but why do you have to tell people?" Some people don't really understand what it's like to live hiding a piece of yourself.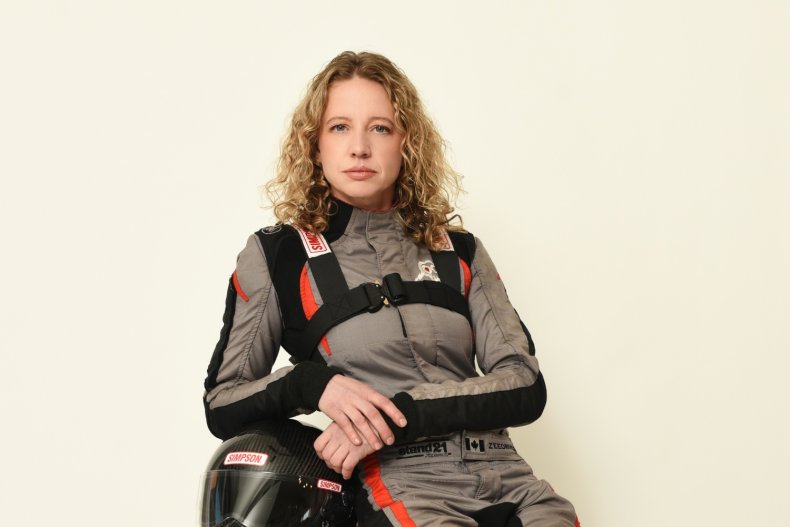 When I first committed to working with Racing Pride, I made some calls to various sponsors because I didn't know what their values were, and I felt it was important that I say to them, "Hey, this is something I'm doing, and I totally understand if this means you don't want to work together anymore."
One of the discussions I had was with a person with whom I had a pretty good relationship, but I knew they were religious. It was probably a 40-minute conversation, and he said, "Look, I support you in whatever you want to do, but I don't think I'm comfortable having my logo and a Pride flag on the same vehicle." I was gutted. I got off the phone with him and I cried. It was a hard rejection.
But he called me a day later and said, "You know, I thought about it, and I don't care. I want to work with you." I thought that it was pretty cool that he had gone and reflected and decided: maybe this person has more value, even if I don't understand some part of them.
I've had some really positive responses, too. I've had other racers message me and ask how they can get involved. People who aren't gay—just allies. And I've started to connect to a few more LGBTQ+ people in motorsports.
I would say our community is still in its infancy; this will be the second year that Racing Pride is in North America, and I'm the only female driver who is an American ambassador. It's still a very small community but the fact that we're doing it, the fact that some larger companies are stepping up, I think is an indication that the general public has an appetite for this kind of inclusion.
But it's still difficult. I've talked to many potential partners within drift sports, and I think they love the "woman thing"—they love representing women—but when I mention Racing Pride or other kinds of diversity, they're not that interested. They don't see the marketing benefit.
Now, I am choosing who I work with based on how they respond to what I am doing. Because yes, I want to be competitive, I want to be the first woman to break certain barriers in the upcoming Formula Drift season, but I also want other women—especially queer women, and women of color—involved in racing.
So if I say to a sponsor, "This is one of my projects and your company, by extension, could be a part of it," and it's not interesting to them, then I don't want to work with them.
I've been making choices based on companies having values that are important to me, because I don't think I can change motorsports unless I partner with companies that see this as important, that see change as possible and necessary, and are willing to invest in it.
Zandara Kennedy is a professional stunt driver and drift driver who will be competing at four events in the 2023 Formula Drift season. Find out more on her website zeedrives.com or follow her on Instagram @zeedrives.
All views expressed in this article are the author's own.
As told to Newsweek's My Turn deputy editor, Katie Russell.