Zelenska's 'Unfeminine' Pose in Vogue Sparks Trend Among Ukrainian Women
Thousands of Ukrainian women have taken part in an initiative supporting First Lady Olena Zelenska's defiant pose in one of Annie Leibovitz's portraits for her Vogue photoshoot, which was described by critics as "unfeminine."
The comment referred to a portrait of Zelenska sitting down on a step inside of the presidential compound in Kyiv, wearing a simple ivory shirt, sleeves rolled up, over black trousers, facing the camera's lens and resting her arms over her knees. The pose was described by critics as "unfeminine" and "too manly."
The comments were ripped apart by Ukrainian journalist Zoya Zvynyatskivska, who launched the #SitLikeAGirl flash mob, inviting women to sit in the same pose.
In a matter of three days, thousands of women joined the initiative —including Leibovitz, who shared her support for it by posting the hashtag on her Instagram stories.
"Many Ukrainian women were appalled by the society's attempt to tell women which pose they are allowed to take," Zvynyatskivska said, as reported by the Kyiv Post. "The flash mob's goal is to ridicule the stereotypes girls and women are subjected to."
With her Instagram stories (which are now no longer available), Leibovitz encouraged her followers to share their photos in Zelenska's pose.
The mobilization of thousands of Ukrainian women, including police officers and soldiers, is proof that there's little patience for sexist stereotypes in Ukraine, and that the first lady enjoys the support of many.
But outside of Ukraine the series of portraits published on Vogue triggered a heated debate, with many on social media criticizing Zelensky and Zelenska for posing for a photoshoot while their country is in the middle of a devastating war. Some called the photoshoot "insensitive," accusing the pair of crossing a line.
Some, like Republican congresswomen Lauren Boebert of Colorado and Mayra Flores of Texas on Twitter, tried to turn the photoshoot into a political instrument against sending military aid to Ukraine.
On the other hand, many in Ukraine supported the couple for posing for the high-level photoshoot, saying that "whatever raises awareness and reminds people that Ukrainians are still dying every day and Ukraine still needs support, is more than appropriate and even necessary."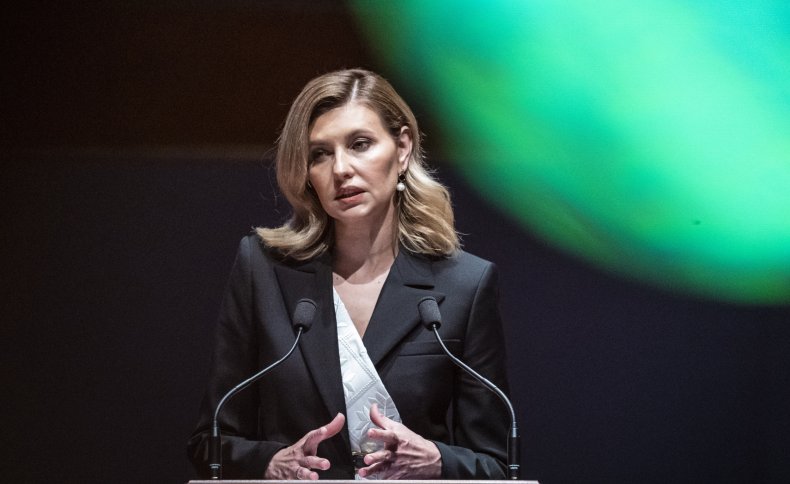 While the portraits have been criticized by many as a tone-deaf attempt at glamorizing the war, war-time photoshoots are hardly a novelty. As some pointed out on Twitter, even Winston Churchill and his wife Clementine were doing photoshoots during WW2 to boost the British troops' morale.