Ukrainian President Zelenskiy Breaks Silence On Trump: 'If You're Our Strategic Partner, Then You Can't Go Blocking Anything For us'
Ukranian President Volodymyr Zelenskiy denied there was a quid pro quo with President Donald Trump, telling Time the issue of the United States providing his country with military aid was about "fairness."
"If you're our strategic partner, then you can't go blocking anything for us," Zelenskiy told Time. "It just goes without saying."
Months after taking office, Zelenskiy, a celebrity-turned-politician, became the focus of American politics after Democrats launched an impeachment inquiry against Trump. At the center of the inquiry is whether the U.S. president withheld military aid from Ukraine in exchange for Zelenskiy announcing an investigation into former Vice President Joe Biden and his son, Hunter.
Military aid from the U.S., Zelenskiy told Time, was "very important" given the current war with Russia, but he added that he didn't talk to Trump from the position of a quid pro quo. He said it wasn't his "thing" and that he didn't want Ukraine to look like "beggars."
A transcript of a July call between Zelenskiy and Trump showed the American president asking his Ukranian counterpart to "look into" claims that Biden stopped then-Ukranian Prosecutor General Viktor Shokin from investigating Burisma, a company where Hunter served as a board member. Trump denied claims he did anything improper, posting on Twitter in October that he had an obligation to stop corruption.
"This has NOTHING to do with politics or a political campaign against the Bidens. This does have to do with their corruption!" Trump wrote on Twitter.
Zelenskiy admitted to Time that Ukraine's government branches were "corrupted over many years" but said officials were working to eradicate it. Because the United States is a "signal" to the rest of the world, the Ukranian president said Trump calling the country corrupt tells investors, banks, stakeholders and companies that they should "be careful," not invest or "get out" of Ukraine.
"During my meeting with him, I said that I don't want our country to have this image," Zelenskiy said. "For that, all he has to do is come and have a look at what's happening, how we live, what kinds of people we are."
Current and former Trump officials testified before the House Intelligence Committee in November, offering their insight into what transpired behind the scenes. During his opening statement, Ambassador Gordon Sondland responded affirmatively to the question of whether there was a quid pro quo, a comment Democrat lawmakers considered damning.
Later in the testimony, Sondland relayed a conversation between himself and the president, at which point, Trump said he didn't want a quid pro quo. This segment of the testimony, Trump told reporters on November 20, proved the inquiry was "all over."
"I want nothing. I want no quid pro quo. Tell Zelenskiy to do the right thing," Trump said, citing Sondland's testimony about the call.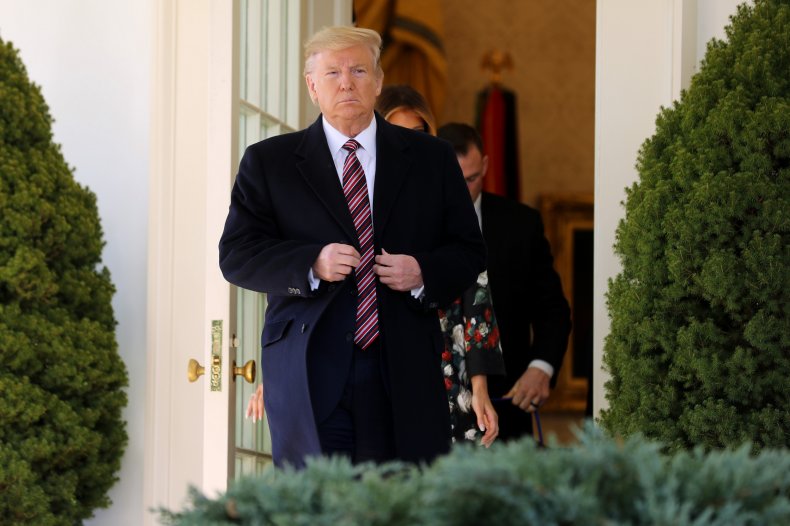 Newsweek reached out to the White House and Ukranian President's office but did not receive responses in time for publication.
Zelenskiy is scheduled to sit down with Russian President Vladimir Putin on December 9 for what is expected to be the first round of peace talks. The Ukranian president acknowledged that the American president also has Putin's ear.
Zelenskiy told Time Trump has the ability to speak directly to Putin but said he didn't want his country used as a chess piece to benefit the U.S. or Russia. However, a conversation between the two countries about ending the war and changes Ukraine has undergone would be welcomed, the Ukranian president said.
"If it's a conversation along the lines of, 'Look, let's make this stop. Ukraine is different now. Ukraine wants to stop it. There is no radicalism. No one is killing and eating anyone in that country. See for yourself. Come on.' Then the whole world would support Ukraine, and America is one of the keys to this happening," Zelenskiy told Time.