Ukrainian President Volodymyr Zelensky accused Russian President Vladimir Putin of bringing in "murderers" from the "destroyed" country of Syria to aid his destruction of Ukraine.
On Friday, the Kremlin announced it would allow fighters from Syria and the Middle East to join Russia in the fight in Ukraine. Russia was a crucial partner in turning the tide of the Syrian war in President Bashar al-Assad's favor and Kremlin Spokesman Dmitry Peskov told reporters that most of the people who "asked" to fight in Ukraine were Syrians and residents of Middle Eastern countries.
In a video posted on Telegram on Friday, Zelensky said Russia decided to "hire mercenaries against our citizens."
"Murderers from Syria, a country where everything has been destroyed…like they are doing to us here," Zelensky said.
Ukraine put up a fierce resistance to Russia's attacks, stalling advances and hindering Russian President Vladimir Putin's progress. Ukraine has proved that it can make a war extremely costly for Putin, who finds himself in a difficult position. As economic sanctions continue to wreak havoc on Russia's economy, Putin admitting defeat in the Ukrainian war would make him look weak, putting him at risk of losing his hold on power in Russia.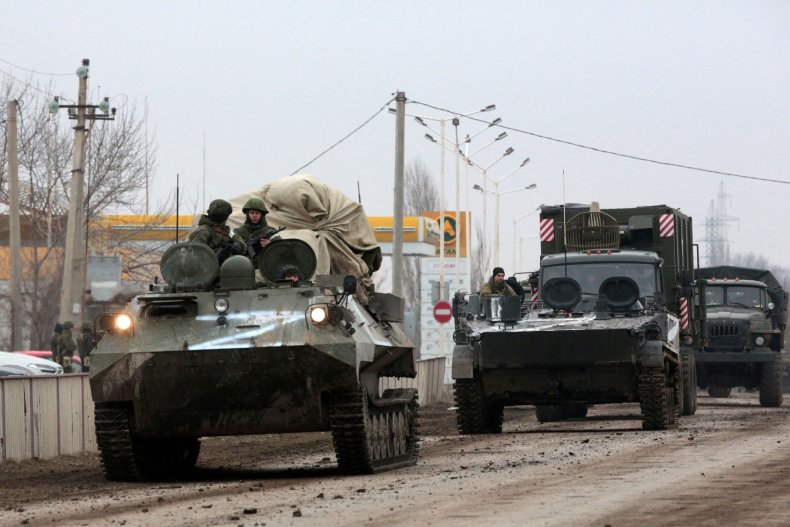 Thousands of Russian troops have been killed in the war with Ukraine - more than the United States lost in the 20-year-long war in Afghanistan, according to Ukraine and U.S. officials. Russia has given much lower figures for military deaths.
On Monday, the Pentagon said it believed Russia was trying to recruit Syrian fighters to bolster its war effort. Pentagon spokesman John Kirby called it "interesting" that Putin would "have to rely on foreign fighters," but he said he didn't have information on the number of Syrian fighters Russia was trying to sign up for the war or the caliber.
Peskov backed the decision to send volunteer fighters from other countries to Ukraine, accusing the United States of supporting sending mercenaries to help Ukraine.
"If the West is so enthusiastic about the arrival of mercenaries, then we also have volunteers who want to participate," Peskov told journalists.
Newsweek reached out to the Department of Defense for comment but did not receive a response in time for publication.
The Biden administration hasn't sent troops to Ukraine, but has sent forces to nearby NATO countries to help respond to the Ukraine crisis. They're mostly assigned to help with the refugee crisis the invasion sparked, but could be used militarily if a conflict broke out between Russia and a NATO member state.
Ukraine has established its own foreign forces to help aid the resistance to Russia's advances. Rob Grady, a 61-year-old man from Scotland, told Newsweek his family would go "ballistic" when they found out he left home to fight alongside the Ukrainians. However, he said he believes Putin's ambitions threaten the entire free world. Knowing he could die crossing the street at home, he said he would rather die fighting for Ukraine.
Putin sent members of the Russian military to Syria in 2015 to support Assad in the civil war and troops remain present in the country. An estimated 16,000 volunteers from mostly Middle Eastern countries had appealed to join Russia's military to fight against Ukraine, according to Defense Minister Sergei Shoigu.