Zelensky Appeals to Russia's Drafted Ethnic Minorities: 'You Want to Live'
Ukrainian President Volodymyr Zelensky is calling on Russia's ethnic minorities to resist being drafted into the military, after reports the Kremlin is disproportionately conscripting men from poorer and more remote regions to fight in Ukraine.
In a video addressed to the "peoples of the Caucasus, Siberia and other indigenous peoples of Russia," Zelensky on Thursday told potential soldiers they didn't "have to die in Ukraine." Zelensky's appeal follows complaints from activists that Russian President Vladimir Putin's partial mobilization for his war on Ukraine is targeting ethnic minorities living far from Moscow.
Wearing a black sweatshirt with the words "I'm Ukrainian," Zelensky appeared in the video next to a plaque in Kyiv memorializing Imam Shamil, a 19th century cleric who led resistance in the Caucasus to imperial Russia.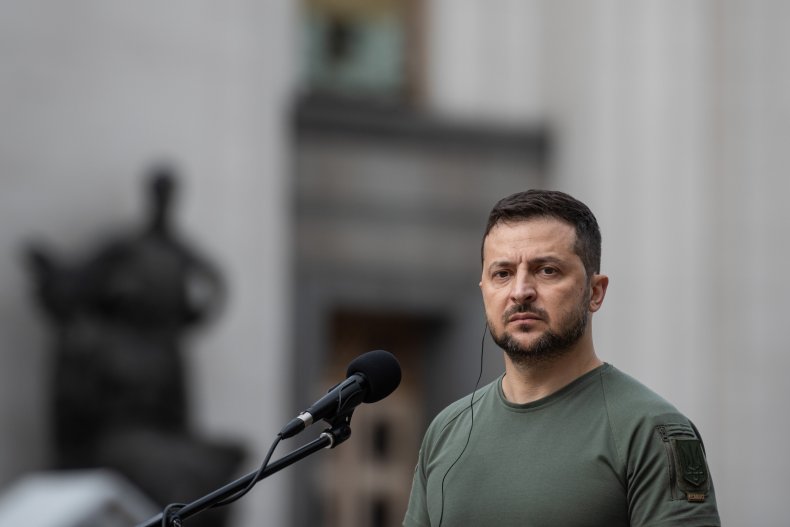 "Dagestanis do not have to die in a vile and disgraceful war of Russia. Chechens, Ingush, Ossetians, Circassians and any other peoples who came under the Russian flag," said Zelensky, referring to different ethnic groups in Russia. "In total, almost 200 different peoples."
Zelensky told them to "fight to avoid death" and to use their freedom now to prevent being sent "to fight in the mountains and forests simply for your right to live." Calling the mobilization order "criminal," he said Russian authorities had covered up their failures in Ukraine.
"And what do you want? I'm sure you want to live," he said. "I'm sure you're tired of being lied to."
Zelensky also said Ukraine has taken note of efforts to resist the mobilization order.
A United Nations human rights agency on Wednesday said it was "deeply disturbed" by arrests of Russians protesting the mobilization order, saying 2,377 demonstrators had been detained across the country since last week.
The agency mentioned Dagestan, a majority Muslim region of Russia that borders Georgia and the Caspian Sea, where protesters had clashed with police.
Daavr Dordzhin, an activist and ethnic Kalmyk, told The Moscow Timesthat Russian authorities were planning to draft 332 people from Elista, a city in northern Caucasus with a population of 150,000.
The Institute for the Study of War (ISW), a U.S. think tank, published research last week concluding that the Kremlin will "likely mobilize ethnically non-Russian and immigrant communities at a disproportionate rate." The think tank cited a Ukrainian intelligence report that the majority of Russians killed in Ukraine have been drawn from regions with heavy minority populations that are poorer and less developed.
Authorities are preventing residents of Russia's far-east Sakha and Kursk regions from leaving, according to the ISW. The think tank also cited reports that Russian authorities were targeting ethnic Armenian residents in its south and in Buryatia in eastern Siberia.
Alexandra Garmazhapova, president of the Free Buryatia Foundation, said on Facebook last week that residents of Buryatia have begun fleeing to Mongolia to avoid being drafted and her organization has helped some draftees terminate their contacts with the Russian military.
"It hurts to talk about it, but the blame for what is happening is on the indifferent majority," Garmazhapova said in another post. "This needs to be acknowledged. Acknowledge it and take action. You do not have to become "gun meat" in favor of the interests of the current rulers of Russia, who, of course, will not send their children to any war."
Newsweek has reached out to the Russian Defense Ministry and Free Buryatia Foundation for comment.