Giorgia Meloni, Zelensky's Awkward Ally
On Tuesday, Italian Prime Minister Giorgia Meloni, leader of the right-wing populist party Brothers of Italy, is set to visit Ukrainian President Volodymyr Zelensky in Kyiv—the first such trip for the Italian premier since she took office in October.
Meloni's visit has been eclipsed by the surprise visit of President Joe Biden to the Ukrainian capital on Monday, where he met with Zelensky and reiterated Washington's unwavering support for Ukraine in the face of Russia's invasion.
But Meloni's visit to Zelensky was already charged with awkwardness and controversy before Biden's trip grabbed the spotlight. Though the Italian premier ran her election campaign in 2022 with the firm promise that she would send military and humanitarian aid to Ukraine should her right-wing coalition win, one of her key allies—Silvio Berlusconi—has repeatedly undermined her position.
Berlusconi—a controversial media tycoon and Italy's longest-serving prime minister—is the leader of Forza Italia, one of the parties within the right-wing coalition in power. He has long considered himself a close friend and admirer of Russian President Vladimir Putin.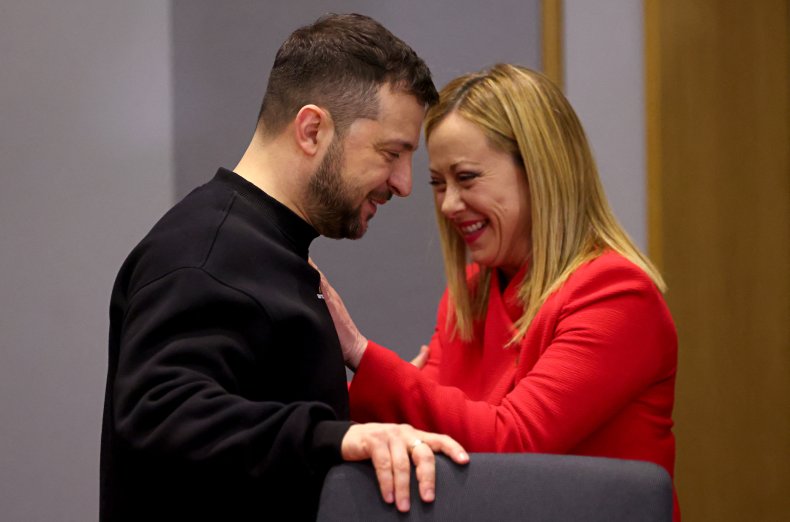 Only last week, Berlusconi said that Ukraine could have avoided war if Zelensky had left the two self-proclaimed republics of Luhansk and Donetsk alone.
"It would have been enough for him to stop attacking the two autonomous republics of Donbas, and this wouldn't have happened," he said to reporters on February 13, referring to Russia's invasion. "So I judge very, very negatively the behavior of this man," he said, calling the Ukrainian president "Mr. Zelensky."
He added that, in contrast with Meloni, he would never have gone to speak to Zelensky.
"We are witnessing the devastation of his country and the massacre of his troops and civilians," he said.
Berlusconi's statement, which echos Kremlin propaganda, has embarrassed Meloni and her government. The prime minister did not officially address Berlusconi's comments, but ahead of her journey to Kyiv she proclaimed that Ukraine still has Italy's total support.
The controversy reflects how divisive the war in Ukraine has proved in Italy. According to a recent survey run by Euromedia Research, 52 percent of Italians don't support sending weapons to Ukraine.
In January the proposed appearance of Zelensky via a recorded video message at Italy's Sanremo festival, the country's most popular music competition, was mired in controversy, with several politicians across the political spectrum complaining about the alleged politicization of the event. In the end, Zelensky sent a written statement, though the festival claimed that was what the Ukrainian president's administration had intended all along.
Adding to the difficulties created by her unruly ally Berlusconi, Meloni has also found herself recently sidetracked by French President Emmanuel Macron—or so she claims.
Meloni described a dinner Macron invited Zelensky and German Chancellor Olaf Scholz to on February 8—before a visit to Brussels by the Ukrainian president—as "inappropriate," claiming her exclusion broke Europe's unity in the face of the Ukraine war.
Meloni and Zelensky met briefly on February 9 in Brussels and the Ukrainian president said he was looking forward to the Italian premier's visit. But while Meloni has so far been a strong supporter of Ukraine in the war against Russia, the frictions on the issue within her own coalition are likely to bring more problems for her in the future.