Ukrainian President Volodymyr Zelensky on Sunday pleaded with over 100 members of the Israeli government for the country's defense support, while also calling them out for not sanctioning Russia like many other nations have, The Jerusalem Post reported.
"Why has Israel refrained from sanctions on Russia?" the president asked during the Zoom meeting. "Israel needs to give answers to these questions, and after that, live with them."
Zelensky then called on Israel to provide his country with some of its proficient defense technology, specifically mentioning the "Iron Dome" anti-missile defense system, which he lauded as the best system of its kind in the entire world.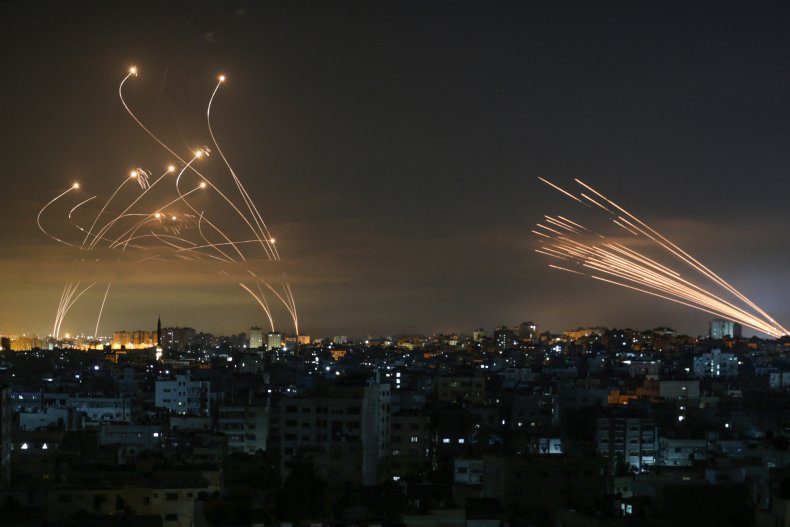 "We are turning to you and asking whether it is better to provide help or mediation without choosing a side," he said. "I will let you decide the answer to the question, but I do want to point out that indifference kills."
The Jerusalem Post reported that some within the Israeli government were taken aback by Zelensky's critical tone during the meeting. Nonetheless, the country does not plan to change course and provide weapons or other equipment to Ukraine.
Israel also intends to continue acting as a mediator between the leaders of Ukraine and Russia. Israeli Prime Minister Naftali Bennett has been in contact with Zelensky and Russian President Vladimir Putin, passing messages between both parties in an effort to reach a peaceful resolution.
Newsweek reached out to Prime Minister Bennett's office for a comment on this story.
Despite these good intentions, Zelensky continued to criticize Israel for not taking a firmer stance against Russia. "Why are you busy with calculations?" he asked. "Mediating without taking sides? You can mediate—but not between good and evil."
While Israel may not be budging from its current course of action, Israeli Foreign Minister Yair Lapid still offered praise for Zelensky following the meeting and said in a statement: "We will continue to help the Ukrainian people as much as we can and never turn our back to people who suffer from war."
During the speech, Zelensky raised the ire of some by comparing the invasion of Ukraine to the Holocaust, claiming that Russia aims to destroy the Ukrainian people just as Nazi Germany aimed to destroy the Jewish people in Europe.
"His criticism of Israel was legitimate, as was his raising expectations of us, but not his infuriating and ridiculous comparison to the Holocaust and his attempt to rewrite history and to erase the role of the Ukrainian people in the attempts to exterminate the Jewish people," Religious Zionist Party leader Bezalel Smotrich told The Jerusalem Post in a statement.