Zelensky on Biden Visiting Ukraine: 'I Think He Will'
Ukrainian President Volodymyr Zelensky believes U.S. President Joe Biden will visit his country as it continues fighting back against the Russian invasion, he said on Sunday during an interview with CNN.
Biden, a vocal supporter of Ukraine, has faced criticism for not visiting the country in recent weeks—though he is considering sending a senior member of his administration.
"I think he will," Zelensky said about Biden. "But it's his decision of course, and about the safety situation—it depends. But I think he's the leader of the United States, and that's why he should come here to see."
British Prime Minister Boris Johnson made a surprise trip to Ukraine earlier this month to show support and pledge additional aid to the country. A video of him walking alongside Zelensky amassed millions of views on Twitter.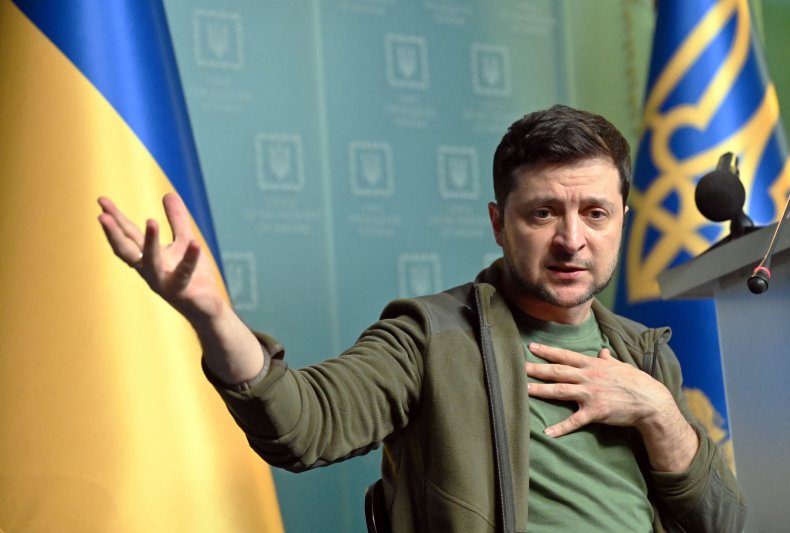 After the meeting, the prime minister pledged that the British government would provide 120 armored vehicles and new anti-ship missile systems to the Ukrainian military. Zelensky praised Johnson for visiting, calling him "one of the most principled opponents of the Russian invasion, a leader in sanctions pressure on Russia and defense support of Ukraine."
The visit, however, prompted Republicans to criticize Biden, who is yet to visit.
"At this point nearly every major NATO/EU country has shown strong public support by sending either a head of state, legislative delegation, or senior diplomatic official to Kiev to meet with President Zelenskyy," tweeted GOP Representative Peter Meijer.
Last week, national security adviser Jake Sullivan said there are no plans for the president to visit Ukraine.
"President Biden doesn't currently have any plans to travel to Kyiv. But what I will tell you is he sits in the Oval Office and in the situation room on a daily basis, organizing and coordinating the world when it comes to the delivery of weapons," he said.
White House press secretary Jen Psaki doubled down on not sending the president to Ukraine during a Monday press conference, insisting that sending weapons is "most important to the Ukrainian leadership."
Biden in March traveled to Poland, where he traveled to the Ukrainian border. During his visit, he met with Ukrainian refugees and world leaders, and expressed "disappointment" that he was not allowed to travel to Ukraine.
"I'm here in Poland to see firsthand the humanitarian crisis, & quite frankly, part of my disappointment is that I can't see it firsthand, like I have in other places," he said, CBS News reported. "They will not let me understandably I guess, cross the border & take a look at what's going on in Ukraine."
Biden said Thursday that his administration is "making that decision now" about whether to send a member of his administration to Ukraine to show support, Reuters reported. The news agency pointed to Defense Secretary Lloyd Austin or Secretary of State Antony Blinken as possibly going to Ukraine.
Newsweek reached out to the White House for comment.