Ukrainian President Volodymyr Zelensky is accusing Russia's state-run energy company of attempting to "shackle" European countries and punishing them with high gas prices for backing Ukraine against Moscow's invasion.
Zelensky, in a speech Thursday, called for European countries to end their dependence on Russian energy. Zelensky's remarks come as Russia's Gazprom cut the flow of natural gas to Europe twice this week, a move critics say was a politically calculated move by the Kremlin.
A key benchmark for European gas futures prices rose above 120 Euros per megawatt hour on Thursday, a 32 percent increase from last month, according to Trading Economics.
Gazprom said on Tuesday it would have to cut the amount of natural gas planned to flow through the Nord Stream pipeline to Europe from 167 million cubic meters per day to 100 million. Gazprom planned the reduction on what it called a "failure by Germany's Siemens to return gas compressor units (GCUs) in due time after their repair," among other reasons.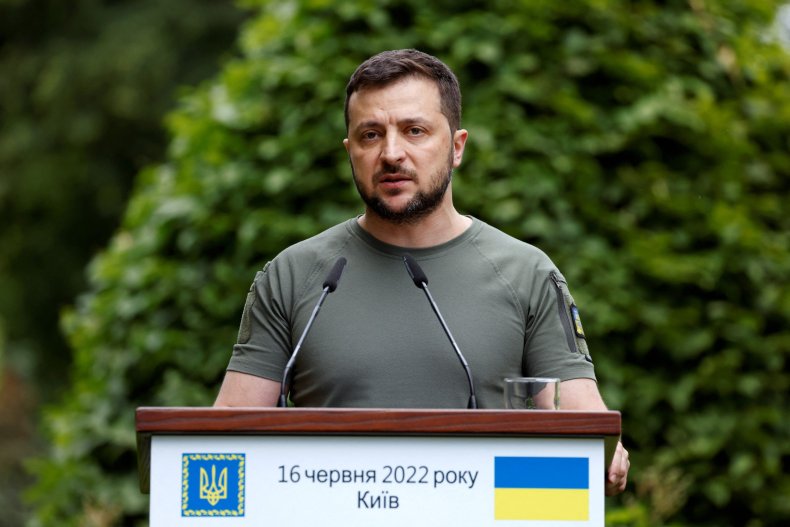 Gazprom said a day later that it would shut down another Siemens gas turbine at its Portovaya compressor station, reducing the supplies through the pipeline to 67 million cubic meters per day.
"I believe that it is not a coincidence that the situation with gas in Europe has worsened today—the price has jumped again," Zelensky said Thursday. "Russia has done this on purpose, restricting supplies to harm Europe, to strike at Europeans."
Zelensky added that, "Gazprom is simply pulling on the gas chain in which they have been trying to shackle Europe for a long time." He said the situation is "another argument in favor of the fact that Europe must now switch to life without Russian gas. There should be no such dependence."
In response to Moscow's invasion of Ukraine, the European Union countered with economic sanctions against Russia. However, the EU has remained dependent on Russian natural gas.
The EU imported 155 billion cubic meters of natural gas from Russia in 2021, according to the International Energy Agency, accounting for around 45 percent of EU gas imports and close to 40 percent of its total gas consumption.
Germany's Economy Minister Robert Habeck on Wednesday said during a press conference that the reduction in gas supply volumes was politically motivated, dismissing the official explanation that the problems were technical.
Kremlin Spokesman Dmitry Peskov on Thursday told reporters there was "nothing deliberate" about the actions taken by Gazprom to reduce gas supplies to Europe, according to Russian state-owned news agency TASS.
"There is nothing deliberate there, this is a problem that is not connected with us," Peskov said, chalking up the reduction in capacity to the problems with turbines.
Gazprom CEO Alexey Miller on Thursday also said there is "there is no way to solve the problem occurred at the Portovaya compressor station," according to TASS.
Newsweek reached out to the EU for comment.