Zelensky Called a 'Thug' in U.S. Rep. Madison Cawthorn Speech
Representative Madison Cawthorn, a Republican from North Carolina, told supporters at a recent appearance that was captured on video that he believed Ukrainian President Volodymyr Zelensky was a "thug."
"Remember that Zelensky is a thug," Cawthorn said in a video obtained by North Carolina news station WRAL. "Remember that the Ukrainian government is incredibly corrupt and is incredibly evil and has been pushing woke ideologies," the congressman added.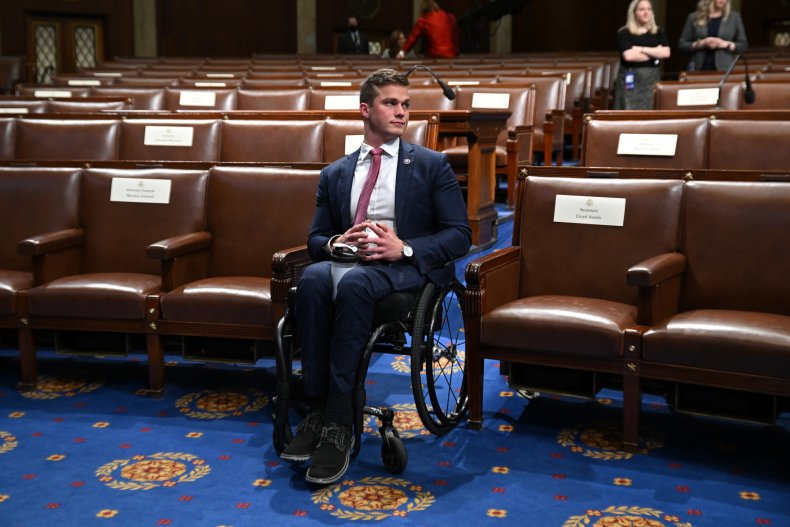 The news station noted that Cawthorn's remarks were first reported in an opinion piece written by Republican strategist Karl Rove in the Wall Street Journal Thursday.
"Rep. Madison Cawthorn (R., N.C.) didn't reflect Republican opinion when he called Mr. Zelensky 'a thug' and Ukraine's government 'incredibly evil' last Saturday at a town hall in Asheville, N.C.," Rove wrote.
Luke Ball, Cawthorn's communications director, told Newsweek that Cawthorn "was expressing his displeasure at how foreign leaders, including Zelensky, had recently used false propaganda to entice America into becoming involved in an overseas conflict. He supports Ukraine and the Ukrainian president's efforts to defend their country against Russian aggression, but does not want America drawn into another conflict through emotional manipulation."
Ball also pointed to a series of tweets Cawthorn posted on Thursday afternoon.
"Propaganda is being used to entice America into another war," Cawthorn tweeted. "I do not want Americans dying because emotions pushed us into a conflict."
Cawthorn links to an article published on Substack that argued Ukraine is directing misinformation at the West, and that its "efforts are designed to bring the United States and NATO into the war."
"The actions of Putin and Russia are disgusting. But leaders, including Zelensky, should NOT push misinformation on America. I am praying for Ukraine and the Ukrainian people. Pray also we are not drawn into conflict based on foreign leaders pushing misinformation," Cawthorn said in another tweet.
After WRAL published the video of Cawthorn's remarks on Thursday, North Carolina Republican State Senator Chuck Edwards, who is challenging the congressman in the Republican primary, criticized him on Twitter. Cawthorn is running for reelection in 2022.
"Let's be clear. The thug is Vladimir Putin. We must unite as a nation to pray for President Zelensky and the brave people of Ukraine who are fighting for their lives and their freedom," Edwards stated.
"Anything less is counter to everything we stand for in America," the state senator added.
Update 3/10/22 2:10 PM ET, This story was updated with additional details.