Zelensky Calls Out Russians Staying Hushed on War in Ukraine
The war of Russian aggression in Ukraine is quickly approaching the half-year mark, and Ukraine President Volodymyr Zelensky used his Sunday night national address to call out Russians who have remained silent on their stance.
Zelensky said Russians in both Russia and abroad support 'evil' if they refuse to speak against the war.
"When evil acquires such proportions, people's silence approaches the level of complicity. And the refusal to really fight against evil becomes a help to it," Zelensky said. "Therefore, if you have Russian citizenship and you are silent, it means that you are not fighting, which means that you are supporting it.
"No matter where you are - both on the territory of Russia and abroad - your voice should sound in support of Ukraine, and therefore against this war."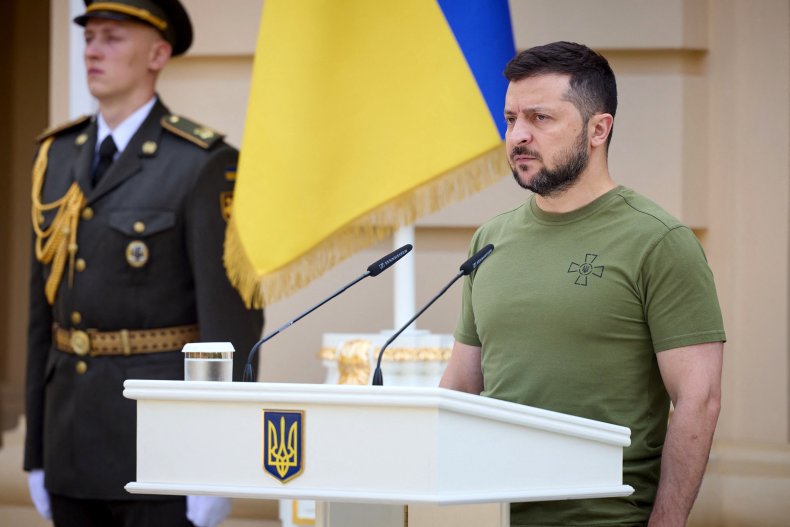 It might be easier said than done, though, as many Russian citizens have been jailed in their home country for speaking out against the war.
In March, the Russian Parliament passed a law that criminalized any "fake news" distribution of Russia's was. Russia President Vladimir Putin quickly signed the bill into law. Anyone prosecuted under the law could face up to 15 years in prison.
"If you say anything about the military being guilty of anything at all they will try to destroy you," said Michael Nacke, a social media personality who could face a maximum of 10 year if he returns to Russia.
Russia began building troops along Ukraine's northern and western borders in late January, and they began attacking Ukraine on February 24, 2022. Since then, there have been heavy casualties on both sides. That includes Ukrainian civilians, foreign fighters, Ukrainian military and nearly 43,000 Russians.
Russia failed to overtake Kyiv, Lviv and Odesa, but they occupied many regions in the eastern portion of Ukraine. Russia has occupied most of the Donbas Oblast, which includes Luhansk, Severodonetsk, Donetsk and Mariupol. They occupied the Crimea peninsula in 2014.
Russia has also occupied the major southern cities of Kherson and Melitopol, inching their way toward Odesa and the southwestern Transnistria area near the Moldova border.
Ukraine has found success lately by using high mobility artillery rocket systems (HIMARS) a s a defensive way to knock out Russian weapon systems.
Through Day 172 of war, Ukraine has achieved the following, according to Pravda.com:
43,500 — Russians killed in war
1,000 — Approximate number of prisoners of war
15 — Ships and boats destroyed
233 — Airplanes destroyed
194 — Helicopters destroyed
980 — Artillery systems destroyed
6,000 — Tanks destroyed
3,039 — Russian automotives destroyed
784 — Attack drones shot down