President Volodymyr Zelensky called Russia a terrorist state following an attack on the central square in Ukraine's second-largest city of Kharkiv in which several were killed and more injured.
"The attack on Kharkiv is a war crime. This is state terrorism of the Russian Federation. After that, Russia is a terrorist state," Zelensky said in a video statement Tuesday during the sixth day his nation has been under attack from Russia.
Footage shared by a member of the Ukrainian government Tuesday showed a cruise missile striking the city's regional state administration building in Freedom Square, creating a large fireball and plumes of smoke that engulfed cars driving by. Shortly after rescue teams arrived following the initial blast, a second rocket hit the building.
"This is terror against the city. There was no military target on the square. Just as those in residential areas of Kharkiv, hit by rocket artillery," Zelensky said, adding that the attack aimed at the central square was "an outright terror. No one will forgive. No one will forget."
Photos of the aftermath showed windows and walls of buildings blown out. There are piles of debris and dust covering the streets and charred cars. Inside the corridors of one of the buildings were mounds of leftover scraps and blown-out doors.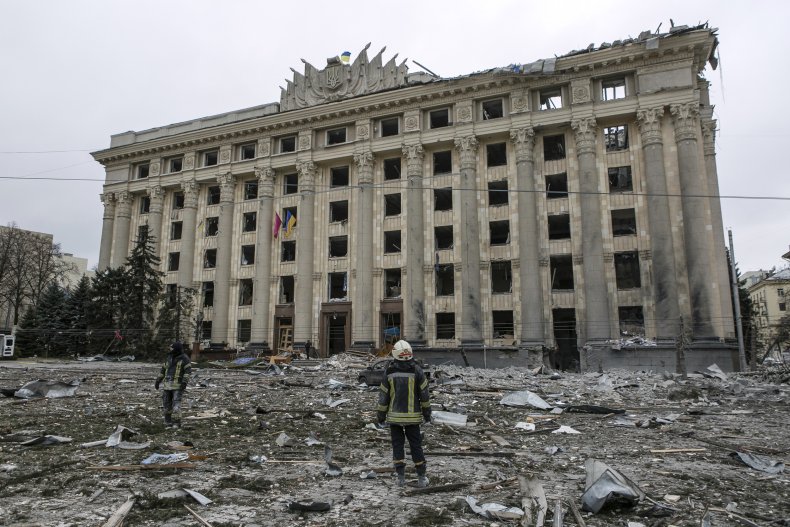 About 10 people were killed in the blast and more than 20 injured, according to the State Service of Ukraine for Emergencies post on Twitter.
This was the first time Russia had fired at the center of Kharkiv, a city of about 1.5 million people, but its residential neighborhoods had been under attack for several days. At least 24 fires caused by shelling had been put out in the region, and at least 69 explosive devices had been disabled, the Ukrainian emergency service said.
The United Nations human rights office said Tuesday that it has recorded the deaths of 136 civilians, 13 of which were children, in Ukraine. However, it fears the real death toll is likely to be much higher.
Meanwhile, a 40-mile convoy with hundreds of Russian tanks and other vehicles is inching toward the capital city of Kyiv. Zelensky said Kharkiv and Kyiv are currently the most important targets for Russia, and the defense of the capital is a priority.
"All cities of Ukraine must do everything to stop the enemy," Zelensky said Tuesday. "If we protect Kyiv, we will protect the state. This is the heart of our country. And it must keep beating."
Update 3/1/22, 11:45 a.m. ET: This article was updated with additional information.