Ukrainian President Volodymyr Zelensky was met with a standing ovation after addressing both chambers of Congress virtually Wednesday as his country continues to fight off a Russian invasion.
Following his 16-minute address, lawmakers on both sides of the aisle pledged to continue humanitarian and military aid but stopped short of endorsing a no-fly zone—a measure Zelensky has said would be the greatest help in combating Russian forces.
Democratic Senator Mark Kelly of Arizona, a retired U.S. Navy captain, told CNN it's best for the United States to avoid being in direct combat action with Russia when asked about Zelensky's request.
Republican Senator Roy Blunt of Missouri echoed that sentiment, telling CNN's Manu Raju that "anytime you put American pilots and American planes in the sky, with Russian pilots and planes in the sky, you're really taking a chance that we may engage at a level that I don't think we're prepared to."
House Minority Leader Kevin McCarthy said the U.S. should provide Ukraine with additional planes so they "can create their own no-fly zone."
Zelensky described the conflict as the "worst war since World War II" and played a graphic video showing buildings being hit with explosives, victims being placed in mass grave sites and children saying goodbye to their parents.
The Ukrainian leader also repeated his request for a no-fly zone over Ukraine to "save people."
"Is this too much to ask? Humanitarian, no-fly zone — something that Russia would not be able to [use to] terrorize our free cities," Zelensky said. "If this is too much to ask, we offer an alternative. You know what kind of defense systems we need—S-300 and other similar systems. You know how much depends on the battlefield on the ability to use aircraft."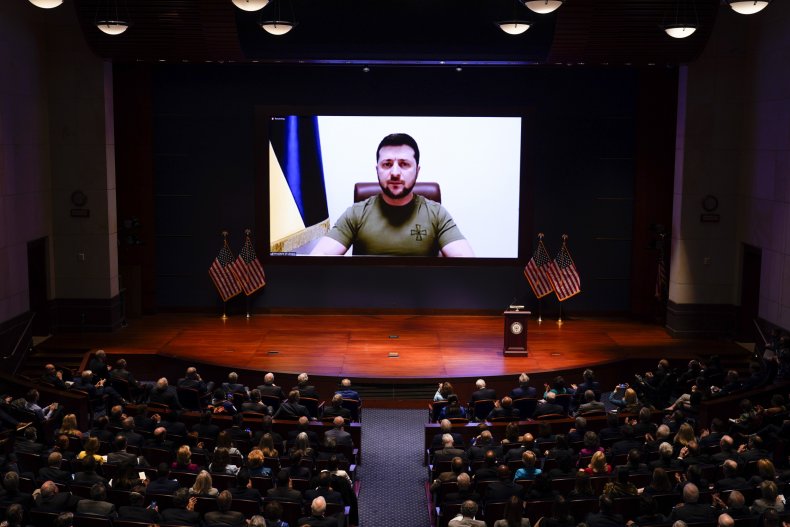 Several Republicans indicated support for sending planes to Ukraine after Zelensky's speech.
"There's a bipartisan movement here, provide them the MiGs," McCarthy told reporters.
Russian forces launched a full-scale attack on Ukraine on February 24, entering the eastern European nation on three fronts. The conflict has led 3 million people to flee Ukraine, according to the United Nations.
Russia has been accused of war crimes for reportedly shelling civilian areas and bombing a maternity and children's hospital. The International Criminal Court (ICC) and the United Nations Human Rights Council have already opened an investigations into allegations of war crimes, crimes against humanity or genocide committed in Ukraine.
Zelensky asked Congress Wednesday for new sanctions against all Russian politicians who remain in their offices and called for all American businesses to exit the Russian market.
The Ukrainian leader also appealed directly to President Joe Biden in his closing remarks.
"Being the leader of the world means to be the leader of peace," Zelensky said.
Biden is expected to announce more than $1 billion in new military assistance to Ukraine's government, the Wall Street Journal reported.
Update 03/16/22, 11:00 AM ET: This story was updated with more information and background.