Zelensky Says to Not Trust Russian Promises: 'We Are Not Naive People'
Ukrainian President Volodymyr Zelensky threw skepticism at Russia's plans to scale down military operations, saying "only a concrete result can be trusted."
Zelensky made the remarks on Telegram Tuesday as Russian and Ukrainian negotiators continue efforts to broker an end to the conflict now approaching its fifth week. The suspicion from Zelensky comes the same day Russia signaled a drawdown of troops and a possible new phase of the war.
"The signals we hear from the negotiating platform can be called positive," Zelensky said. "But these signals do not drown out the ruptures of Russian shells."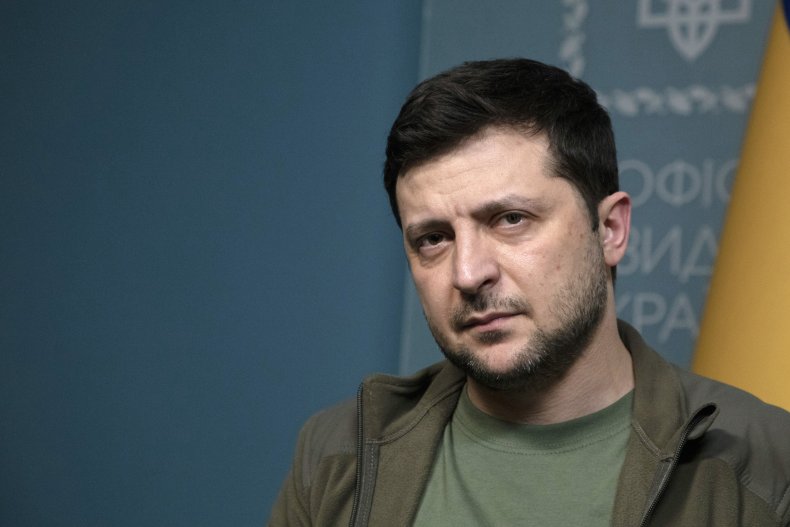 Turkey is currently hosting peace talks between the two sides after Russia has failed to capture the Ukrainian capital of Kyiv. Russian officials have now said they are seeking to deescalate the conflict.
Alexander Fomin, Russia's deputy defense minister, told reporters on Tuesday that forces would fall back from Kyiv and Chernihiv, a city in northern Ukraine.
"In order to increase mutual trust and create the necessary conditions for further negotiations and achieving the ultimate goal of agreeing and signing [an] agreement, a decision was made to radically, by a large margin, reduce military activity in the Kyiv and Chernihiv directions," Fomin told reporters.
But Zelensky said in his Telegram post that "we see no reason to trust the words of certain representatives of a state that continues to fight for our destruction." He said Ukrainians were right to be distrustful, pointing to the current conflict and Russia's support for separatists in eastern Ukraine over the last eight years.
"Ukrainians are not naive people," said Zelensky.
President Joe Biden also expressed skepticism toward Russia on Tuesday, telling reporters he'd wait and "see what their actions are."
Pentagon spokesman John Kirby said during a press briefing Tuesday that while there has been some movement by the Russian military away from Kyiv, it's likely a repositioning of troops and not a "real withdrawal."
He said Russian troops could be preparing for an offensive on other parts of Ukraine with "massive brutality" against the country still possible.
"It does not mean that the threat to Kyiv is over," said Kirby, adding that the threat of Russian airstrikes remains.
The U.K. Ministry of Defence shared a similar assessment, saying on Twitter that Russian troop movements around Kyiv indicate "acceptance that it has now lost the initiative in the region."
"It is highly likely that Russia will seek to divert combat power from the north to their offensive in the Donetsk and Luhansk regions in the east," the ministry said.
Newsweek has reached out to the Russian government for a response.