Zelensky Says Soccer Victory Offers Ukrainians 'Two Hours of Happiness'
On Wednesday, the Ukrainian national soccer team defeated Scotland 3-1 in a FIFA World Cup play-in semifinal match. The contest, which had originally been scheduled for March, was postponed following Russia's full-scale invasion of Ukraine on February 24.
With the war ongoing, Ukrainian president Volodymyr Zelensky wrote on Telegram that the victory had given Ukrainians "two hours of happiness...Joy to our military, and to our whole country."
Whether at home or abroad, Ukrainians saw the sporting event as something more than just a game.
Kyiv natives Zhenya and Roman, who cheered on their team from a booth at a bar and grille not far from Liberty Square in Tbilisi, Georgia, told Newsweek after the final whistle that this victory was something special.
"This was no ordinary match," Zhenya told Newsweek. "When there are soldiers in the trenches literally giving their all to defend the country, it means the guys in football uniforms are also under an obligation to show up and give the same level of effort. It's inspiring to be able to say that they did exactly that."
A Ukrainian soldier on hand was similarly inspired.
"The victory gave all of us an extra positive charge," Aleksandr Bespalyi, a Territorial Defense Battalion soldier from the Odesa region, told Newsweek. "We were planning to watch using a projector, but from the start of the match, the Orcs [Russian forces] started shooting off rockets all over Ukraine, and so we had to go down and watch in the trenches on our phones."
"I'm sure that the guys on the front lines were watching too," Bespalyi added. "At least, if they weren't involved in direct combat at the time."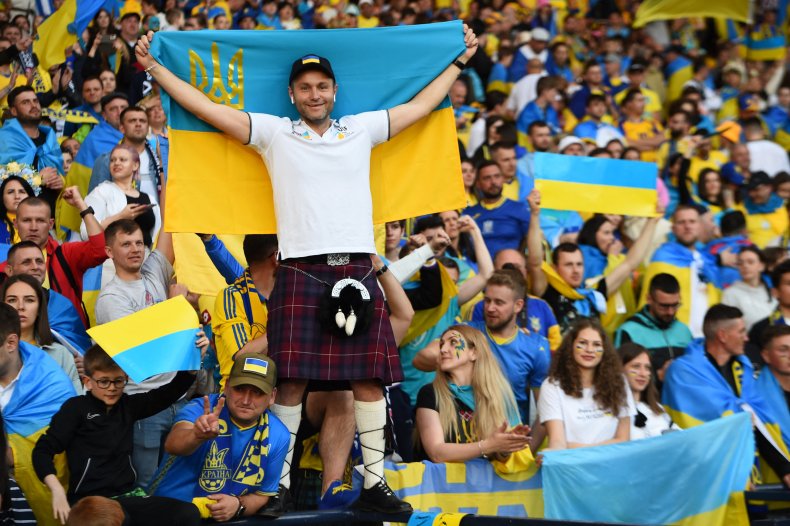 Bespalyi's sister, Anna, was also watching, albeit from the relative safety of a small cottage she has been renting with her partner in Western Ukraine ever since the couple fled Kyiv in March.
"Usually I don't watch soccer," Anna told Newsweek, "but I wanted to support Ukraine. The game was so intense that I was biting my partner's hand the whole time because I was feeling so nervous."
"He said before the match that our players hadn't had the chance to train properly due to the war," she added, "but I'm sure that each of them understood how much a victory would mean to Ukrainians. I know I needed those emotions."
Still, the game did not prove to be a total reprieve for Anna.
"During the break I opened the news and saw a horrible video of a Russian shell hitting a residential district in my hometown of Mykolaiv," she said. "For the next 15 minutes I was numb, but when the second half started, I could at least switch back to the nervousness of the game."
Even in Russia itself, Ukrainians were enjoying a similar distraction from the realities of the war.
"Our team simply had no right to lose," Pavel, an enthusiastic soccer fan who relocated to Moscow several years before the start of the current conflict, told Newsweek. "They were playing for every murdered child, for every fallen soldier."
"But they were also giving us a chance to feel like everything was normal, at least for a little while," he added. "It was the first time in over three months that I was just watching soccer instead of constantly following news of the war. It was a gift."
Ukrainian parliamentarian Oleksiy Honcharenko noted the wider significance of the 3-1 win.
"Someone could ask, 'what use is football when there's a war on?' But even in these circumstances, everyone has their job to do," Honcharenko told Newsweek. "The army fights; the footballers play. And today, by doing their job, our players gave millions of fans one measure of happiness and joy. Ukraine needed a victory, and our guys showed that, yes, we can win, and we will win."
Ukraine advances to play Wales on Sunday. The winner of that contest will meet the United States on November 21 in a FIFA World Cup group stage match-up.