Ukrainian President Volodmyr Zelensky was met with criticism from some Israeli lawmakers on Sunday after he compared the Russian invasion of his country to the Holocaust.
In a video conference with Israeli leaders, Zelensky urged the nation to stand up against Russia by imposing economic sanctions and providing weapons to Ukraine. During that speech, Zelensky claimed that Russian President Vladimir Putin is attempting to carry out a "final solution" in his country, evoking the Nazi phrasing for its murder of 6 million Jews during World War II.
"You remember it and will never forget it for sure," he said on Sunday, according to the Associated Press. "But you should hear what is coming from Moscow now. They are saying the same words now: 'final solution,' but this time it's about us."
The Ukrainian president also noted that the date that Russia invaded Ukraine—February 24—was the same day that the Nazi Party was founded in Germany in 1920. He added that a Russian missile has already targeted Babi Yar, a Ukrainian site that holds the nation's main Holocaust memorial.
"102 years after the Nazis, the order was given to begin the Russian invasion of Ukraine, which has already killed thousands of people and left millions without a home," he stated. "They've become refugees...in dozens of countries."
Zelensky, who himself is Jewish, undoubtedly made the emotional comparisons in order to garner stronger support from Israel. However, while some lawmakers said that his appeal was necessary, others rebuked his comparison to Nazi Germany as both offensive and "infuriating."
"His criticism of Israel was legitimate, as was his raising expectations of us, but not his infuriating and ridiculous comparison to the Holocaust and his attempt to rewrite history and to erase the role of the Ukrainian people in the attempts to exterminate the Jewish people," Religious Zionist Party leader Bezalel Smotrich said, according to The Jerusalem Post.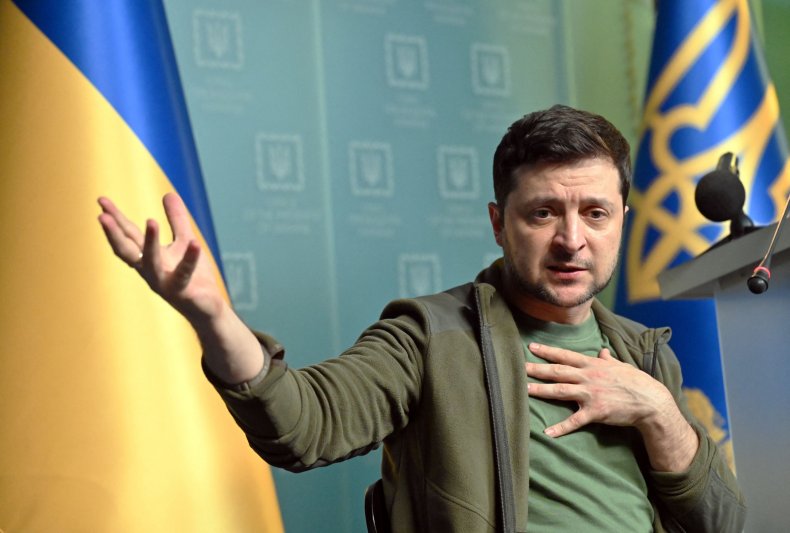 Israel's Communications Minister Yoaz Hendel tweeted that while he "supports the Ukrainian people in heart and deed...comparison to the horrors of the Holocaust and the final solution is outrageous."
Yuval Steinitz, who serves as part of Israel's Likud Party, said the Ukrainian president's statement "borders on Holocaust denial."
"War is always a terrible thing...but every comparison between a regular war, as difficult as it is, and the extermination of millions of Jews in gas chambers in the framework of the Final Solution is a complete distortion of history," he added, according to The Times of Israel.
Israel's national Holocaust memorial, Yad Vashem, also criticized Zelensky's comments as a "distortion."
"Propagandist discourse accompanying the current hostilities is saturated with irresponsible statements and completely inaccurate comparisons with Nazi ideology and actions before and during the Holocaust," it said, according to the AP. "Yad Vashem condemns this trivialization and distortion of the historical facts of the Holocaust."
Still, others offered a more supportive response to Zelensky's speech. Nachman Shai, the Minister of Diaspora Affairs in Israel, said his comments worked to "pierce the heart."
"The Ukrainian nation was attacked, Ukrainian democracy was attacked, they are in great distress. We have the human, Jewish, and Israeli obligation to help them," he said, according to The Times. "Our assistance on Ukraine's borders and inside the country is impressive. We must also assure asylum for the refugees. We have done and will continue to do everything in our power."
Meanwhile, Israeli Foreign Minister Yair Lapid, whose late father was a Holocaust survivor, said Israel would "never turn our backs to the plight of people who know the horrors of war," according to the AP.
Since the start of Russia's invasion, Israel has delivered significant humanitarian aid to Ukraine, but has so far rejected Zelensky's pleas to provide military support or issue economic sanctions against Moscow.