Zelensky Tells United Nations There's No Difference Between Russia and ISIS
Ukrainian President Volodymyr Zelensky has compared the Russian military to ISIS, saying that there was no difference between the two groups.
Zelensky made the comments while addressing the United Nations Security Council (UNSC) Tuesday. He said that the one thing that sets the Russian military apart from ISIS is that one is a member of the UNSC.
While Zelensky has made several addresses before groups and governing bodies around the world, including the U.S. Congress and Australian Parliament, this was the first time he made pleas for aid in front of the UNSC since the start of the Russia-Ukraine war.
Speaking through a translator via video, Zelensky described the alleged violence being carried out by the Russian military. He said that they "purposefully" killed people who served Ukraine, including "entire families," and tried to burn the bodies.
"I am addressing you on behalf of the people who honor the memory of the deceased every single day and the memory of the civilians who died, they were shot and killed in the back of their head after being tortured. Some of them were shot on the streets," he said, according to CNN.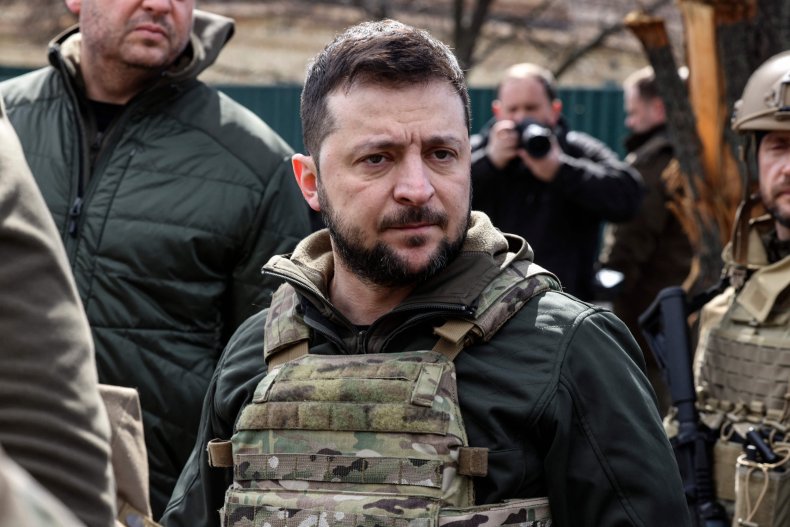 He denounced Russia's actions as "war crimes," calling for Russia to be held accountable and for the UNSC to provide security guarantees to Ukraine. Several other world leaders have joined Zelensky in accusing Russia of committing war crimes.
These include U.S. President Joe Biden and Israeli Foreign Minister Yair Lapid, who first condemned on Twitter Sunday the shocking scenes and reports of destruction and violence in the Ukrainian city of Bucha.
Zelensky, who visited Bucha Monday, said that Russians carried out the alleged killings in the city "just for their pleasure."
"They cut off limbs, slashed their throats, women raped and killed in front of their children. Their tongues were pulled out only because the aggressor did not hear what they wanted to hear from them," Zelensky said.
After his speech, and a brief pause due to technological issues, Zelensky played a graphic video showing dead victims from the conflict in several Ukrainian cities, some charred, rotting or laying scattered in fields.
Barbara Woodward, the British ambassador to the U.N., called the images "harrowing."
"Speaking in my national capacity, we are appalled by what we have seen and reiterate our solidarity with Ukraine," she said.
Newsweek has reached out to Russia's Foreign Ministry for comment but did not hear back by publication time.
Update 4/5/22, 12 p.m. ET: This story was updated with additional information and background.