Comments made on a Russian news program about the destruction of the Ukrainian government of President Volodymyr Zelensky have been described as the latest example of "vitriol" being broadcast on Kremlin-backed television in an attempt to justify Russia's invasion.
During a discussion on Tuesday's episode of Vremya Pakazhet (Time will Tell) on Russia's Channel One, Mikhail Konev said that "as soon as the criminal Kyiv regime is wiped off the face of the earth, harmony will return."
He said there would be "international trade again" and that "sanctions will be lifted" because the war, described on the program as the "special military operation," "will only exist while there are Ukrainians willing to spill blood for unclear aims."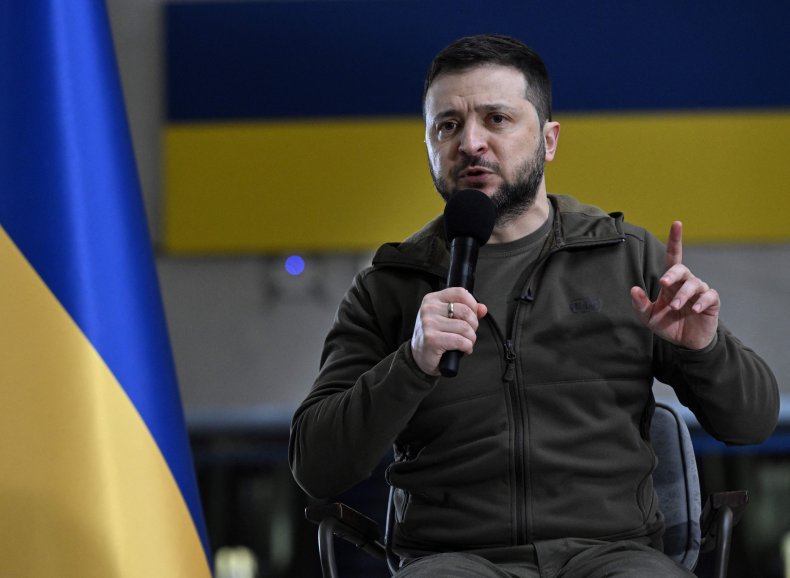 A clip of the comments was tweeted by BBC Monitoring's Francis Scarr who wrote: "This really shows the extent to which Russian state TV is consumed by hatred and vitriol."
"Before the war, Konev was one of the 'token liberals' on the talk shows and in 2013 even worked as an aide to Boris Nemtsov during a regional election campaign," Scarr added.
Nemtsov, a key opposition figure who was a critic of Russian President Vladimir Putin, was murdered in 2015. A caption for Konev described him as a "human rights defender" and a "lawyer."
Konev also said: "If we talk about red lines, in my opinion the red lines were passed long ago," adding that a "huge number of countries talk about peace but supply weapons that are fired at Russian soldiers on our territory."
He suggested that countries backing Ukraine were not prepared to confront Russia on their own territories and that this "confrontation will end when the Kyiv regime ends."
Newsweek has contacted the Ukrainian foreign ministry for comment.
On the same program, Russian Senator Frants Klintsevich said that alleged Ukrainian shelling of Russian border villages was in fact conducted "by the Americans within the first phase of the war being waged by NATO against Russia."
It comes as Russia ramps up its criticism of the military help the international community is providing Ukraine, with Russian Foreign Minister Sergei Lavrov accusing NATO of waging a proxy war with Moscow with its supplies of arms.
Western leaders and the alliance have rejected a NATO enforced no-fly zone over Ukraine due to the prospect of a direct confrontation between the alliance and Russia. However, Lavrov told a Channel One interview that Ukraine demands for and the West's supply of weapons add "fuel to the fire."
Update 04/26/22, 10:50 a.m. ET: This article was updated to include additional information.