Zelensky is Getting Desperate
Ukrainian President Volodymr Zelensky's series of high-profile visits to secure fighter jets show an "urgency" to secure support before an expected push by Russian forces, an expert told Newsweek.
Zelensky got a rousing reception at the British and European parliaments, as well as during a visit to Paris, in which he stepped up his calls for combat aircraft that he has been pushing for since the start of Vladimir Putin's invasion. "We have freedom, give us wings to protect it," Zelensky told British MPs.
"For Zelensky there was an urgency" to push for the planes, said Marcel Van Herpen, director of the Dutch think tank the Cicero Foundation and author of Putin's Wars. "February 24 is for the Kremlin a symbolic date, the start of last year's failed blitzkrieg," he told Newsweek.
"Zelensky doesn't want the Kremlin to repair this debacle, but to let them repeat this debacle. For this to happen he also needs planes, because these may be a decisive factor for what happens on the ground," he added.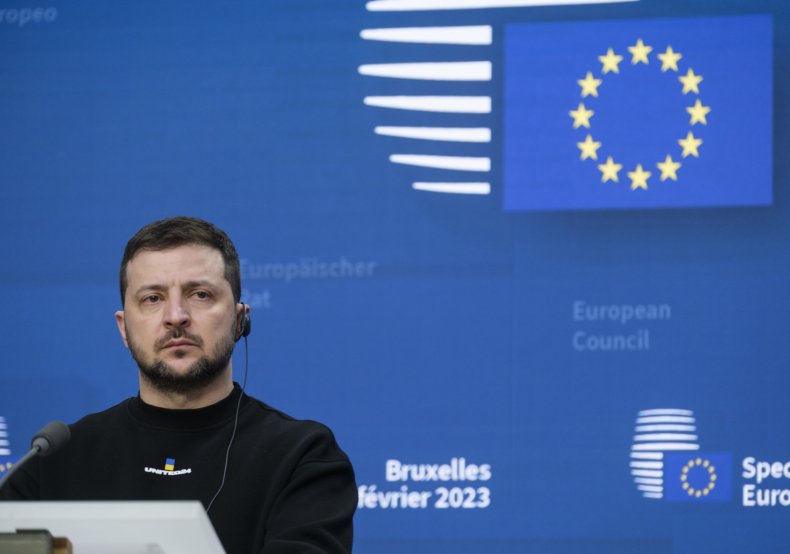 The U.K. will begin training Ukrainian pilots on NATO-standard fighter jets for the first time, CNN reported. But there is no mention yet that the U.K will provide Ukraine with the aircraft Zelensky has asked for.
Former British army intelligence officer Philip Ingram said that the timing of Zelensky's renewed calls for aircraft followed the Ukrainian president's first focus to get his land force capability upgraded.
"To properly support land manoeuver operations, he needs the ability to generate at least local air superiority, a protective air bubble around attacking land forces," he told Newsweek.
Zelensky's plea for the planes had to be made when he was in a position to be able to send his pilots off for training, from which they would return in the summer "at the earliest."
"He knows that it will take months to train Ukranian pilots to learn not just to fly but to fight in Western aircraft," said Ingram. "He clearly feels he is in a position where he can spare some of his best pilots for an extended period of time, whilst holding the Russians back, to do just that."
"He will know there is no short-term solution but he needs to start the conversion process," said Ingram, "Once the pilots are trained then the decision to donate aircraft by Western countries will be much easier."
However, on Saturday Poland raised a question mark over whether it can give Ukraine the fighter jets that Zelensky has asked for as fears grow of an imminent Russian large-scale offensive by Russian forces.
Polish president Andrzej Duda told the BBC that sending F-16 aircraft to its ally would be a "very serious decision" which was "not easy to take."
Duda said if Warsaw sent F-16s, it would pose a "serious problem" because Poland only has 50 of the aircraft and such a delivery could leave its air force short. He said F-16s also needed considerable maintenance so it's "not enough just to send a few planes."
Warsaw has given Kyiv significant military support and helped spearhead efforts for the delivery of Western tanks to Ukraine, such as the German-made Leopard 2s.
As a NATO member, Duda said that any move by Warsaw to give Ukraine jets had to be a "joint decision" among the alliance, which will be concerned about being pulled into the conflict and war with Russia itself.
His comments follow French president Emmanuel Macron also casting doubt on the immediacy of any decision—and delivery—of NATO aircraft to Ukraine. Macron said on Friday that even if European allies could send fighter jets, it would not happen "in the coming weeks."
The Polish and French leaders' comments show that despite vocal support by Kyiv's allies, there remains considerable logistical and political manoeuvring to provide Ukraine with NATO aircraft.
Newsweek has contacted Ukraine's defense ministry for comment.