Zelensky Urges Talks With Putin, Warns of 'Third World War' if They Fail
Ukrainian President Volodymyr Zelensky on Sunday called for a new round of peace talks with Russian President Vladimir Putin. However, should they fail to materialize, the Ukrainian leader warned of dire global consequences.
"I'm ready for negotiations with him," Zelensky said during an interview with CNN's Fareed Zakaria. "I was ready for the last two years. And I think that without negotiations we cannot end this war."
Russia's invasion of Ukraine has been ongoing for the past three weeks, with multiple rounds of peace talks between high-ranking diplomats failing to reach a resolution.
"I think that we have to use any format, any chance in order to have a possibility of negotiating, possibility of talking to Putin," he continued. "But if these attempts fail, that would mean that this is a third World War."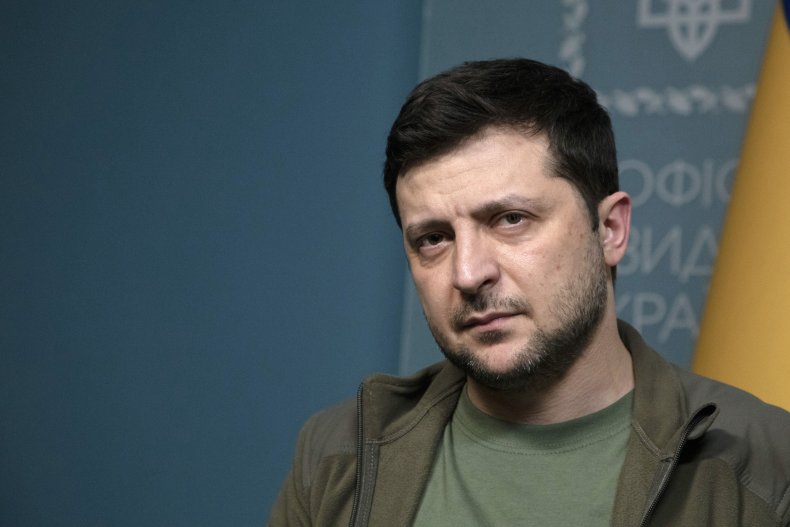 On Saturday, the Ukrainian president released a video statement on Facebook in which he also pleaded for immediate talks with Russia.
"We have always insisted on negotiations," he said. "We have always offered dialogue, offered solutions for peace. And I want everyone to hear me now, especially in Moscow. It's time to meet. Time to talk. It is time to restore territorial integrity and justice for Ukraine."
As of March 13, Newsweek reported that the fourth round of peace talks between the two countries had stalled out, with the possibility of resumption by Tuesday. Just two days prior, Putin claimed on March 11 that there had been "positive" progress from peace talks, but nevertheless, the Russian military continued to bombard Ukraine and its major cities.
On Tuesday, a senior adviser to Zelensky told the Financial Times that while an agreement on a 15-point plan between Russia and Ukraine was taking shape, it consisted entirely of Russian demands. Among the points in the list were that Ukraine retracts its calls to join NATO, declares neutrality, and, crucially for Russia, never allows military bases or weapons from Western allies like the U.S. to be positioned within its borders.
While speaking with the CNN host, Zelensky noted that NATO membership would be a significant boon for Ukraine, and might have helped avoid conflict with Russia altogether, despite implying last week that his country may never join the organization.
"I'd like to receive security guarantees for my country, for my people," Zelensky said. "If NATO members are ready to see us in the alliance, then do it immediately. Because people are dying on a daily basis."