Zelensky Vows to Find 'Murderers' of Soldier Killed in Brutal Video
Ukrainian President Volodymyr Zelensky has vowed to find the Russian "murderers" responsible for the brutal killing of a war prisoner.
A video that emerged online Monday purports to show a Ukrainian soldier being executed by Russian gunfire after saying, "Glory to Ukraine." While Newsweek has not independently verified the authenticity of the video, or when or where it was recorded, Zelensky and other Ukrainian officials suggested that it was evidence of a Russian war crime and vowed to hunt down the perpetrators.
"In Ukraine, we will always hear: 'Glory to Ukraine!'" Zelensky said during his nightly televised address. "And millions will always respond: 'Glory to the Heroes! It will always be like that. Ukraine will not forget the feat of each and every one whose lives gave freedom to Ukraine forever."
"Today, a video has emerged of the occupiers brutally killing a warrior who bravely said to their faces: 'Glory to Ukraine!" he continued. "I want us all to respond to his words together, in unity: 'Glory to the Hero! Glory to the Heroes! Glory to Ukraine! And we will find the murderers."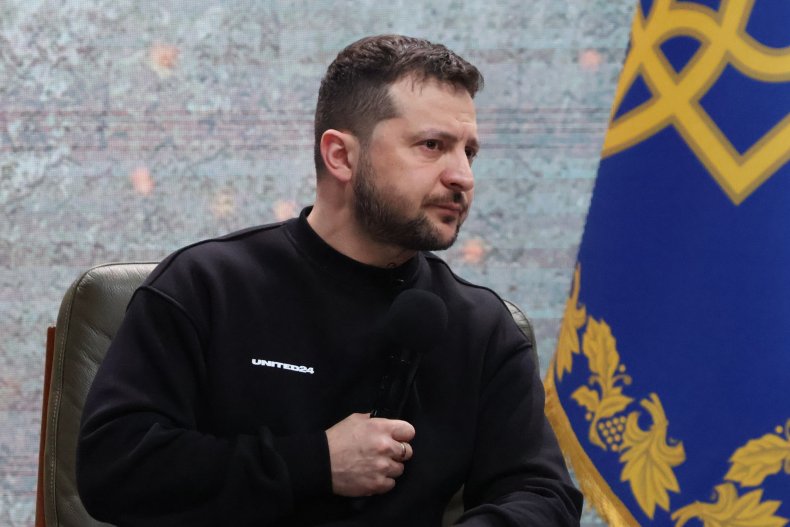 Andriy Yermak, head of Zelensky's office, shared the video clip to Telegram earlier in the day, while remarking that it was an example of war crimes "cultivated in Russia" through "propaganda and myths about 'the Nazis.'"
"Killing a person taken to captivity is another example of this," Yermak said. "It is also an example of their national insignificance and weakness. There will be a payback for every such war crime. No one will be able to hide."
Ukrainian human rights ombudsman Dmytro Lubinets shared the uncensored video in a tweet, while saying that the execution was an example of "meanness and villainy" by Russia's military.
Lubinets said that Russia would "not evade responsibility for their atrocities," while pointing out that executing prisoners is a violation of international law under the Geneva Conventions.
The graphic video appears to show a freshly captured Ukrainian solider standing in a trench while smoking a cigarette. A voice, apparently of a Russian soldier, can be heard telling another person to film the moment before the captured soldier calmly says, "glory to Ukraine."
Almost immediately, the Russian soldier says, "you b****" while a thunderous barrage of automatic gunfire is directed at the defiant Ukrainian, who quickly drops to the ground. The video ends with the Russian saying, "die, b****" to the Ukrainian, who appears lifeless.
Ukrainian Foreign Affairs Minister Dmytro Kuleba said on Twitter that the video was proof that Russia was fighting a "genocidal" war, while calling for International Criminal Court (ICC) prosecutor Karim Khan to launch an "immediate" investigation.
"Horrific video of an unarmed Ukrainian POW executed by Russian forces merely for saying 'Glory to Ukraine,' Kuleba tweeted. "Another proof this war is genocidal. It is imperative that @KarimKhanQC launches an immediate ICC investigation into this heinous war crime. Perpetrators must face justice."
Newsweek has reached out to the Russian Ministry of Defense and the ICC for comment.