Zelensky Vows to Take Back Crimea Amid Kherson Offensive: 'This Is Ours'
Ukrainian President Volodymyr Zelensky vowed to take back Crimea hours after a counteroffensive on the Russian-occupied Kherson region was launched.
The Ukrainian military said on Monday that it had begun attacking Russian positions in the country's south, including in the occupied city of Kherson. The region's location directly to the north of Crimea—which Russian forces annexed in 2014—could be a crucial step in Ukraine's efforts to launch an offensive in Crimea.
Zelensky said during a televised address Monday night that Ukraine's military had "kept the goal" of recapturing Crimea throughout the eight years since Russia took the territory. He added that the military's current actions would end in defeat for Russia and in the restoration of Ukraine's pre-2014 borders.
"This war, which began with Russia's occupation of our Crimea, with an attempt to seize Donbas, must end precisely there—in the liberated Crimea, in the liberated cities of Donbas, with our troops reaching the state border of Ukraine," said Zelensky. "We have always kept this goal in mind. We do not forget about it."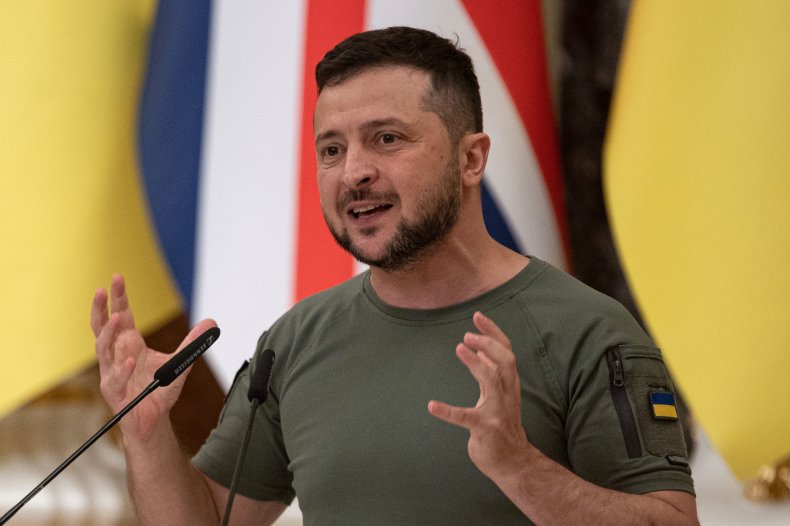 "This will happen," he continued. "This is ours. And just as our society understands it, I want the occupiers to understand it, too. There will be no place for them on Ukrainian land... The occupiers should know: we will oust them to the border. To our border, the line of which has not changed. The invaders know it well."
Zelensky said that he would not be divulging any "specifics" about the plan to retake territory but warned the invading forces to "flee" back to Russia or surrender "if they want to survive."
Ukraine's military has already claimed some early successes in the southern offensive. The country's Kakhovka Operational Group on Monday said in a Facebook post that some Russian forces "withdrew from their positions in Kherson region" and that "Russian paratroopers who supported them escaped from the battlefield."
"The situation in the temporarily occupied territory of Kherson region is extremely difficult," the group added in an additional post, explaining that Ukrainian attacks using U.S.-supplied HIMARS weapons had taken out nearly all of the large bridges in the Kherson region, which provide a crucial link to Crimea.
"The Russian army turned out to be cut off from the supply of arms and personnel from the territory of Crimea," the group said. "This is a brilliant chance for Ukraine to regain its territories."
Ukraine's Operational Command South said on Monday that 41 Russian troops had been killed, with a significant amount of Russian artillery and military equipment also being destroyed in eight successful strikes on Russian positions in southern Ukraine.
John Kirby, U.S. National Security Council spokesman, announced during a press conference on Monday that the Ukrainian counteroffensive had been successful in exposing the Russian military's personnel shortage and had already depleted Russian troops in Ukraine's eastern Donbas region.
"They have already had an impact on Russian military capabilities because the Russians have had to pull resources from the east simply because of reports that the Ukrainians might be going more on the offense in the south," said Kirby.
"They've had to deplete some certain units from certain areas in the east in the Donbas, to respond to what they clearly believed was a looming threat of a counteroffensive," he added.
Newsweek reached out to the Russian government for comment.