Zelensky's Frontline Trip to Bakhmut Compared to Putin's Troop Visits
After Ukrainian President Volodymyr Zelensky made a surprise visit to one of the most intense spots of fighting in the war on Tuesday, Russian President Vladimir Putin was sharply criticized for his failure to make such a visit to his troops in Ukraine.
"Zelensky has visited Ukrainians troops in Bakhmut. And now have a look at that joke of a creature called Vladimir Putin," tweeted Illia Ponomarenko, a defense and security reporter at the Kyiv Independent, a Ukrainian online news outlet.
Russia has conducted a months-long effort to capture Bakhmut, located in the eastern Donetsk region in Ukraine. Experts believe that capturing Bakhmut might not provide many military or strategic benefits for Russia as the fighting consumes Russian equipment and personnel, and even the political impact might be minimal.
Still, Putin does not appear to be ready to back away from Bakhmut anytime soon. During his visit to the embattled city on Tuesday, Zelensky said that Bakhmut was the "hottest spot on the entire frontline."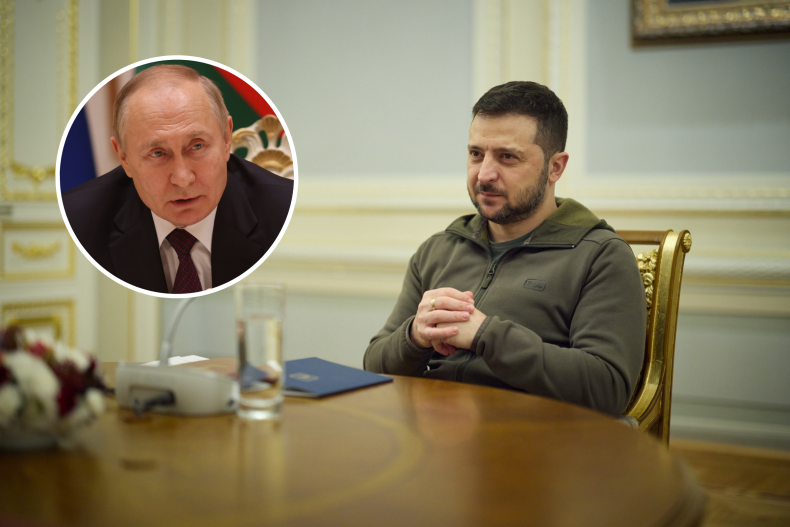 "Since May, the occupiers have been trying to break our Bakhmut, but time goes by and Bakhmut is already breaking not only the Russian Army, but also the Russian mercenaries who came to replace the wasted army of the occupiers," Zelensky said.
Mercenaries from the Russian Wagner Group have reportedly been involved in the effort to seize Bakhmut. The Wagner Group is a mercenary organization that has taken part in numerous conflicts around the world and has been accused of carrying out war crimes in Central African Republic.
Independent journalist Olga Tokariuk was among the people who responded to Zelensky's Bakhmut visit with praise for the Ukrainian president and criticism for his Russian counterpart.
"Bakhmut is the hottest spot on the frontline at the moment, where fierce fighting has been going on for weeks," Tokariuk tweeted. "Zelensky again demonstrates courage Putin can only dream about."
And the Visegrád 24 Twitter account shared a video showing Zelensky's arrival in Bakhmut on Tuesday with the caption: "Zelensky arriving to Bakhmut this morning. Putin is still hiding in his bunker."
Putin did make a rare visit on Friday to a Russian command post at an undisclosed location, according to a statement released by the Kremlin. But unlike Zelensky, who was seen in videos directly greeting Ukrainian soldiers and presenting them with awards for defending the city, Putin dealt with some military leaders rather than troops fighting on the ground for Russia.
"The head of state was briefed about the work of the joint staff and on the progress made in the special military operation, held a general meeting and separate meetings with commanders," the Kremlin statement read.
Newsweek reached out to the Kremlin for comment.