Zelensky's Heroes Blitz Russian Troops in Trench and Take Out BMP Tank
Ukrainian troops are said to have blasted Russian soldiers in a trench and destroyed an enemy BMP tank in a video released by Ukrainian military officials.
The Ukrainian military said the attack was carried out by members of the 25th Airborne Brigade of the Ukrainian Air Assault Forces, which boasts BMD-1 and BMD-2 airborne infantry fighting vehicles in its inventory.
The Ukrainian authorities joked that this is what the "demilitarization" of Russian forces looks like.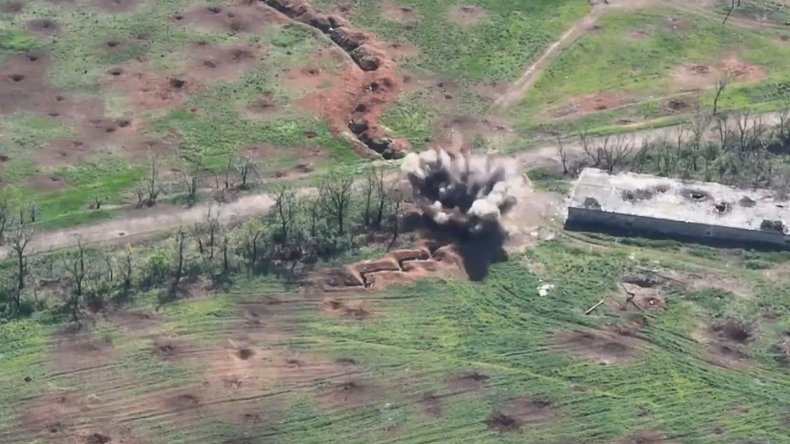 The Center for Strategic Communications said on May 18: "This is what the demilitarization of Russians by Ukrainian defenders looks like!
"The video of the destruction of the enemy BMP tank was carried out by the 25th Airborne Brigade."
The 25th Airborne Brigade said: "We start the morning with good news!
"The infantry fighting vehicle and the 'lost' occupiers followed the 'Russian warship' at the bottom of the Black Sea!"
The brigade added: "To be continued... Glory to Ukraine!"
Russian troops invaded Ukraine on February 24 in what the Kremlin is still calling a "special military operation." May 18 marks the 84th day of the campaign.
From February 24 to May 18, the total combat losses of Russian troops stand at around 28,300 personnel, according to the General Staff of the Armed Forces of Ukraine.
Between February 24 and May 18, 2022, the enemy's total combat losses also included 1,235 tanks (+16 over the past day), 3,009 armored fighting vehicles (+34), 586 artillery systems (+8), 199 multiple launch rocket systems (+1), 91 anti-aircraft warfare systems (+1), 202 aircraft (+1), 167 helicopters (+0), 2,137 motor vehicles and fuel tanks (+28), 13 boats/cutters (+0), 441 unmanned aerial vehicles (+5), 43 special equipment units (+0). A total of 102 enemy cruise missiles (+5) were shot down.
In related news, the Russian Military of Defense says 959 Ukrainian fighters from the Azovstal metallurgical plant have been taken to Russian-controlled territory since Monday.
Kyiv is calling for a prisoner swap for the evacuated soldiers. Moscow says they will be treated according to international norms.
The evacuation appears to mark the fall of the strategic port city of Mariupol, completing Russia's land bridge to Crimea and giving it control of the Sea of Azov.
Meanwhile, the first war crimes trial in Ukraine - of Russian soldier Vadim Shishimarin, who stands accused of killing an unarmed civilian - will resume in Kyiv.
This story was provided to Newsweek by Zenger News.