Zelensky's Traditional Vyshyvanka Raises $100K for Weapons and Aid
A traditional embroidered shirt, or vyshyvanka, worn by Ukrainian President Volodymyr Zelensky on a special day in May was sold for $100,000 at a charity auction to aid the country's fight in the war against Russia.
On May 19, Ukrainians celebrated Vyshyvanka Day, an annual holiday marked by the wearing of colorful, traditional, embroidered clothing.
A vyshyvanka worn by Zelensky this year amid the war was auctioned off Friday at the Ukraine House cultural center in Washington, D.C., as part of a charity event held by United24, Voice of America (VOA) reported.
United24 is an initiative of Zelensky's that launched "as the main venue for collecting charitable donations in support of Ukraine," according to its website. Donated funds "cover the most pressing needs," listed as defense and demining, medical aid and the effort to rebuild.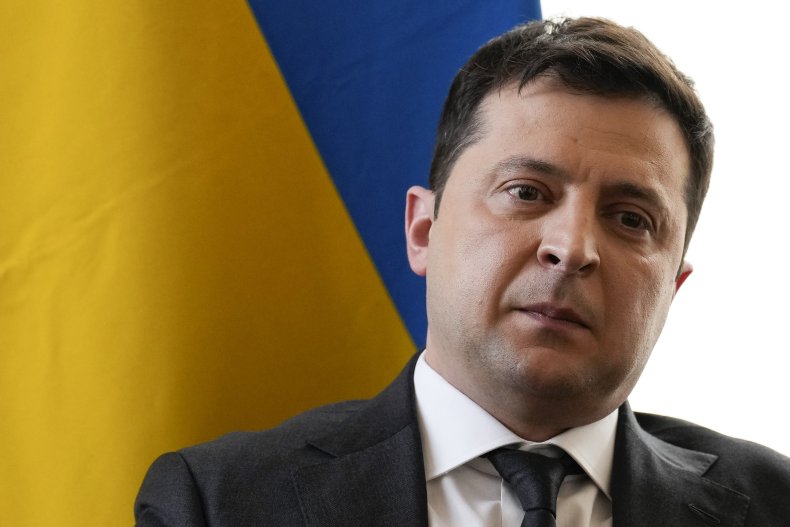 Zelensky's vyshyvanka was sold to the law firm Asters USA for $100,000, VOA reported.
In a video address at the event, Zelensky asked attendees to support United24.
"Ruins are all that Russians leave behind," he said, according to VOA. "But people need to go back somewhere—right now, today. That's why I initiated the special United24 platform."
Zelensky said the initiative is about more than fundraising and that it will also send a message to Russia that good will overcome "evil."
Friday's event included a report by members of the organization, who spoke about recent donations to Ukraine.
"In four weeks, $24 million was raised through United24," said Ukraine's Mikhail Fedorov, deputy prime minister and minister of digital transformation, according to VOA. "The largest number of donors is from the United States. We received donations ranging from $20 to $1,000. And every dollar counts."
Newsweek reached out to Zelensky for additional information.
Vyshyvankas, according to the state-run Ukrainian news agency Ukrinform, represent one of "the brightest symbols of the Ukrainian culture."
Ukrinform reports Vyshyvanka Day was started by history, political science and international relations students at Yuriy Fedkovych Chernivtsi National University in Chernivtsi in 2006. It is celebrated on the third Thursday of May.
As citizens marked Vyshyvanka Day this year amid the destruction of war, at least 500 newborns in "the frontline regions" were dressed in traditional clothing provided by the Ukrainian Ministry of Health, New Voice of Ukraine news outlet reported.
And on Facebook, Zelensky noted the importance of celebrating the holiday, saying the vyshyvanka is Ukraine's "sacred talisman in this war."