Ukrainian President Volodymyr Zelenskyy claimed on Saturday that the expulsion of Russia from the Society for Worldwide Interbank Financial Telecommunication (SWIFT) global banking system is imminent.
A multitude of economic sanctions has been leveled against Russia in the wake of its military incursion of Ukraine. Since the invasion began, one major suggested response has been the expulsion of Russia from SWIFT, a banking system that connects roughly 11,000 institutions worldwide.
During an address on Saturday, the Ukrainian president claimed that the consensus needed to expel Russia has been reached, according to a report from Ukrinform. While not formally confirmed, the leader said that technical preparations for the move have begun.
"It seems that Ukraine has gained the sincerity and attention of the whole normal, civilized world. And the practical result is here—SWIFT," he said. "There's a lot of meaning in this word for the Russian Federation—disconnection from global financial civilization."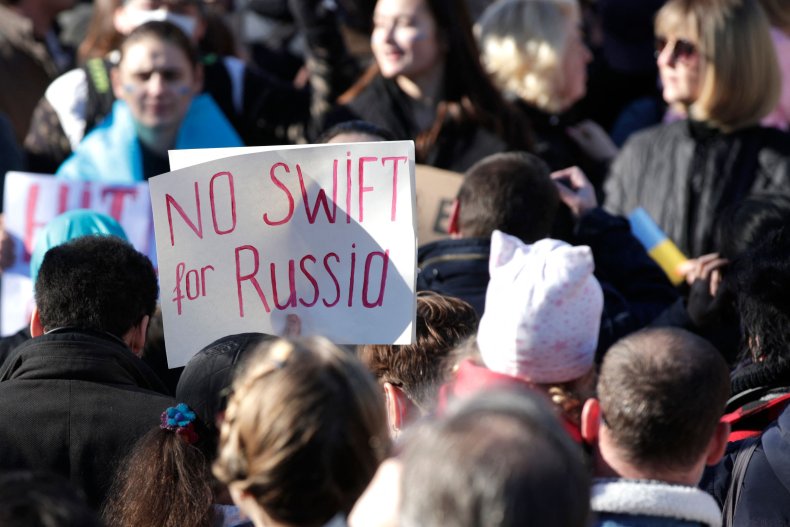 Zelenskyy continued to discuss the news, crediting Ukrainian diplomats with the accomplishment.
"Our diplomats have been fighting around the clock for all countries in Europe to agree on a very strong and fair decision to cut Russia off from the international interbank network," he added. "We also have this important victory."
Cutting off a country from SWIFT requires the full consensus of all 27 member nations of the European Union (EU). Some experts have called removing Russia from the system a "last resort" tactic and a "nuclear weapon for the economy." Removal from SWIFT will prevent the country from importing or exporting goods, making investments abroad, or taking out loans from foreign countries.
After Hungary and Cyprus consented, Germany remained the last EU holdout, arguing that removing Russia from the system would harm western economies and disproportionately harm innocent Russian citizens.
On Saturday, however, the BBC reported that Germany had softened its stance and now supports "targeted and functional" restrictions that would impact "the right people." The Ukrainian news outlet, LB.ua, also reported that Germany had outright given its consent to remove Russia.
"We gnawed and gnawed and gnawed at it. All Ukrainian diplomacy worked—from the President of Ukraine to the attaché in the Ukrainian embassy," Ukrainian Foreign Minister Dmytro Kuleba wrote on Facebook. "Ukrainian diplomats dedicate this victory to all defenders of Ukraine."
SWIFT is controlled by and operates out of the National Bank of Belgium, in cooperation with central banks from the United States, the United Kingdom, the EU, Japan, Russia, and China, among others.