Zenni Review: Who Says 'No' to a $7 Pair of Prescription Glasses?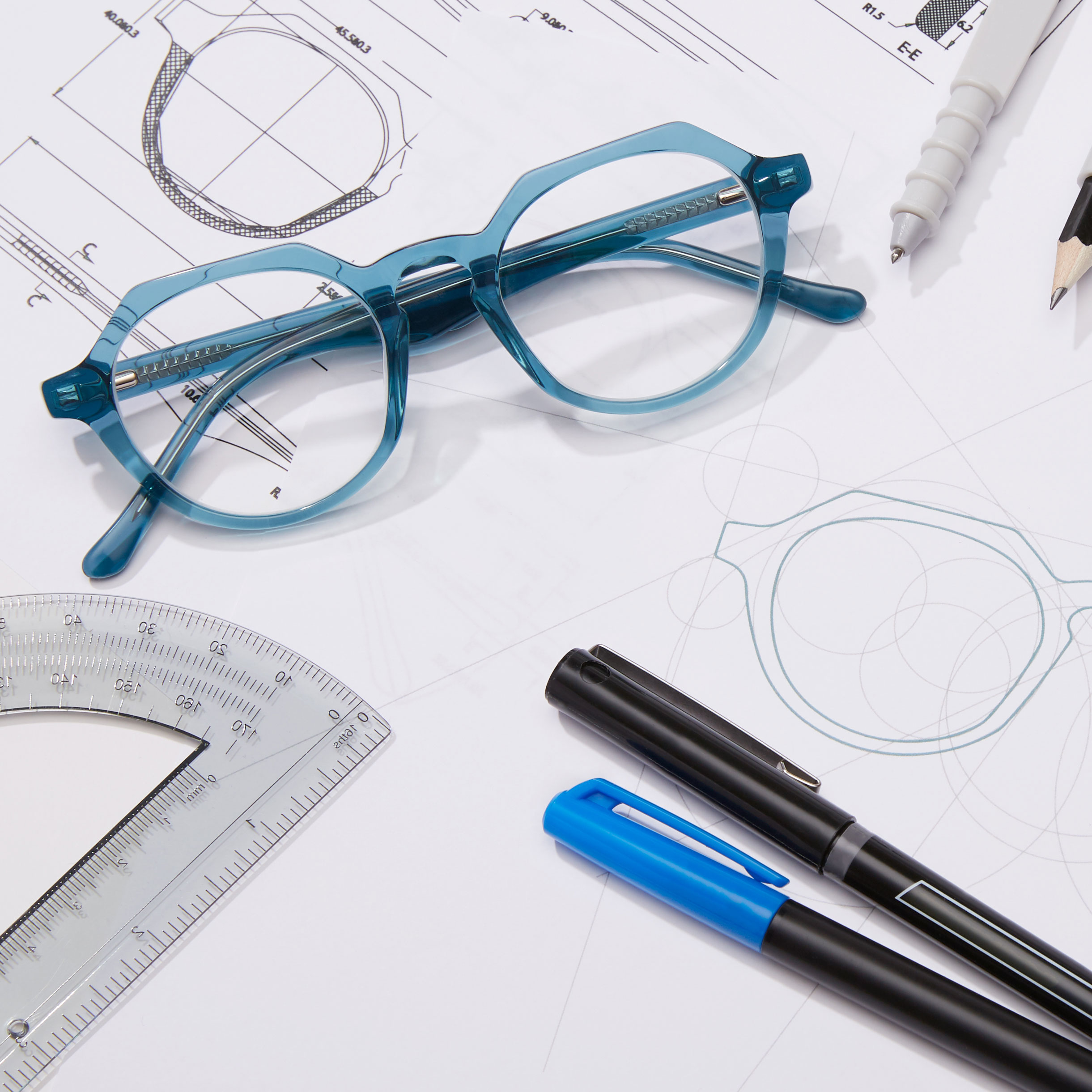 I spent nearly $600 on my last pair of glasses and lenses—and that was after the vision insurance coverage kicked in. My story is not unusual; most brand-name glasses and prescription lenses are typically marked up by as much as 1,000 percent when you buy them from eyewear chains, designer boutiques and even your optometrist. The good news, for some at least, is that today there are many direct-to-consumer options online, where well-made and fashionable frames and prescription lenses can be had for as little as $7 (plus shipping), though prices between $100 to $200 are more typical.
While going to the optometrist is still essential for an eye exam and prescription, there's no law saying you have to get your glasses there. Other than exorbitant prices, my experiences with styles, sight and fit at the optometrist's office have been excellent and on the mark ever since getting my first pair of glasses in junior high school. After hearing for years about Zenni Optical from various friends who now seem to wear different frames every day, I decided to give it a try to see if it was the answer to my perennially pricey prescription lens predicament. Here's what I found.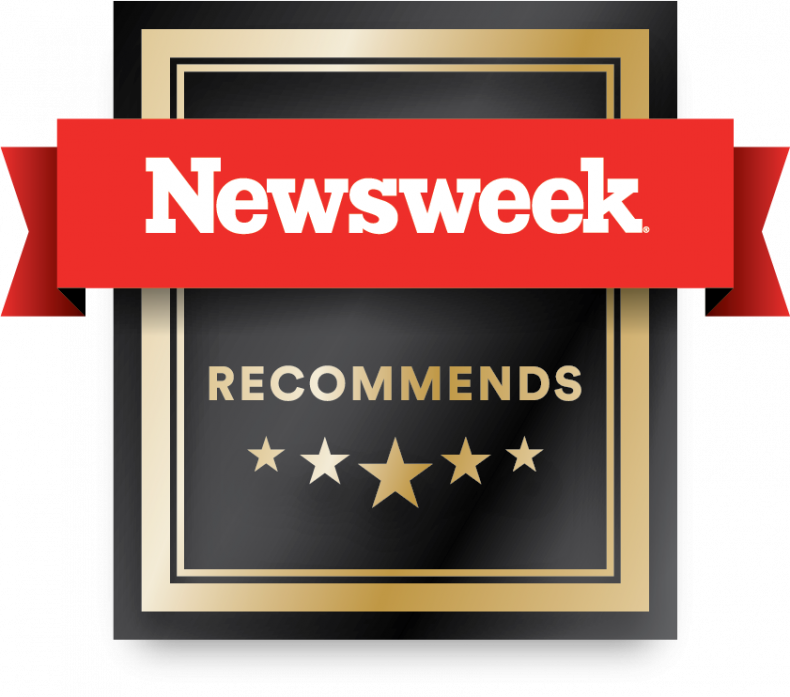 What is Zenni Optical and where has it been all my life?
While this may come as a shock to anyone who has shelled out thousands of dollars getting new glasses every couple of years, Zenni Optical has been designing, manufacturing and selling prescription frames and lenses directly to consumers via its website since 2003. Today, Zenni.com offers more than 3,000 different frames and styles, everything from traditional glasses with single-vision prescriptions and blue light-blocking progressive lenses to polarized sunglasses and protective goggles. Frames range in price from $7 to $46. Basic lenses for single-vision prescriptions are included for free, but progressive, higher-index (thinner), and workplace blue-light blocking work lenses range anywhere from $17 to $99. Other add-ons include tinted and transition lenses, as well as various protective coatings and material. UV protection is standard on all sunglasses, which are similarly priced, and available with polarized and mirrored lenses, as well as tints. Any of Zenni's clear optical frames can also be ordered as single-vision or progressive sunglasses; the only sunglasses that are are not available with progressive lenses are the ones in the Premium Sunglasses line (due to their oversized frames).
Why are Zenni's prices so low?
Like Warby Parker, Pixel Eyewear, EyeBuyDirect, MessyWeekend and the increasingly expanding list of independent, direct-to-consumer eyeglass makers and online retailers, Zenni saves money by reducing overhead—i.e., the various intermediaries such as eyeglass stores, eye doctors, insurance companies—and selling directly to consumers online. It's also less expensive because it's not owned by Italian-French conglomerate EssinorLuxottica, which is said to control more than 80 percent of the eyewear and lens market through its ownership and licensing of most designer and iconic brands (Oliver Peoples, Ray-Ban, Ralph Lauren), retailers (LensCrafters, Pearle Vision, Sunglass Hut), vision insurance companies (EyeMed) and lens makers (Essinor). That kind of vertically integrated reach has given the company enormous power and influence over pricing, which is why even a pair of Gucci non-prescription sunglasses costs well over $300, when the true manufacturing cost of basic frames is as little as $15. Again, this is before factoring in the price of exams, retail locations and prescription lenses, all of which can push the price higher. Meanwhile, Zenni offers either non-prescription or prescription sunglasses with polarized lenses for as little as $40.
How does it work?
Despite my friends' constantly singing the praises of Warby Parker, Zenni and their ilk, this was my first time browsing and shopping for prescription frames and lenses online. The Zenni site can be overwhelming, and there are several entry points even for just browsing. You can shop by gender or age group, frame style (aviator, cat-eye, rimless, round), material (metal, titanium), new and best-sellers, price range, among many other categories—and this is all before you even get to prescription (single-vision, progressive, prism correction), lens index, material, and treatment. Luckily, there are numerous text tutorials, infographics and videos explaining everything about the process, from which lens type is right for your prescription to which frame is right for your face shape, with a little primer on choosing the right lens tints thrown in.
Most importantly, while not required, you should have the following specs at the ready before you even start browsing: your pupillary distance (PD) and your prescription. There's a step-by-step infographic tutorial to measure your PD yourself, but ideally, it's something you'll want to ask for at your eye exam. The prescription is important from the get-go, as it informs which kinds of frames are available to you in the first place.
Since you can't try frames on in person at a store—not to mention any real-time feedback from eyewear professionals and friends—you'll need to gather some additional stats to get the right size for your face and PD. The easiest way to do this is to use the dimensions of your current pair of glasses. Lens width, bridge width, and temple arm length are usually listed on the inside of the temple arm, but you'll have to measure frame width and lens height in millimeters yourself (don't worry, there's also an online tutorial and a printable metric ruler for that). These measurements can then be used to help narrow down frame dimensions that are likely to fit your face and work with your prescription.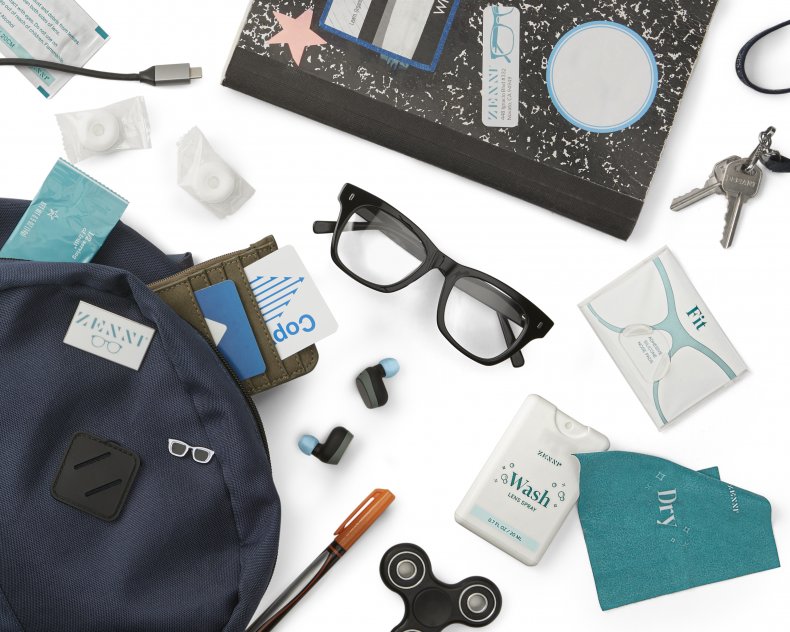 There's also a virtual try-on tool, which gives you a general idea of how frames might look on you. Scanning your face on all sides with your laptop webcam, the tool not only determines if your face is oval, round, square and the like, but it also creates a 3D profile you can use over and over to try on different frames and even share various looks with others via email for feedback. (You can create as many of these profiles as you want.)
Once you've narrowed down a pair that you like (and which also checks out with the various frame and face measurements), it's time to enter your prescription and lens type such as single-vision, bifocal, progressive, just the frame, or non-prescription—these options vary depending on which frames you've chosen. Next, you choose the lens index (thickness), materials, any special coatings, duplicate frames and accessories (sunglass clip-ons, upgraded cases, lens wipes), and then send off your order, after which you can expect your new frames to arrive in a plastic case 14 to 21 days later.
What's to like?
Price and selection are at the top of the list. My designated oval face shape opened up many styles—rectangle, square, browline—to me, but I browsed for the always appropriate aviator, which Zenni offers in countless classic and contemporary colors and iterations. Regardless of chosen style, it would be hard to spend much more than $200 on the priciest pair of glasses here. While basic frames can be had for as little as $7, most are priced around $15 to $25 and top out at $46. Single vision prescription lenses with lower indexes are included with any frames, with higher-index (1.61 and above), "Blokz" blue light-blocking and photochromatic (transition) lenses ranging from $17 to $169. While I was hoping to score a pair of $7 prescription glasses, my progressive, high-index, and prescription lens needs kept my pricing options around $100 to $120.
With sunglasses, there are a variety of additional choices, such as polarized or mirrored and tint color. UV protection and anti-scratch coating are standard on all sunglasses, however. That makes these a fantastic deal in the shades arena, even if you're buying a non-prescription pair to use with your contact lenses.
At these prices, it's nice to take advantage of some additional options, such as the offer, at checkout, to order duplicate pairs of the same frame, each with different single-vision lenses for reading or medium-distance work in front of the computer. I'm nearsighted but also need reading glasses, so I generally wear progressive frames. While those are capable of correcting both issues with just one "no bifocal" lens, it takes constant back-and-forth head positioning moves to stay in focus at different differences. The focus is often better for specific tasks with dedicated single-vision reading or workplace prescriptions, which I bundled into my first order for $50 and $40, respectively. (I ended up having to exchange them after discovering I had entered a plus sign instead of a minus on my prescription.)
Another plus: Customer service, particularly via live chat, which is quick and helpful, not only for walking shoppers through various terms, measurements and frame styles, but also for processing returns. You have up to 30 days to exchange the glasses if they're not to your liking, the fit is funky or the prescription is off. If it's Zenni's fault, you can get a full refund. If it's the customer's fault—as it was in my case with the prescription snafu—then Zenni offers full store credit, minus return shipping postage—to get a new pair (or 50 percent cash back). Any further exchanges on that order result in a 50 percent store credit. One thing to note: You have 24 hours to update your order at no additional charge—in case, say, you enter the wrong prescription. Lastly, the final receipt includes a special printout for submitting to vision insurance or flexible spending accounts.
What's not to like?
With 3,000 frames on offer and multiple ways to call up eye frame results, Zenni.com takes some effort to navigate. Partly due to the double-edged sword of so many choices and partly due to the various frame size-to-prescription parameters, the process can also take hours and hours.
I didn't find the 3D virtual try-on tool to be particularly accurate or consistent—a big giveaway was how frame size and fit was drastically different on each profile I created—but uploading a still image and trying on glasses in 2D worked a bit better. While sorting out measurements is made a bit easier using your existing pair of glasses, it's still a daunting and easily botched process.
This is where it gets complicated for someone like me, who has a strong prescription to correct nearsightedness, slight astigmatism and presbyopia (farsightedness/reading issues), as well as a preference for progressive lenses. After filtering for progressive lenses and inputting my sizing measurements and the correct prescription into Zenni's shopping tools, I was left with just a handful of frames to choose from. Even those didn't quite check off all the boxes in terms of the suggested parameters around my current frame measurements, but I settled on an updated metal aviator frame in blue ($30) that looked super cool in pictures. I chose the recommended 1.67 high-index Bloks progressive lenses ($94) with standard anti-reflective coating in a near-range configuration, which is optimized for clear sight up to three feet. These are designed for specific workplace scenarios, like staring at a computer screen all day. My new glasses would not only come in handy for writing this article, but they would also be seen by almost no one in case they were wrong for my face in the flesh.
The glasses that arrived two weeks later are indeed solid and stylish as promised, but they rest a little high on my nose and the frames are a tad small for my face. I don't have a problem with the look or fit of these home office-only glasses in terms of vanity or comfort, but I am having some issues with vision. They are truly near-range in that anything more than three feet away starts to get blurry, but because they are progressive, I still have to focus my eyes in a specific part of the lens to get that ultra-clarity to my laptop screen.
I consulted with a Zenni customer care rep who told me that Zenni uses free-form progressive lenses, which keep costs down as they are less expensive to manufacture than, say, Varilux lenses. The drawback is that free-form progressives offer a narrower vision section for both intermediate and reading distance than considerably pricier Varilux lenses. The result is that you have to focus your line of sight straight-on at a specific level to get that crystal clear focus, which so far feels like more work than the fancy Varilux progressives I already own, even if the clarity, narrow though it may be, is better on the near-distance optimized lenses.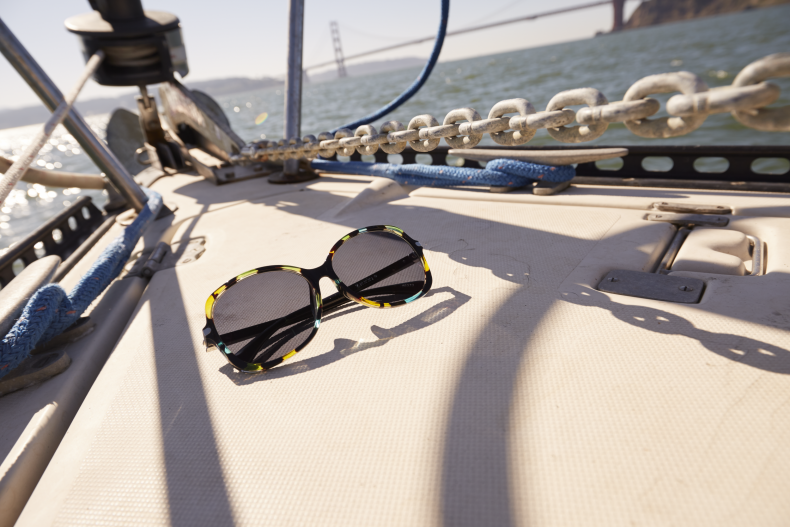 For work, I already use a pair of single-vision prescription computer glasses, arranged for mid-range up to 14 feet, from Pixel Eyewear. I have found those to work well in front of a computer with a much greater range of vision, including for reading, and I don't have to worry about focusing my line of sight into the right "bifocal." The near-range option in a progressive lens for work that's three feet or less may not make much sense for someone as picky as I am, so I may try to exchange these for a medium-range single-vision prescription lens instead. With a price totaling $127, I should have plenty of credit with which to work.
In many cases, frame measurements may serve as a suitable proxy for an in-person prescription-informed fitting, but prescription eyewear can't always be addressed in a one-size-fits-all manner, particularly for stronger and more complex prescriptions. It's possible that the dimensions on my face and head don't let my eyes sync up perfectly with my prescription in this particular lens thickness and this particular frame. This is why people go to eye doctors and eye specialists to get their prescription eyewear. Even when I go to the eye doctor and buy my glasses there, I'm always limited in choice due to my prescription and always have to pay a premium to make the lenses thinner (high index). If it were only that easy and quick for me to get the same result on Zenni, I'd have a lot more spending money.
It would be nice if Zenni had a more generous trial and return policy. Warby Parker, for example, lets you try on up to five pairs at home for 30 days to see which one fits and works best, but Zenni's prices are much lower with more add-ons included. Warby Parker's least expensive frames, including lenses, are $95. Even if the return policy were more generous, the turnaround time is currently 14 to 21 days due to COVID-19-related shipping delays, so don't throw your old pair of glasses out just yet.
Will I ever buy another pair of prescription glasses from my optometrist again?
The jury is still out on that, at least for this nearsighted and slightly astigmatic reviewer who spends hours in front of a computer and needs his glasses to also help him read more easily. Even so, that doesn't preclude me from going on a Zenni shopping spree for non-prescription eyewear to use with my contact lenses.
If, unlike me, your prescription is simple and mild and single-vision, then you may well never have to overpay for glasses again, because those prescriptions are more forgiving. For more complex prescriptions, "the process is more involved," as a rep from Zenni explained to me after I hit a few roadblocks in the ordering process. When it comes to these sorts of requirements, she recommended working more closely with Zenni's customer care team. I was in a rush to get my second pair ordered with the correct prescription, but I plan to consult with them a lot on the next round to see if I can get this third pair right. Luckily, since these were a separate new purchase, I can exchange them and apply the full credit on a slightly bigger pair, and we'll see if that makes a difference. I'll keep exchanging them until there's no credit left, if I have to.
I'm not sure if Zenni eyewear will fully replace my infuriatingly overpriced, traditionally procured prescription frames from the optometrist just yet. I haven't quite cracked the nut of finding the perfect working pair of prescription eyewear online, but at these prices, I'm definitely going to keep on trying.