Zephyr Teachout, Former Cuomo Opponent, Thinks the Time is Ripe for a Serious Challenge to Governor
In a year, New York Governor Andrew Cuomo went from a potential presidential candidate to facing rebukes from his own party and Zephyr Teachout, his 2014 democratic challenger, sees the current revolt as a "ripe" opportunity for someone to mount a serious campaign against him in the 2022 primary.
Cuomo's handily beat those who mount primary challenges against him and poll numbers indicate a year into the pandemic, a majority of New Yorkers approve of the job he's doing. But the onslaught of attacks over how he handled nursing home deaths from members of his own party is a problem that's likely to follow him to the primary.
"This is a very ripe time and I think what both mine and Cynthia Nixon's campaigns showed is he's remarkably vulnerable for a sitting governor and now he has done this grotesque double failure of his constituents," Teachout told Newsweek. "These deaths are on him and the cover-up is on him. Period."
The New York governor's response to the pandemic has been haunted by an early executive action that sent people recovering from COVID-19 back into nursing homes, where the most vulnerable populations live. He's been unable to shake the criticism that he not only caused additional loss of life but then withheld data relating to coronavirus deaths from the state legislature for his own political gain.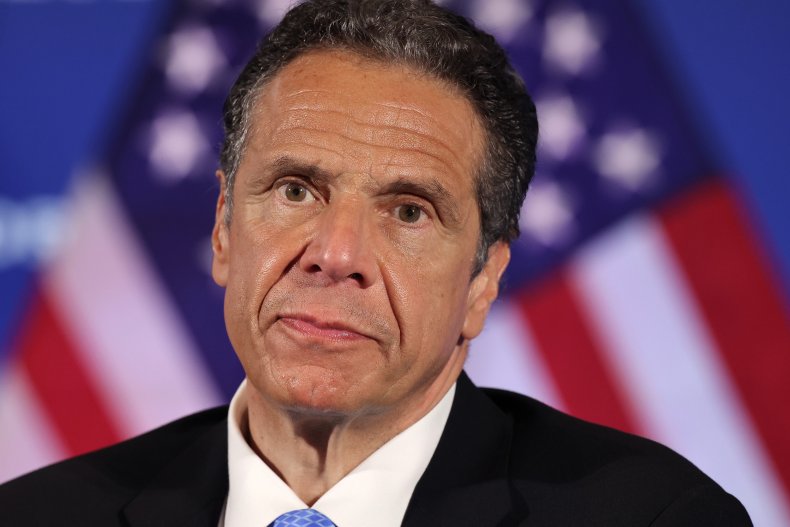 On a call with Democratic lawmakers, Melissa DeRosa, Cuomo's top aide, said they "froze" because they were unsure if the information they provided to state lawmakers would be "used against us" in a Department of Justice investigation. Democratic lawmakers didn't take kindly to the explanation and are looking to strip Cuomo of emergency powers that have enabled him to exert broad control over the state's response to the pandemic.
"We need to remind them that state government is not one big branch: There's three of them," State Senator Gustavo Rivera, the Democratic chairman of the health committee, said on Wednesday.
The vocal criticism coming from within his own party is a significant shift from the early days of the pandemic when Cuomo's leadership sparked conversations about a potential presidential run. While he still remains a "darling" of the Democratic Party nationally, Hank Sheinkopf, a New York-based Democratic strategist, said being blamed for nursing home deaths is a "significant" problem, as are the attacks he's facing.
"If he maintains the policies that were popular enough to make people love him, he could walk away without a primary," Sheinkopf said. "It depends how weak he is—weak is defined by how damaged he is ... He keeps getting cut and at some point, you run out of blood."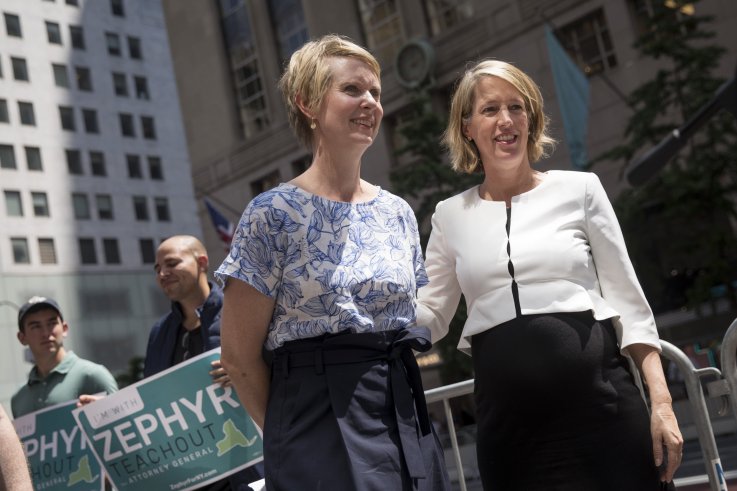 Cynthia Nixon, Democratic candidate for governor of New York, and Zephyr Teachout, law professor at Fordham University and candidate for New York Attorney General, arrive for a press conference outside of Trump Tower in Midtown Manhattan, on August 8, 2018.
Drew Angerer/Getty
In 2014, Cuomo defeated Teachout in the gubernatorial primary, 63 percent to 34 percent and four years later, nearly the exact same scenario played out with Nixon. Despite the losses, Teachout received the highest percentage of votes of any Democratic primary challenger in decades, so she doesn't see their campaigns as failures, but "significant ongoing rebukes" of his leadership.
When Teachout ran in 2014, she hit Cuomo for diverting money away from the MTA, but without seeing a breakdown of the transit system, it was hard for people to latch onto the message about the "perilous state" of the MTA's finances. Six years later, voters see "deaths and a cover-up," and the nursing home crisis shows the "real human toll" of Cuomo's decision making, Teachout said.
Newsweek reached out to Cynthia Nixon, but she was unavailable for an interview.
Cuomo defended his March executive action directing nursing homes to readmit recovering COVID patients as being rooted in guidance from the Centers for Disease Control and Prevention (CDC) and that if nursing homes couldn't care for patients, they had a legal obligation not to accept them. He's also denied that there was underreporting of deaths or that the administration intentionally tried to pull the wool over the public's eyes.
On Monday, he said the Department of Health "paused" state legislators' request for death data over the summer to prioritize the Department of Justice's request. However, he said there are "no excuses" and took responsibility for the delay's creation of a "void" of facts.
"The void allowed misinformation and conspiracy, and now people are left with the thought of, 'Did my loved one have to die?' And that is a brutal, brutal question to pose to a person. And I want everyone to know, everything was done. Everything was done by the best minds in the best interest." Cuomo said.
Back in August of 2014, Teachout was still unknown to voters, but she capitalized on the bad press surrounding Cuomo's abrupt ending of the Moreland Commission to bolster her campaign.
The Moreland Commission was intended to "root out corruption in politics and government," but was disbanded less than a year later. A New York Times report that summer detailed Cuomo's alleged involvement in the commission when the targets were tied to him and U.S. Attorney Preet Bharara opened an investigation, which later concluded there was insufficient evidence for a federal crime. Cuomo defended his involvement with the commission as being a necessary guiding hand.
After the Times released its story and Bhara announced the investigation, Teachout earned an endorsement from the Public Employees Federation, New York's second-largest public union, got a much-needed financial boost and garnered enough name recognition among voters to help her earn 34 percent of the primary vote. Despite a wide margin, Teachout mounted an unexpectedly strong challenge in an election that was expected to be an easy landslide victory for Cuomo.
"There is a history here of him overstepping and that overstepping coming back to impact him politically," Teachout said.