The Bizarre 'Anti-Idyllic' Hotel Room Where You Sleep Outside A Gas Station
With irregular temperatures, constant glaring light, and the ongoing grumbling of nearby traffic, sleeping in the open air next to a gas station doesn't exactly conjure up images of opulent luxury.
But, for hotelier Daniel Charbonnier, this is the exact purpose of his "anti-idyllic" new suite. The Null Stern, or Zero Star, Hotel is a double bed on a platform, without walls or a roof, located in between a petrol station and thoroughfare.
It is the latest in a series of art installations from Charbonnier and conceptual artists Frank and Patrik Riklin, who have been working together to merge hospitality and art since 2008.
Their 'Null Stern' suits began with Sevelen, St Gallen in a nuclear bunker and have since featured in different regions of Eastern Switzerland. The trio currently have three other idyllic open-air suites operating in the picturesque commune of Saillon in Valais.
However, their fourth suite is radically different, with a considerably less scenic location to reflect the current socioeconomic state of the world, from climate change to war in Ukraine and the exploding cost of living.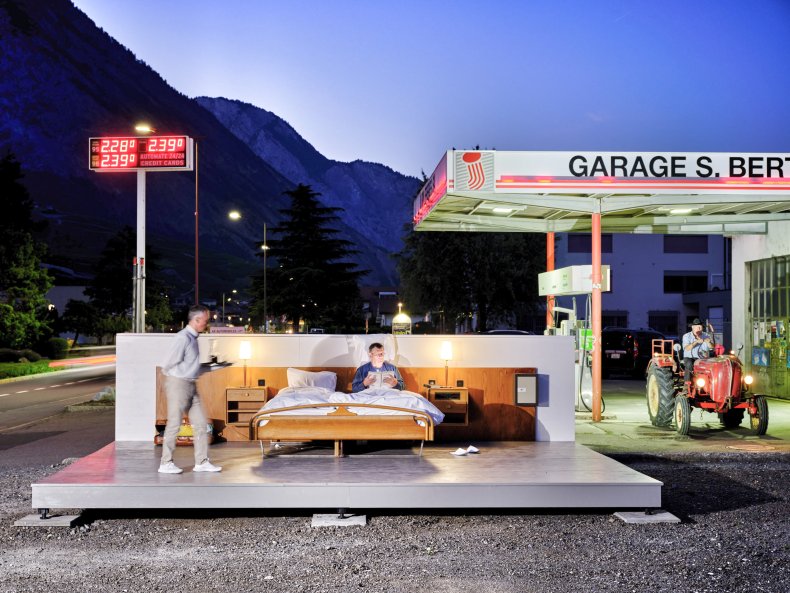 Charbonnier told Newsweek: "We felt it was not possible to only show beautiful things like everything was perfect. The world is still beautiful, but we are all living through a terrible and scary time. We wanted to create a new version that encapsulates that.
"The purpose is not to sleep, it's to keep you awake. To keep you awake to think, to reflect. To reflect on yourself on how you eat, how you travel, what you want in life, what you want society to be, whatever. Whatever topic that matters to you."
The hotelier insisted they are not "judging idyllic", pointing out their three luxury suites will continue as usual, however they felt it was time to "speak about the dark side" as well as the luxury aspects of tourism and hotels.
French-born hotelier Charbonnier has spent his life building a career in hospitality, having trained in London in the mid-90s before traveling to the United States to work for Four Seasons in branches across Palm Beach, Toronto, and Beverly Hills
After leaving the world of luxury hotels, Charbonnier worked for high-end casinos and nightclubs before returning to Europe, where he founded a global company training hospitality professionals with his wife.
Charbonnier met the Riklin brothers in 2009 after seeing an art exhibition commenting on unused space, held in one of the several underground military bunkers in Switzerland built after the Cold War.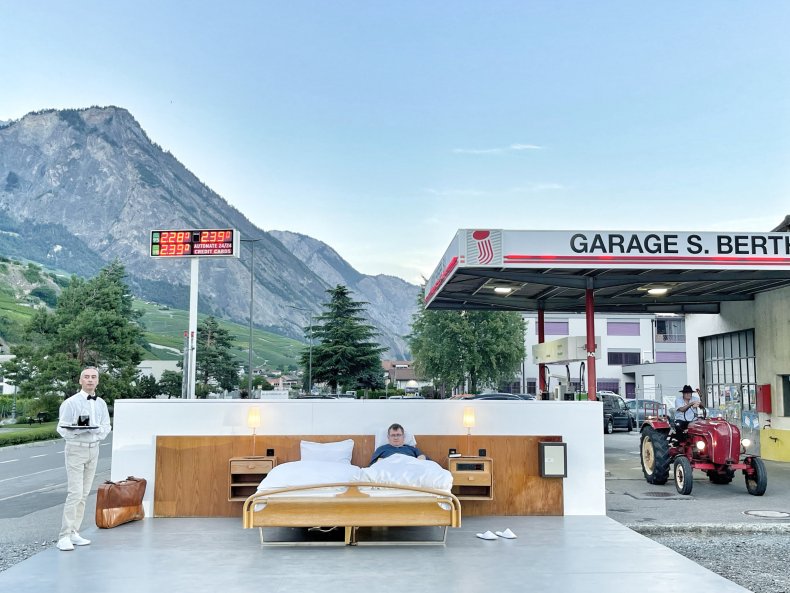 "It triggered something in my brain, he said. "I was in the middle of reevaluating the value scale of hospitality. To me, it was the beginning of the tangible product of hospitality becoming almost taken for granted.
"My observation as a hospitality professional was that value was shifting from tangible to intangible. When I saw this bunker I thought: "Oh my god this is the perfect environment to test that'. What matters is not the material, it is human."
After viewing the exhibit Charbonnier contacted the brothers to introduce himself and his concept. The trio spent their first day together "talking non-stop" about a potential project, soon coming up with the idea for their original hotel.
Together, they transformed the art installation into the brand "Null Stern – the only star is you", opening a suite in a nuclear bunker in Teufen, a municipality in the canton of Appenzell Ausserrhoden, Switzerland.
Charbonnier explained: "The idea was to just see, really what is value? What is hospitality? It was the beginning of the first seven star hotels. We chose the most extreme environment to run a hotel and said, we're going to focus on service, on personalized service."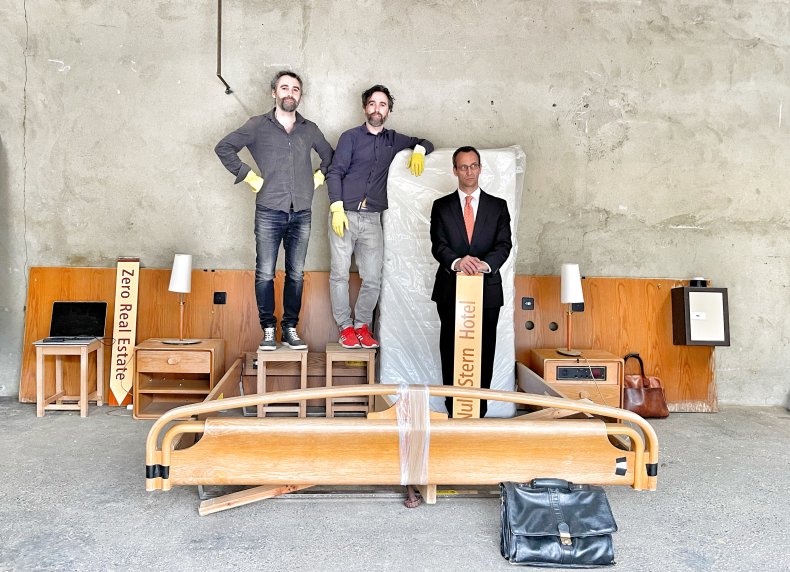 Their hotel brand always includes the 'Modern Butler' a fusion of the traditional and modern butler who offers the same tailored service a guest would receive at a five star hotel within an unconventional environment.
In their first year the trio charged thirty Swiss Francs per night and welcomed guests from Europe, Asia and North America, with an overwhelmingly positive response from their visitors.
Between 2017 and 2020, the concept had emerged into the famous open-air Null Stern rooms, with the trio keen to reflect the concern about environmental issues becoming increasingly prevalent in society.
In 2021, the team began to consider how they ran their suites, keen to create a room reflective of how "broken" the world seems in wake of the COVID-19 pandemic and amid war on European soil.
One evening at the 'anti-idyllic' suite costs £325 Swiss Francs for two guests. Each set of guests will receive a second booking, for a nearby hotel in case weather means they're unable to safely stay outdoors.
Guests will receive tailored service from the hotel's 'modern butler', a bottle of locally produced wine, finger food and a platter of meats and cheese from local vendors. In the morning guests receive organic juice, pastries from a local bakery and a complimentary chocolate bar.
Charbonnier explained: "This project is non-profit, it is supported by the local authorities and local mayor who wanted to give the space to promote his region. We only have four rooms, the revenue is barely enough to pay the modern butler and to pay the operations costs. A lot of the logistical costs were actually investments from the community into this project."
When it comes to safety, the trio simply inform the guests of the risk posed from sleeping in the open air.
"There is a certain risk", said Charbonnier. "Today we hold guests responsible, to an extent. We're in a world where you need a disclaimer for everything, "Oh I wasn't aware, oh it's not my fault".
"With us, it's the other way around. We are upfront, in this room you are by a gas station, you can see photos, you can go onto Google earth, you know where you are. We have called it anti-idyllic in case you were not sure.
He added: "If we start having faith in people, you would be surprised how people behave. If you act like you don't trust people, they will prove you right."