Zeta Path, Tracker As Hurricane Weakens to Tropical Storm as it Hurtles Into Georgia
Storm Zeta continues on its path north after decimating neighbourhoods while passing through Louisiana.
It made U.S. landfall as a Category 2 storm in the state on Wednesday afternoon, bringing 110-mph wind and causing serious destruction to coastal towns and the Greater New Orleans area.
Although Zeta has weakened and is now classified as a tropical storm, it is still expected to cause major damage as it crosses Alabama, Mississippi, northern Georgia, the Carolinas, and Southeastern Virginia.
The storm is forecast to bring heavy rainfall and dangerous gusts of 45mph to 70mph to Alabama, Mississippi, and Georgia. "Wind gusts could be especially severe in the Southern Appalachian Mountains," the National Hurricane Center (NHC) warned.
"Through today, heavy rainfall is expected near and in advance of Zeta from portions of the central Appalachians, Mid-Atlantic and lower to middle Ohio Valley. This rainfall may lead to flash, urban, small stream and isolated minor river flooding."
Residents are being asked to stay inside and prepare for possible power outages. Around 700,000 people were without power in Georgia as of 5.30 a.m. EDT, according to online tracker PowerOutage.
As the storm hit Atlanta, resident Meg Candelario tweeted: "Geez! Tropical storm Zeta is no joke!!! These wind gusts are insane! Thought it would have been gone by now. Georgia Power transformers exploded and we are left with no power. #tropicalstormZet."
Trees have already fallen in all three states, some blocking roads and damaging neighborhoods, according to local reports.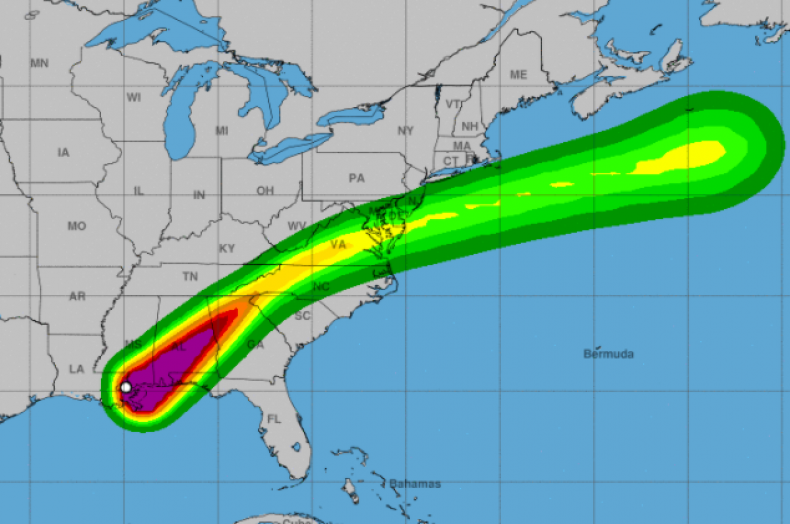 In a tweet late last night, Louisiana Governor John Bel Edwards wrote: "Today has been hard. As we continue to weather #Zeta and feel its effects, everyone needs to keep listening to their local leaders and follow any curfews that may be in place. Stay inside and stay safe tonight. #lagov,".
Officials urged residents to stay off the roads and stay inside during the storm.Louisiana State Police said there had been "multiple" vehicle collisions and that officers were working to clear debris off roads. "Please avoid unnecessary travel during this time," the department urged locals. "This driver could not see a tree in the road until it was too late."
The storm hit first the U.S. around 4 p.m. near the Louisiana fishing village of Cocodrie and then moved inland to New Orleans around 7.30 p.m. One man in the city was reportedly killed during the storm after being electrocuted by a fallen power cable.
Despite the storm having weakened, the NHC still regards the storm a "life-threatening surge". However, it said it will "gradually subside in the early morning hours on Thursday.
President Trump declared Zeta an emergency and ordered Federal assistance to help Louisiana deal with the aftermath resulting from the adverse weather conditions.
Zeta is the fifth significant storm to hit the state this year, and 27th storm of the Atlantic hurricane season, just shy of matching the storm record reached in 2005, when there were a record number of 28 storms in 2005, including 15 hurricanes.