Chloé Zhao's Golden Globe Win for Best Director Makes Her an Oscar Frontrunner
Chloé Zhao was awarded the Golden Globe for Best Director - Motion Picture on Sunday night, making her just the second woman ever to win that particular trophy. Her victory comes 37 years after Barbra Streisand collected the Best Director honor in 1984, for Yentl.
Zhao won for her latest film, the critically acclaimed Nomadland, which also ended the night bywinning the award for Best Motion Picture - Drama. Now currently available to stream on Hulu, Nomadland follows a character played by Frances McDormand as she roams through the American West in her van, following the death of her husband and the loss of her job. McDormand was nominated for her performance in the Best Actress in a Motion Picture - Drama category, but lost to Andra Day, for her lead role in The United States vs. Billie Holiday.
Based on a 2017 nonfiction book by Jessica Bruder, Nomadland is the third feature from Zhao, who previously directed 2015's Songs My Brothers Taught Me and 2017's The Rider.
During her acceptance speech for Best Director, Zhao paid tribute to some of the people who inspired her while making the film, those with tales similar to the one that she depicts in the movie. "I especially want to thank the nomads for sharing their stories with us," she said.
She mentioned one such person, Bob Wells, who wrote a book about forsaking material possessions to live in van. Zhao quoted Wells, saying, "'Compassion is the breakdown of all the barriers between us—a heart-to-heart bonding. Your pain is my pain; it's mingled and shared between us.'" She added, "This is why I fell in love with making movies and telling stories."
Now with two high-profile wins under her belt, Zhao seems like even more of a lock for a Best Director nomination at the Oscars this year. Should she win that prestigious award, Zhao would be the second woman to win an Academy Award for directing, following Kathryn Bigelow, who won in 2010 for helming The Hurt Locker. She would also then be the only female director to win the Golden Globe and Oscar for directing. (James Cameron won the Globe in 2010 over Bigelow, for Avatar.)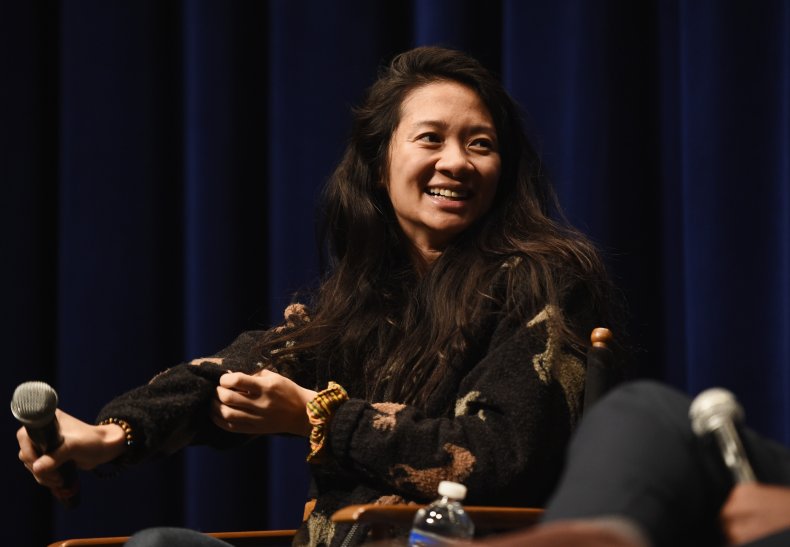 Zhao also made history Sunday night as the first Asian woman to win a Globe in the Best Director category. (Even before winning, she had already earned the distinction of being the first Asian woman nominated for the award.) Before Zhao, Ang Lee was the only filmmaker of Asian descent to win the Golden Globe for Best Director; he was actually awarded it twice—for Crouching Tiger, Hidden Dragon in 2001 and Brokeback Mountain in 2006. Other male Asian directors who've been nominated for Globes are Bong Joon Ho (for 2019's Parasite) and Shekhar Kapur (for 1998's Elizabeth).
Zhao was born and raised in Beijing. She later spent time in London and Los Angeles, before studying film at New York University. Her next scheduled directing project is Marvel Studios' Eternals, which currently has a release date of November 5, 2021.
The Golden Globes drew a lot of attention for its Best Director category this year. For the first time ever, multiple women were vying for the award in the same year. Joining Zhao were Emerald Fennell (Promising Young Woman) and Regina King (One Night in Miami). Rounding out the category in this year's race were David Fincher (Mank) and Aaron Sorkin (The Trial of the Chicago 7).
And aside from Yentl, Streisand also earned a Golden Globe nomination for Best Director for 1991's The Prince of Tides. Before this year's ceremony, the only other women to be nominated for a Best Director Golden Globe were Ava DuVernay for 2014's Selma, Jane Campion for 1993's The Piano, Sofia Coppola for 2003's Lost in Translation and Bigelow, for 2009's The Hurt Locker and 2012's Zero Dark Thirty.