In August, Rio de Janeiro will host roughly 10,000 Olympic athletes and more than a million spectators, including 500,000 from abroad. A significant number of them will become infected with Zika. The question is: How serious will the consequences be?
With Brazil in the midst of a Zika outbreak that the World Health Organization (WHO) says has infected up to 1.5 million people, more than 200 health experts wrote an open letter in May calling for the games to be postponed or relocated—options that would be extraordinarily challenging only two months before the opening ceremony is slated to commence but not impossible.
International Olympic Committee Director General Christophe De Kepper was upbeat about Rio at an IOC-WHO meeting in May, saying, "We are fully confident that the measures taken by Brazil will provide safe conditions."
The WHO says the virus will spread regardless of whether the games go ahead and has not recommended a change of venue or cancellation, raising concerns it is sacrificing health to commercialism. "There is an opportunity to postpone," says professor Arthur Caplan, a bioethics expert and the head of the NYU Langone Medical Center's Division of Medical Ethics. "It would be expensive and difficult, but it seems to me to be morally required because of these risks."
Caplan warns that the IOC could be liable. "The IOC is setting itself up, and so are the athletic federations, for a pretty hefty lawsuit if something goes wrong, since the WHO has immunity from lawsuits as an agency of the United Nations," he says.
Most people who contract Zika, which is spread by mosquitoes, recover with no lasting effects. But some pregnant women who contracted the virus have had babies with microcephaly, and some people develop the potentially devastating disease Guillain-Barré syndrome.
The IOC has advised national Olympic committees to follow WHO guidance. The WHO recommends insect repellent, light-colored clothing from head to toe and safe sex during a visit and for at least four weeks afterward. (After it became clear that Zika could also be spread by sexual contact, the IOC said it would distribute 450,000 Olympic condoms.) Pregnant women are also advised not to travel to Zika-infected areas.
The Zika crisis comes amid trying times for Brazil: The crime rate is high, President Dilma Rousseff has just been suspended from office pending impeachment, and the real has plummeted because of the country's prolonged economic slump. Rio Mayor Eduardo Paes, speaking to reporters in May, played down the Zika threat but said no one should expect the city to be "first world."
No teams have canceled, but several athletes have, including golfers Marc Leishman of Australia and Vijay Singh of Fiji. Experts question why the burden is on athletes to decide. "Saying the athletes can choose is disingenuous—they rely on their coaches and authorities to tell them if it is safe," says Caplan.
Cameron Myler, a four-time Olympic luger and former board member of the U.S. Olympic Committee, is a lawyer and an NYU School of Professional Studies professor of sports management who dismisses the suggestion that the IOC would be liable: "Athletes have been provided information about the risks of the virus, so if they choose to travel to Rio and participate in the games, they will be assuming those risks."
Although the U.S. swim team opted not to train in Puerto Rico because of U.S. government warnings about Zika, the swimmers still plan to attend the games: "We are all taking the necessary precautions to make sure that athlete safety is the primary responsibility and priority," says Scott Leightman, the USA Swimming communications director.
University of Ottawa professor Amir Attaran, one of the health experts who drafted the open letter in May, says swimmers might be safer than visitors. "I am much less concerned about the athletes than the tourists," he says. "They are going to be visiting crowded neighborhoods, some of which will be slums where the disease is stratospherically high, and they are going to get infected."
In an article in the Harvard Public Health Review that documented how the Zika outbreak is flourishing, Attaran said Rio has the most suspected Zika cases in Brazil, 26,000, and a rate of 195 per 100,000. He examined a similar mosquito-borne disease, dengue fever, to learn from historic patterns how the relatively new Zika virus might behave: "Since this year, when Rio began its intensified efforts against mosquitos, dengue has gone up, not down," he concluded. He said dengue was an excellent proxy for learning about Zika since it is transmitted by the same mosquito species—the Aedes aegypti . "In the first quarter of 2016, there is 600 percent more dengue cases than in the first quarter of 2015," he said. "So all the promises that 'we've controlled it in Rio' are false."
Brazilian Health Minister Ricardo Barros went to Geneva in late May to speak with the IOC and the WHO; he presented data that the virus-carrying A. aegypti mosquito is less common during the cooler and drier months of the Brazilian winter. But that is disputed in the International Journal of Infectious Diseases by a dozen public health experts, who concluded that Zika transmission in Brazil can occur all months of the year.
"The point is not whether you as an individual are lucky [enough to avoid getting Zika]. The point is that you are moving in a half-million tourists to this event who are then going to all corners of the world," Attaran says. He warns that judgments on whether to proceed with the games seem to be based on money, not public health. "What you are basically saying is, 'Let's bring on the Olympics of brain damage for commercial opportunity. We don't care if there are going to be brain-damaged kids; there's business to be done,'" he says.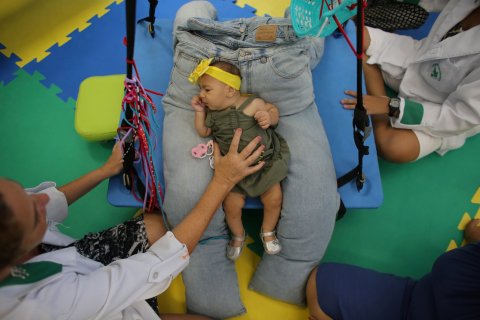 WHO's in Charge?
Dr. Margaret Chan, WHO director-general since 2006, has much experience with outbreaks, but as director of health of Hong Kong, she was criticized for underestimating avian flu and SARS, as she has been for WHO's slow response to Ebola.
Once again, Chan is trying to calm anxiety, but some experts question the WHO's independence. In late May, WHO directors voted to reduce restrictions on the influence private sector companies—read: Olympic sponsors—can have on the organization. Bill Jeffery, the executive director of the Centre for Health Science and Law in Ottawa, Ontario, says although the rules are designed to apply to technical cooperation rather than in developing standards and guidance on health issues, the change is "vulnerable to exposing the WHO to commercial influence if loosely applied by WHO staff." He likens it to "inviting foxes into the chicken coop."
Questions have also been raised about the WHO's relationship with the IOC—in particular, a memorandum of understanding between them in effect from 2010 to 2015 that was not made public. Under a subsequent agreement, the WHO provides public health advice to Brazil and the IOC.
Asked about possible conflicts of interest, Nyka Alexander, a media officer in the WHO Department of Communications, says, "It is quite the opposite."
Chan's comments on Zika have ranged from flippant to frightening. After initially expressing doubts about a link between Zika and microcephaly, in January she said Zika "went from a mild threat to one of alarming proportions" and that it qualified as a global health emergency. Three months later, when I ran into her at the U.N. headquarters, Chan remarked with a laugh, "If you're not pregnant, don't worry about Zika."
Even if organizers and sponsors are persuaded that it's not worth the risk of going ahead with the games in Rio, is it realistic to make a switch?
Some have floated the idea of splitting up the games into different sports in pre-existing Olympic stadiums in London, Beijing, Athens or Sydney, noting that many more people watch the games on television than in person, and for them it would make little difference to have multiple venues.
But Jay Kriegel, former president and executive director of the New York City bid for the Olympics, says the games have to be in one place for logistical reasons. "In the old days, you might have been able to say, 'Let's wrap it up and go to Los Angeles because they are the most prepared and have all these facilities.'" Today, he says, it's not just the sponsors and ticket sales and airfares that have been paid for. Security in 2016 is key, he says, and organizers would never be able to make arrangements in such short time. He cites the threat of terrorism and years of discussions with the security services of all participating countries.
Former U.S. Olympic Committee Executive Director Harvey Schiller says moving the games would be very difficult. He rules out Tokyo, saying the 2020 venue is not ready, and London, which has converted its Olympic sites since the 2012 Games. "The only city that may have the capacity would be Beijing," he says, adding that even that would be time-consuming and expensive. Beijing hosted the 2008 Summer Games and is due to host the 2022 Winter Games. He favors sticking with Rio.
Caplan worries that concerns about expense are outweighing other issues. "We keep finding out that [Zika] isn't behaving like we expect," he says. "First, we thought it was just women, then it turned out it was men, then it turned out you could get it into the blood supply, then it turned out that there were neurological things going on that were different from just being born with a small head—so it is clear we don't really understand it well."
Chan said something rather similar at a press conference in March: "The more we know, the worse things look."