Zimbabwe Election: Violence and Accusations of Rigged Results Mar First Post-Mugabe Polls
Violence and accusations of rigged polls have marred Zimbabwe's first election since Robert Mugabe was ousted from power last year after a nearly three-decade rule.
Incomplete official results show that the ruling Zanu-PF party has won the most seats in the country's parliament, while the final result of the presidential race is not yet known, the BBC reported Wednesday. The MDC Alliance, a coalition of seven opposition political parties, has claimed that the results have been rigged, arguing that its presidential candidate, Nelson Chamisa, had won the popular vote.
Armed troops have begun to patrol the streets of the southern African country's capital, Harare. Clashes have erupted between protesters, who claim the election was manipulated, and soldiers and police. The Washington Post reported Wednesday that the army opened fire on opposition supporters, killing one person and injuring others.
"We support [opposition leader Nelson] Chamisa, and we want him to be our president. The Electoral Commission is not fair," an unnamed 19-year-old student demonstrator told The Guardian. "Our election is being stolen."
Posting to Twitter, Chamisa claimed he had won the popular vote and thanked the people of Zimbabwe.
"I'm humbled by the support you have given to me as a Presidential Candidate. We have won the popular vote," the politician tweeted. "You voted for total Change in this past election! We have won this one together. No amount of results manipulation will alter your WILL."
Arguing that the results had been fixed by the Electoral Commission, one Zimbabwean Twitter user tweeted: "Certainly Zanu pf won 2/3 majority seats at National Assembly with cooked figures obviously."
Elmar Brok, the head of the first European Union monitors to be allowed into Zimbabwe in 16 years, praised the election as an "opening up of political space," according to The Guardian. But he criticized the country's Electoral Commission, saying the government had not created a level playing field.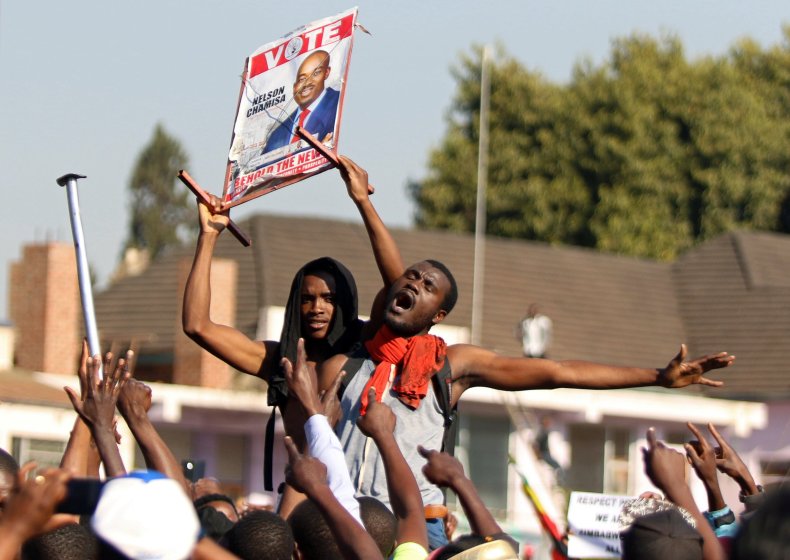 The Zanu-PF presidential candidate is incumbent Emmerson Mnangagwa, 75, who rose to power in November after the military took over the country and forced the resignation of Mugabe. The strongman, 94, had ruled the country for 20 years as president, having previously served as prime minister for seven years. The former leader and his family have been accused of rampant corruption while the country endured severe economic hardship.
Mnangagwa formerly served as Mugabe's vice president but challenged his rule after being removed last November before the coup that overthrew the president. Many saw Mnangagwa's removal as paving the way for Mugabe to appoint his unpopular wife, Grace Mugabe, as his successor instead. Following the military coup, Mnangagwa was sworn in as president.
More than 5 million Zimbabweans were registered to vote in the election, with a high turnout of 70 percent reported, according to the BBC.