There's a Manhunt in Zimbabwe for the Man Who Booed President Robert Mugabe's Wife, Grace
Police in Zimbabwe have launched a manhunt for the alleged ringleader of a group that heckled Zimbabwe's first lady Grace Mugabe during a rally of the ruling ZANU-PF coalition in the western province of Bulawayo.
The booing apparently upset President Robert Mugabe and may ultimately have played a part in the sacking of former vice-president Emmerson Mnangagwa on Monday, a political decision that leaves the first lady widely tipped to become Mugabe's deputy.
Police say that hecklers at an event on Saturday were led by Magura Magura Charumbira, 34, who led a faction within ZANU-PF that supported Mnangagwa. The ruling coalition has long been divided over Mugabe's eventual successor between those supporting Grace Mugabe—known as the G40 faction—and those backing Mnangagwa—known as the Lacoste faction.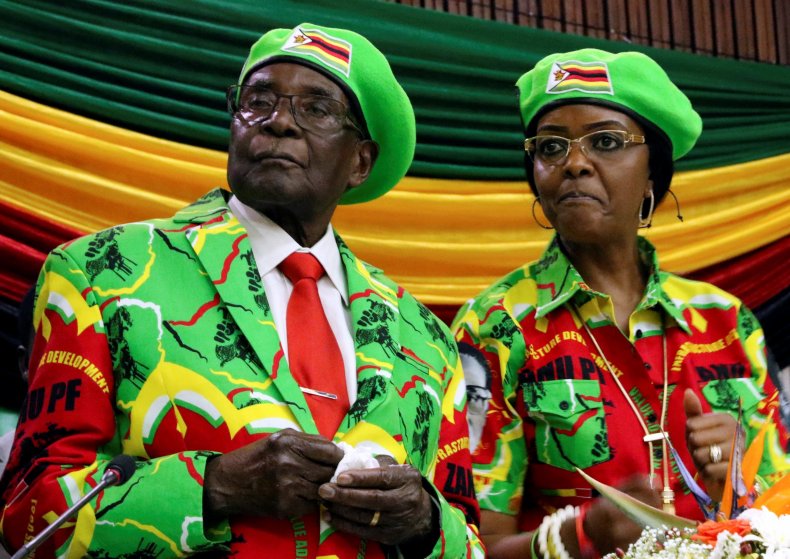 Bulawayo's acting police spokesperson Chipfunde Garikayi said that authorities were "anxious" to interview Charumbira in connection with an incident that occurred "while first lady Dr. Grace Mugabe was addressing a gathering during the rally," in a statement reported by the state-run Chronicle.
But Garikayi did not clarify what offense, if any, police intended to charge Charumbira with. Bulawayo police directed Newsweek to speak to its press department, which did not answer calls.
Read more: Can anyone stop another President Mugabe in Zimbabwe?
Mugabe said that he was tired of being undermined by supporters of Mnangagwa. "I am getting insulted in the name of Mnangagwa daily. Did I make a mistake to appoint Mnangagwa as my deputy? If I made a mistake I can even drop him tomorrow," said the 93-year-old president.
The threat proved prescient, with Zimbabwe's Information Minister Simon Moyo announcing on Monday that Mnangagwa had been removed for exhibiting traits of "disloyalty, disrespect and deceitfulness."
ZANU-PF's provincial chairman in Bulawayo, Dennis Ndlovu, said that the people who heckled the first lady had been bussed in from out of town, according to the Chronicle .
Mugabe, who has been in office since 1980, is cracking down on dissent and opposition in Zimbabwe ahead of elections in the country next year, in which he is standing for another five-year term.
The government set up a ministry of cybersecurity, threat detection and mitigation in October to police social media for attacks on the president. Police in the capital Harare arrested a U.S. citizen on Friday for allegedly insulting President Mugabe in a tweet.
Martha O'Donovan, formerly of New Jersey, is facing 20 years in prison for allegedly calling Mugabe a "sick man" on Twitter, USA Today reported.