Zimbabwe President Robert Mugabe is a Fan of Donald Trump's 'America First' Policy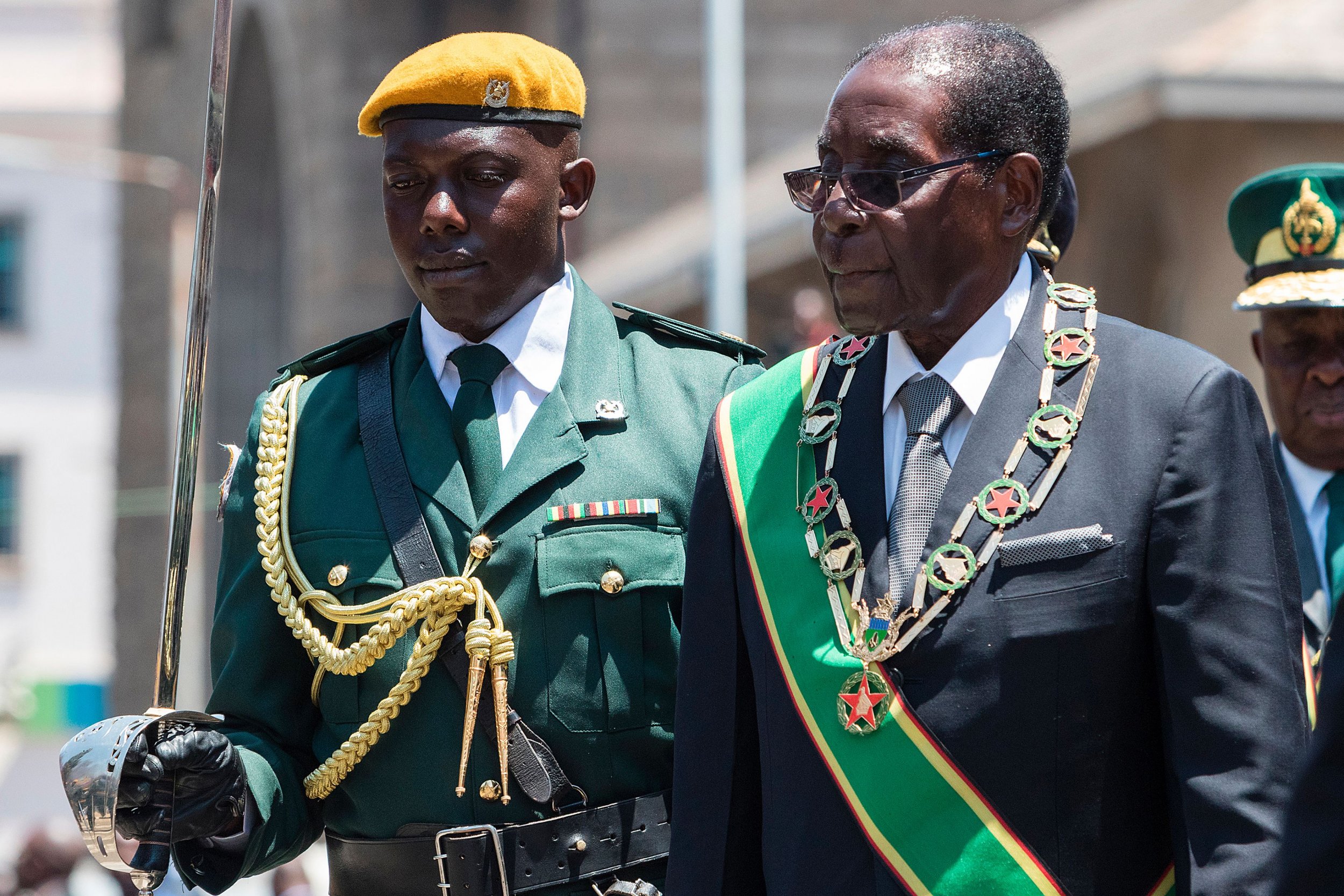 "America First" has been the resounding refrain in Donald Trump's first month in office, and the U.S. president's nationalist tendencies have found an ally in Zimbabwe's President Robert Mugabe.
Mugabe, who turns 93 Tuesday and is Africa's oldest serving head of state, told state broadcaster the Zimbabwe Broadcasting Corporation that he approved of President Trump prioritizing American interests.
"When it comes to Donald Trump, on the one hand talking of American nationalism, well America for America, America for Americans—on that we agree. Zimbabwe for Zimbabweans," said Mugabe, in excerpts carried by the state-run Herald newspaper.
Mugabe has consistently opposed Western intervention in Zimbabwe and has accused political and civil opponents— including Evan Mawarire, a pastor who led a nationwide protest campaign against Mugabe in 2016—of being sponsored by the United States and others.
The nonagenarian president said that Trump should be given time to establish himself and added that he hoped the U.S. president could review long-running sanctions on Zimbabwe.
Washington imposed financial sanctions on Zimbabwe in 2001 under President George W. Bush over concerns about the Mugabe government's record on democracy and human rights.
Mugabe's ZANU-PF have been accused of rigging elections on several occasions and human rights groups have deplored the violation of freedom of expression and assembly by Zimbabwean security forces.
ZANU-PF claimed in 2013 that the U.S. sanctions regime had cost the southern African country, which has high levels of poverty and unemployment, at least $42 billion (£33 billion), though this figure has not been independently confirmed. In his last week in office, former U.S. president Barack Obama renewed the sanctions on Zimbabwe for a further year.
Mugabe said he was glad that Democratic candidate Hillary Clinton lost the election as he feared she would renew sanctions on Zimbabwe, and said he hoped that Trump may reconsider the policy.
"You see, I knew she [Clinton] could slap sanctions on us as a legacy. Indeed Obama did that just before he left. Why did he have to do it?...Why didn't he leave it to the incoming incumbent to make his own decision? We are just now under sanctions imposed not by Donald Trump but by Obama. What arrogance is that?," said Mugabe. "Mr Trump may even re-look [at] the sanctions on Zimbabwe."
Mugabe has hinted that he could stand for reelection in 2018, should he have the popular support required. His wife Grace Mugabe—who has been touted as a possible successor to Mugabe—told a ZANU-PF rally in the capital Harare that her husband was so popular that, even if he died, his corpse could run for re-election. "You will see people voting for Mugabe as a corpse. I am seriously telling you—just to show people how people love their president," she said, the BBC reported Friday.