Zimbabwe President Robert Mugabe Watches as His Wife's Dirty Laundry Is Aired in Public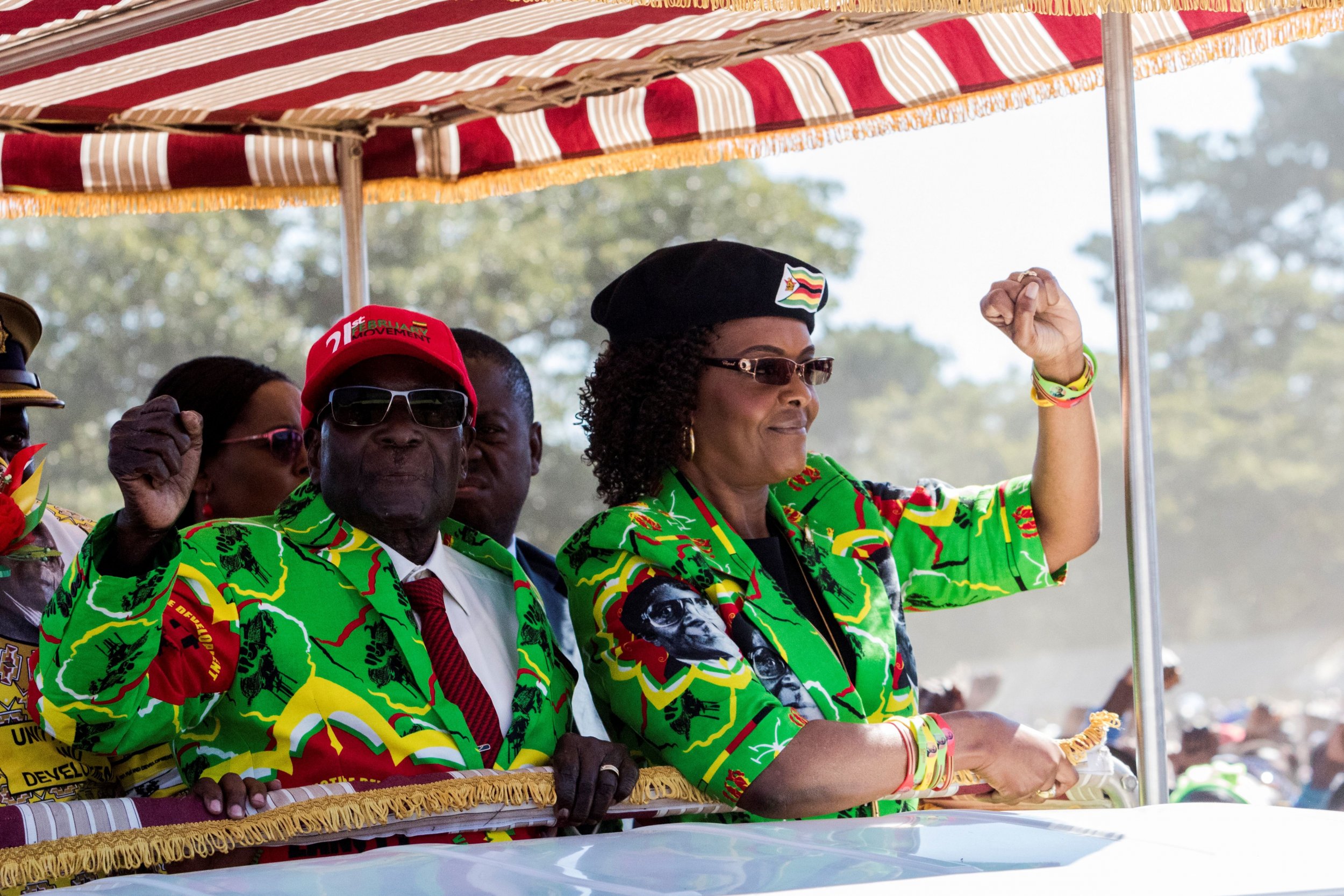 Zimbabwe President Robert Mugabe has been married to his wife Grace for more than 20 years, but the last few months may well have been the most trying period of their union yet.
Firstly, Grace Mugabe undermined her 93-year-old husband in July by challenging him to name his eventual successor, a task that Mugabe has demurred from. Then, Zimbabwe's first lady created an international diplomatic incident in August after allegedly assaulting a South African model with an extension cord and plug. South African authorities wanted to bring her to court, but Mugabe himself flew into the country to talk them down.
Now, Grace Mugabe—and her dirty laundry—have been caught up in another incident that will likely create embarrassment for Zimbabwe's first family.
Zimbabwean authorities have detained a local journalist after he allegedly wrote a story that claimed that the first lady had given second-hand clothes—including used underwear and nightdresses—to party activists.
Police in Zimbabwe arrested Kenneth Nyangani, a journalist at the privately owned NewsDay newspaper, at his home in the eastern city of Mutare, according to Zimbabwe Lawyers for Human Rights, which is representing Nyangani.
Authorities initially intended to charge the journalist with criminal defamation—a charge previously declared unconstitutional by the country's constitutional court—but NewsDay has since reported that he has been charged with criminal nuisance.
Read more: Grace Mugabe calls on followers to "respect women" after fleeing South African assault allegation
Rights groups decried the arrest and said it was a sign of Zimbabwe's government trying to crack down on freedom of speech.
"The intention is to send a chilling message to journalists and media workers that they must self-censor rather than expose truths," said Cousin Zilala, executive director of Amnesty International Zimbabwe.
"Zimbabwean journalists should not be criminalized simply for doing their work."
Angela Quintal of the Committee to Protect Journalists said that the fact that the first charge brought against the journalist was evidence that "this arrest is aimed squarely at intimidating Zimbabwean journalists into self-censorship."
The original story said that an MP from the ruling ZANU-PF party, Esau Mupfumi, had brought clothes donated by Grace Mugabe to a party meeting in Mutare. The clothes included underwear and nightwear, and Mupfumi reportedly told the meeting he had been informed that their underwear was in poor condition.
"I have briefs for you and I am told that most of your briefs are not in good shape, please come and collect your allocations today. We have night dresses, sandals and clothes, come and take, this is from your first lady Grace Mugabe," said Mupfumi, according to NewsDay.
Some people at the meeting reportedly complained of being treated like "charity cases" and said they would rather have jobs than second-hand clothes.
Zimbabwe is currently in an economic slump, with high unemployment and a foreign exchange shortage that has seen the country print its own pseudo-currency, known as bond notes, which has no value outside the country.
Zimbabwe Lawyers for Human Rights said that while it understood that the MP, Mupfumi, filed a police report, it was not clear whether the complainant was him or Grace Mugabe.
The first lady—who, at 52, is 41 years younger than her husband—is widely thought to want to succeed her husband. The question of succession has divided ZANU-PF into two major factions, one rallied behind Grace Mugabe and the other supporting Vice-President Emmerson Mnangagwa.
Experts told Newsweek that the incident in South Africa would have damaged Grace Mugabe's credibility as a possible successor to Mugabe within the party, despite the fact that she has denied any responsibility for the alleged assault.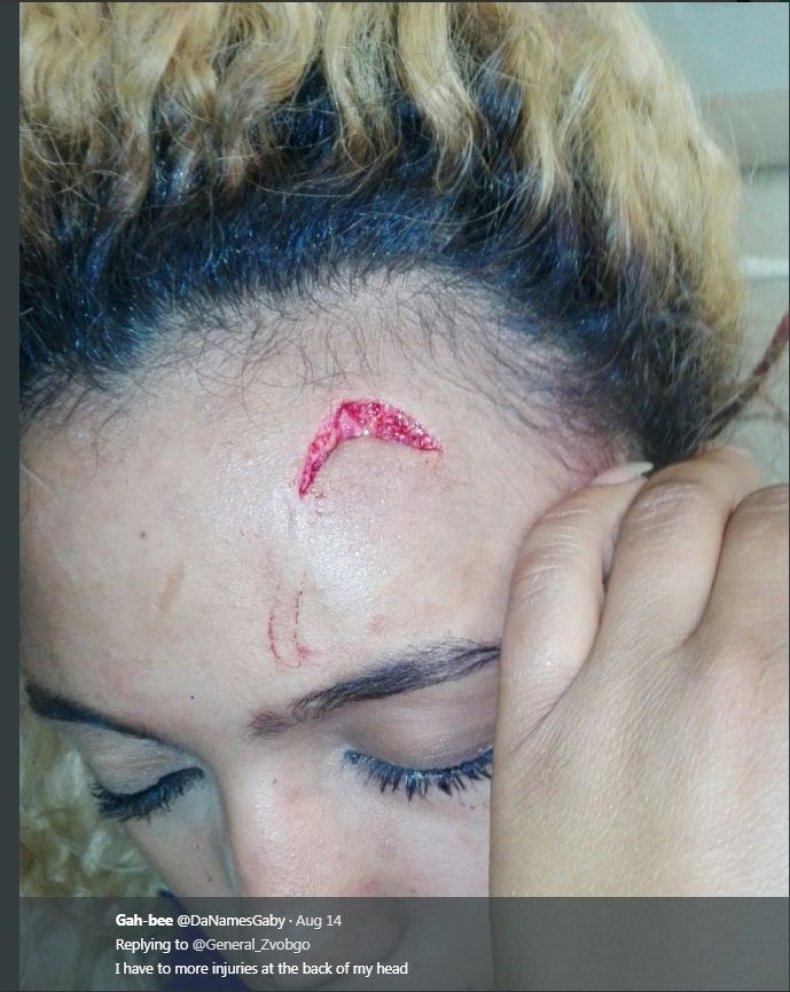 President Mugabe has not given a timeframe for stepping down. He is running as ZANU-PF's candidate in the 2018 elections; if victorious, he would be slated to stay in office until the age of 99.
But widespread protests, on the streets and social media, since 2016 have led to a growing discontent among some Zimbabweans with Mugabe's rule. Yet besides Mugabe's longtime opponent Morgan Tsvangirai, credible challengers to the president are yet to emerge. Evan Mawarire, a pastor who led a protest movement and has been widely tipped as a possible presidential candidate, was arrested on charges of attempted subversion in September but has since been released.