Zimbabwe's Mugabe is Not Sleeping in Meetings—He is Just Protecting His Eyes: Spokesman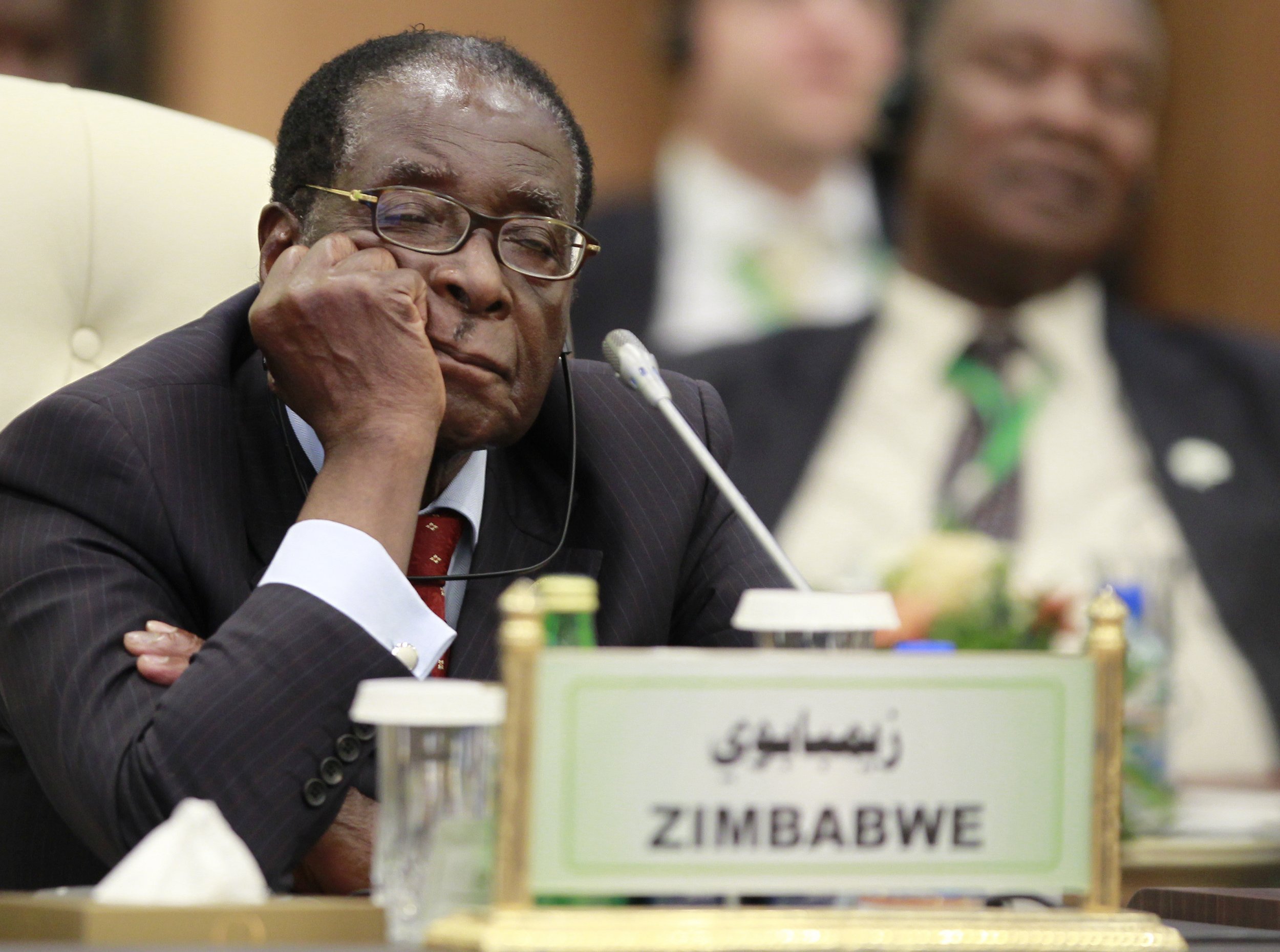 Zimbabwe's President Robert Mugabe appears to have developed a habit of nodding off during important meetings.
The 93-year-old leader—the world's oldest non-royal head of state—was most recently seen appearing to fall asleep at a meeting of the World Economic Forum in South Africa earlier in May.
But according to the president's spokesman, when the veteran president appears to close his eyes and catch some Zs, he is in fact protecting his vision from the glare of bright lights.
"I feel like a failure when there is this reading that the president is sleeping in conferences, no," said George Charamba, Mugabe's spokesman, according to the state-run Herald newspaper.
"At 93, there is something that happens to the eyes and the president cannot suffer bright lights. If you look at his poise, he looks down, avoids direct lighting."
Charamba compared Mugabe's plight to that of Nelson Mandela, the late president of South Africa, whose vision was permanently damaged during his 27-year imprisonment on Robben Island, when he was forced to work at a limestone quarry and the sunlight glared off the white rock. As a result, photographers were required not to use flash when photographing Mandela later in his life.
"In the case of Mandela, if you remember, you were not allowed to even use flashes whenever he was in the room. That is what happens at 93 and Mandela, I do not think lived as long as the president [Mugabe] did," said Charamba. Mandela died in 2013, aged 95.
Mugabe's health is a constant source of speculation in Zimbabwe, and his political opponents have frequently called upon the independence war veteran to resign, arguing that he is not fit to run the country.
The president departed for health checkups in Singapore Monday. Mugabe regularly travels to the Southeast Asian city state—a 5,000-plus mile journey—for medical treatment, which inevitably leads to rumors that the president is critically ill.
But Charamba claimed that the president's regular physician is a black Zimbabwean and that he only goes to Singapore for specialized eye treatment on the recommendation of local opticians.
"For the rest of his body, the president gets attended to here. It is just that particular area [his eyes], and even then, it was not his decision, it was the decision of opticians," said Charamba.
Zimbabwe is currently experiencing a cash crunch that has seen the reserve bank printing a pseudo-currency, called bond notes, which has no value outside the country.
Zimbabwe has not had its own official currency since the Zimbabwean dollar was abandoned in 2009 following massive hyperinflation.
Mugabe is due to run as the ruling ZANU-PF coalition's candidate in the 2018 presidential elections.