Zimmerman? Springsteen? 'SNL' Mulls Trump's VP Picks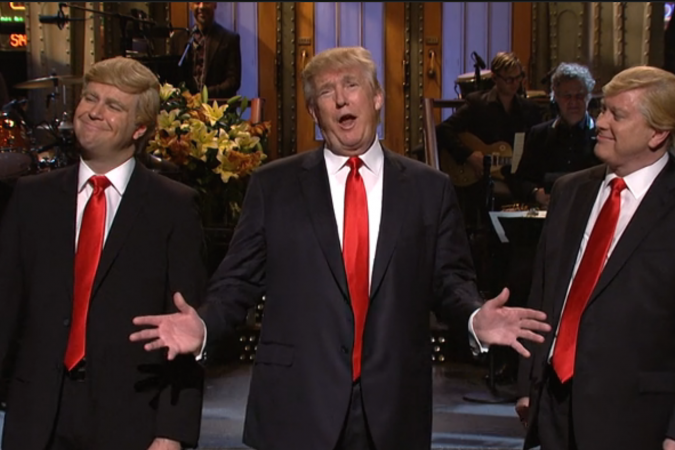 Saturday Night Live took aim at Donald Trump's alleged penchant for impersonating his own publicist and poked fun at his possible vice presidential picks in the cold open to the show Saturday night.
Darrell Hammond, in his spot-on Trump impersonation, bemoaned the apparent lack of interest among the political elite in joining his ticket while Bobby Moynihan portrayed N.J. Governor Chris Christie as a toady desperate to get Trump to consider him.
"It doesn't make any sense. Why doesn't anyone want to be my VP," said Hammond as Trump. "You're such a special candidate. And maybe, just maybe, the person you've been looking for this whole time is standing in this room right now," said "Christie."
Cue Jay Pharoah as Ben Carson.
Get your unlimited Newsweek trial >
The pair also ran through several unorthodox VP possibilites.
"How about a guy from a swing state, Florida, he's half Hispanic with a proven track record of standing up for himself," Moynihan's Christie said.
"George Zimmerman?," Hammond's Trump guessed.
Get your unlimited Newsweek trial >
The sketch show got in a dig at Christie's well-known love for New Jersey's favorite son, Bruce Springsteen, when he suggested the Boss as a running mate.
"C'mon, he's the boss, you're the boss, he was born to run!"
"He's a Democrat," Hammond's Trump says.
"He is a God!," Moynihan claims.
Hammond's Trump also revealed the presumptive GOP nominee's alter ego, "Joey Pepperoni," as he mocked reports that Trump pretended to be his own spokesman when speaking with reporters.
Saturday Night Live received intense criticism—and ratings—late last year when the venerable sketch show had Trump as its host after NBC cut ties with the former "Celebrity Apprentice" host.
Zimmerman? Springsteen? 'SNL' Mulls Trump's VP Picks | Culture