Was Zina Bash Trolling Critics With Hand Symbol During Brett Kavanaugh Hearing?
Following accusations that she openly displayed a white supremacist hand gesture during one of Supreme Court nominee Brett Kavanaugh's confirmation hearings, Zina Bash stoked the flames by making the exact same gesture during another session.
Bash once again took a seat behind Kavanaugh and sparked a huge online debate as to whether she deliberately made an OK sign with one of her hands while crossing her arms.
The symbol has strong links to white supremacy and the far-right, following a troll campaign from 4chan.
On the third day of testimony from Kavanaugh, Bash was recorded yawning behind the judge before once again flashing an OK sign. However, this time Bash appeared to knowingly look directly into the camera while making the otherwise innocuous gesture.
Once again, social media was filled with speculation that Bash was trolling those who'd suggested she was making a white-power gesture last time.
"This was better than any middle finger she could have given," Alex Van Ness, of the anti-Islamist nonprofit Clarion Project, wrote on Twitter alongside a clip of Bash yawning.
"Apparently this tweet was a bit cryptic, because have both Trump train cultists and Resistance cultists 'liking' and commenting on it. Let me be perfectly clear. I love Zina Bash's trolling," he added.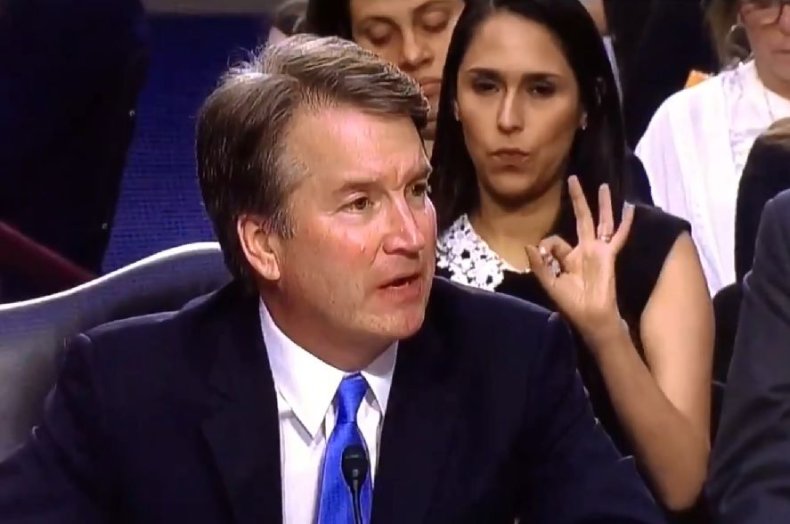 "Zina Bash makes Trump's troll game look like amateur hour," wrote Jason Howerton.
Bash, who is Jewish and a descendant of Polish Holocaust survivors, has not commented publicly about the furor surrounding either of her hand gestures. Her husband, U.S. Attorney John Bash, previously described the outcry as a "vicious conspiracy theory," and said everyone tweeting about it should be "ashamed of themselves."
"We weren't even familiar with the hateful symbol being attributed to her for the random way she rested her hand during a long hearing," he tweeted.
"Zina is Mexican on her mother's side and Jewish on her father's side. She was born in Mexico. Her grandparents were Holocaust survivors. We of course have nothing to do with hate groups, which aim to terrorize and demean other people—never have and never would."
As reported by the Anti-Defamation League (ADL), the OK hand gesture should not be considered a common white supremacist hand sign, since its association came from an online hoax.
In February 2017, 4chan users launched a trolling campaign "Operation O-KKK " to make people believe that the OK hand gesture—commonly used by President Donald Trump during his public speaking—was a symbol of white supremacy, since the fingers spell out WP ("white power").
"The 'OK' symbol hoax was so widespread in the spring and summer of 2017 that a number of people on the far right began deliberately to use the gesture—typically making the sign while posing for photographs uploaded to social media—in order to continue the trolling and spread it further," noted the ADL.