Video: Zion Williamson Pulls off Impossible Block in Duke's Win over Virginia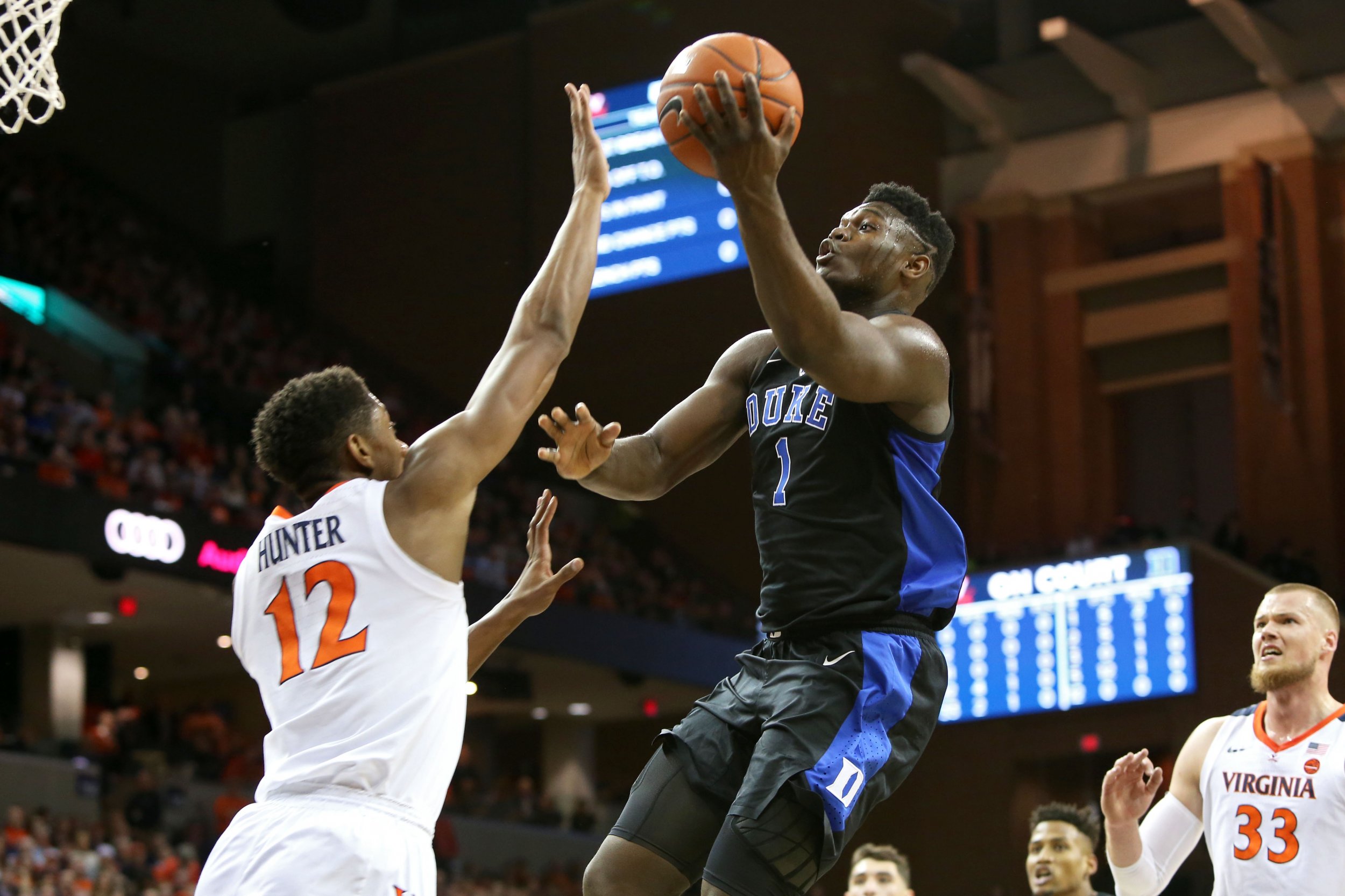 Zion Williamson did his already sky-rocketing reputation no harm when he produced an absolutely jaw-dropping block against Virginia on Saturday.
With Duke 68-61 ahead and 4:40 remaining in the game, Cavaliers forward Jay Huff found his teammate De' Andre Hunter wide open in the corner. The Virginia guard received the ball and looked he had all the time in the world to sink a three-pointer, which would have dragged his team right back into the game.
However, as Hunter steadied himself to shoot, Williamson sprinted towards him from the opposite side of the paint. The Duke rookie still looked to have no chance of blocking the shot, except he then leapt into the air while still inside the arc and flew towards Hunter, swatting the ball with contempt.
The clip of Williamson's block immediately went viral and one replay in particular, taken from a side-on angle, shows the extent of his athletic feat.
Of course, the Blue Devils' big man isn't the first player to call on his athletic prowess to block a shot, but Williamson's leap was not something fans get to see every day. Players get blocked at the perimeter in almost every game, but the blocker tends to be right in front of them and tends to get just some of the ball.
Williamson might as well have been in a different arena and he didn't just get his hand on the ball, he ferociously slapped it out of bounds.
Aside from his incredible block, the 18-year-old delivered another solid performance as second-ranked Duke beat number three-ranked Virginia on the road 81-71. Williamson finished with 18 points, five rebounds, five assists and three blocks in 36 minutes, shooting an almost immaculate 6-of-8 from the floor.
RJ Barrett stole the show for the Blue Devils, scoring 26 points on 8-of-15 from the field and adding seven rebounds and three assists in 40 minutes on the court.
Under the watchful eye of LeBron James, Duke sprung out of the blocks and Barrett drained five three-pointers before the game had even reached the 12-minute mark.
That really sets the tone for us and we played defense today as well," he was quoted as saying by the Associated Press.
"We were just in our zone and it's great to see when our team is like that."
The win against Virginia was the Blue Devils' seventh in a row and saw them improve to 21-2 for the season, while the Cavaliers slipped to 20-2.