Zion Williamson Injury Update: Duke Star's Status 'Uncertain' Ahead of Game Against Virginia Tech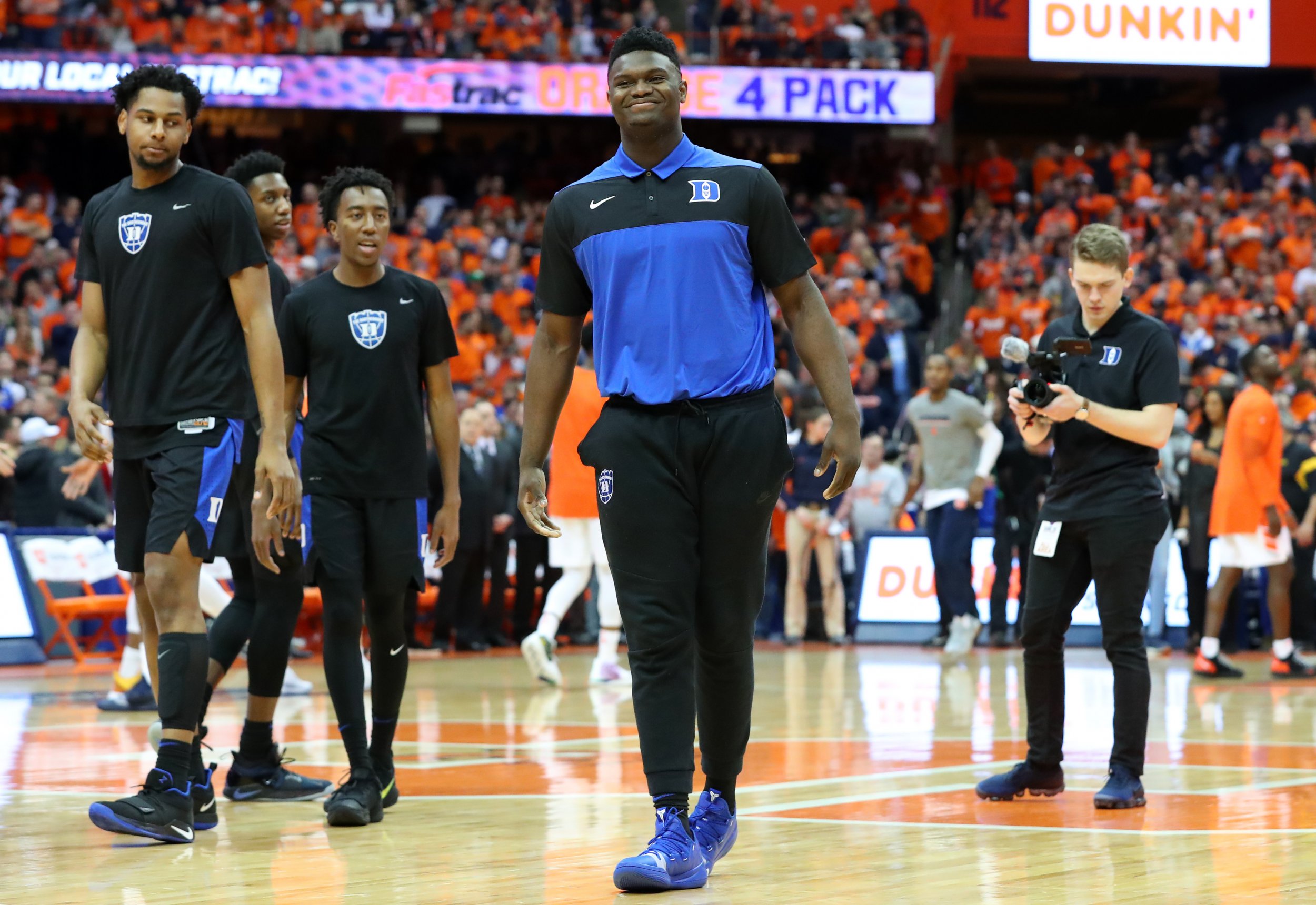 Zion Williamson remains a question mark in Duke's game against Virginia Tech tomorrow. The Blue Devils freshman missed Duke's win over Syracuse Saturday after suffering a right-knee sprain in the game against North Carolina when his Nike shoe blew up.
Williamson's left sneaker fell apart just 36 seconds into the game after he planted his foot down to dribble, leaving Duke's freshman clutching his right knee in pain.
The Blue Devils confirmed the injury was classified as a Grade 1 sprain but did not provide a detailed timeline for Williamson's return.
While Williamson is key in Duke's hopes of winning the title this season, Duke coach Mike Krzyzewski is mindful of the risks involved in rushing an 18-year-old back from injury.
"We would never play a kid who's not ready," Krzyzewski was quoted as saying by ESPN.
"We would never play a youngster who didn't want to play. It's not about that. He wants to play. He loves being at Duke.
"He doesn't like being injured. It's an injury you can get over in a shorter period of time. There's just a protocol that we have to go through to make sure he's completely ready."
Williamson is widely expected to be the number one overall pick in this year's NBA draft, and any kind of setback in his recovery could be hugely detrimental to his prospects.
The teenager has taken college basketball by storm this season, emerging as a leading candidate for national player of the year as he averaged 21.6 points and 8.8 rebounds per game while shooting 68.3 percent from the field.
Despite Williamson's absence, the Blue Devils recovered from the loss against North Carolina by beating Syracuse 75-65 on Saturday. Duke freshman R.J. Barrett stole the show, finishing with 30 points on 14-of-20 from the field and seven assists, while sophomore guard Alex O'Connell chipped in with a career-high 20 points.
The number-one ranked Blue Devils are 24-3 for the season and 12-2 against Atlantic Coast Conference opponents. Duke is in the middle of a three-team race to claim the top spot in the conference, alongside Virginia and North Carolina.
Like the Blue Devils, the Cavaliers and the Tar Heels both have a 12-2 record for the season and are ranked third and eighth, respectively.
Duke plays 20th-ranked Virginia Tech on the road Tuesday before hosting Miami on Saturday and Wake Forest on March 5. Duke completes its regular season with a trip to North Carolina on March 9.